A Sure Pleaser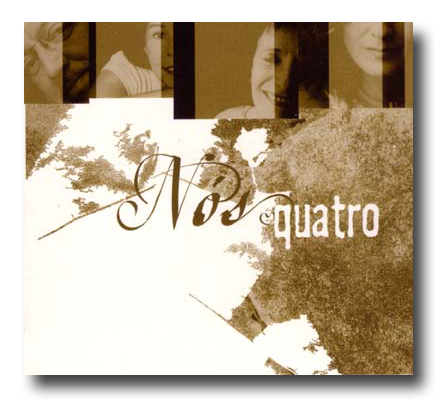 I have always been a fan of Brazilian vocal groups. In the 1970s, names such as Quarteto em Cy and MPB-4 were common household names. Their tight harmonies and sometimes exquisite multi-layered vocal arrangements were captivating to say the least. Times have certainly changed, but the tradition has not disappeared. A new group formed in 2003, Nós Quatro elevates that vocal tradition to new heights and makes the sound a whole lot more contemporary.
Nós Quatro is Ana Zinger, Célia Vaz, Fabíola and Márcio Lott. Individually, those guys have worked with just about anyone and everyone in Brazilian music. Some have even ventured outside of Brazil, too. Fabíola worked with names such as Tim Maia and members of the Brazilian jazz trio Azymuth. Ana Zinger, appeared in several CDs by Dori Caymmi and Torcuato Mariano. In addition to that, she was a former member of vocal groups Garage and Be Happy. Like Zinger, Márcio Lott was also a former member of Be Happy as well as Quarteto Forma. In addition to that, Lott was featured in several soundtracks of Globo TV soap operas, such as the hits Selva de Pedra, Primeiro Amor, Cavalo de Aço, and Ossos do Barão just to name a few. It was his voice we heard in the first big hit of Azymuth's "Linha do Horizonte." The soft, gentle solo in that track has forever stayed in Brazilians' minds — besides being a great tune, it also helped that the song was included in a soap opera soundtrack in the 1970s. Lott also toured with Gal Costa and Simone. Finally, rounding up this formidable quartet, we have the expertise of multi-talented Célia Vaz. Arranger, singer, composer, guitarist, Vaz has been making music with some of the very best in Brazilian music. She was the arranger and conductor in Dom Um Romão's Hotmosphere. She worked with Norma Bengell, Rosinha de Valença, Carlos Lyra, Roberto Carlos, Wanda Sá and many other names. Since 1987, she is the musical director and arranger of Quarteto em Cy.
With the experience and talent of these four magnificent artists, it is no wonder that their first release, Nós Quatro, is solid. The vocals are very contemporary as well as the repertoire chosen. Including songs by Djavan, Lenine and Joyce side by side with hits by João Gilberto, Tom Jobim and Milton Nascimento, these golden voices hit the mark with one of the best albums released in 2003.
Lenine's funky opener "Jack Soul Brasileiro" is dynamic simply rocks. The voices are richly blended. The two Djavan numbers, "Farinha" and "Serrado," cover two excellent sides of that composer: his northeastern roots (the former) and a samba (the latter). Instead of abusing of group performances for all tracks, Nós Quatro cleverly features different members in several tracks. The end result is a very pleasing mixture of different voices and styles. The special guest appearance of Quarteto Maogani in "Saci" is a beautiful touch to an already great album. One of the most memorable renditions in this collection is Joyce's standard "Revendo Amigos," with Nós Quatro taking turn singing solo lines as well as featuring some of the most tight harmonies. Jobim's presence in the album comes with two songs. "Fotografia" shows a new arrangement with Lucio Nascimento's bass and Robertinho Silva percussion setting the beat to Célia Vaz's smooth solo. "Estrada Branca" features Ana Zinger's solo accompanied only by Luiz Avellar's gentle piano. The song sounds like a lullaby and is simply gorgeous. Another innovative arrangement is featured in Caetano Veloso's "Você É Linda." The introduction is almost like a religious chant and full of mysticism. Yet another stupendous moment is Márcio Lott's heartfelt solo of Milton Nascimento and Fernando Brant's "Canções e Momentos." Lott's voice soars over the guitar accompaniment by Célia Vaz and Zeppa. Again in a prayer-like manner, the group softly backs up Lott's singing, and when he sings the final verses following an astonishing modulation, it's absolutely perfect.
Nós Quatro was well conceived, produced and performed. Of course it was only expected that with such natural talents, this CD would be a sure pleaser.
ALBUM INFORMATION
Nós Quatro
Nós Quatro
Biscoito Fino BF 546 (2003)
Time: 48'02"
Tracks:
Jack Soul Brasileiro (Lenine)
Farinha (Djavan)
Feira de Mangaio (Glória Gadelha – Sivuca)
Saci (Guinga – Paulo César Pinheiro) – w/ Quarteto Maogani
Oba-la-lá (João Gilberto)
Fotografia (Tom Jobim)
Nada Será Como Antes / Maria, Maria (Milton Nascimento – Ronaldo Bastos) / (Milton Nascimento – Fernando Brant)
Revendo Amigos (Joyce)
Estrada Branca (Tom Jobim – Vinícius de Moraes)
Serrado (Djavan)
Você É Linda (Caetano Veloso)
Canções e Momentos (Milton Nascimento – Fernando Brant)
Qui Nem Giló (Luiz Gonzaga – Humberto Teixeira)