Recipe for Choro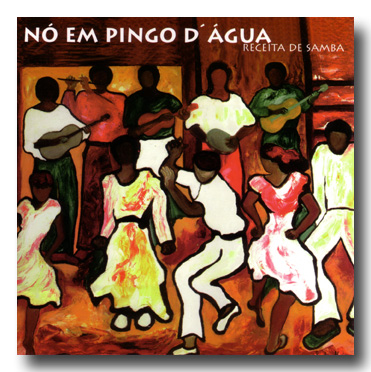 Focusing again on the works of a major exponent of Brazilian choro, Nó em Pingo D'Água features the wonderful music of Jacob do Bandolim in Receita de Samba, the group's third album. The group formation this time changed a little. Celsinho Silva and Leo Leobons appear on percussion; Leonardo Lucini is on bass and percussion; Mário Sève returns on sax and flute as well as Rodrigo Lessa on mandolin and guitars and Rogério Souza on acoustic guitar. Arrangements were shared by Rodrigo Lessa, Rogério Souza and Nó Em Pingo D'Água. Adding to the top-notch quality of these musicians, special guests included Dino 7 Cordas (7-string acoustic guitar), Jorginho do Pandeiro (fantastic solo on track 7), Rildo Hora (harmonica), Marcos Suzano (percussion), Lui Coimbra (cello), Adriano Giffoni (bass) and a few other names.
Jacob Pick Bittencourt (Rio de Janeiro, 1918-1969) was a regular kid who discovered music at age 12, when he used to play the harmonica for his classmates. From that instrument, he moved to the violin. Since he was not very thrilled playing the violin with a bow, he improvised his playing using a hair pin until a friend told him that a mandolin was the instrument to be played with a pick. The rest is history, and Jacob Pick Bittencourt became known as Jacob do Bandolim. His big artistic break happened in 1934 during a radio contest at Rádio Guanabara. The program was "Programa dos Novos – Grande Concurso dos Novos Artistas." It was a talent show searching for new musicians. Competing against 27 performers, Jacob played Pixinguinha's "Segura Ele" and was the grand winner. His compositions have become a part of the Brazilian choro history. "Assanhado," "Doce de Côco," "Noites Cariocas" and "Receita de Samba" are choro classics. Like those, many other Jacob's compositions are choro standards today. In 1966, he created the notable choro group Época de Ouro, which is still recording today.
Track by track, Receita de Samba is an outstanding album, very lively and captivating. The opening track, "Assanhado," is electrifying, and Lessa does a great solo on the mandolin. The maxixe "Biruta" is another beautiful gem of Jacob's repertoire here performed with a magnificent sax solo by Sève. Also, an outstanding groovy bass solo by Lucini is featured in the upbeat closing track "A Ginga do Mané." To sum up Receita de Samba, Paulinho da Viola wisely said the following:
Relax and let yourself be taken by the magic of this recipe given to all of us with the utmost competence by the guys in Nó.
That says it all. You can hear samples of tracks in Receita de Samba at this page.
ALBUM INFORMATION
Nó em Pingo D'Água
Receita de Samba
Visom VICD00064 (1991)
Time: 44'09"
Tracks:
All tracks by Jacob do Bandolim, except where noted.
Assanhado (Jacob do Bandolim – Baby Consuelo)
Biruta
De Coração a Coração
Remeleixo
Migalhas de Amor
Bole Bole
Alvorada
Feia
Receita de Samba
A Ginga do Mané