The Surprises Continue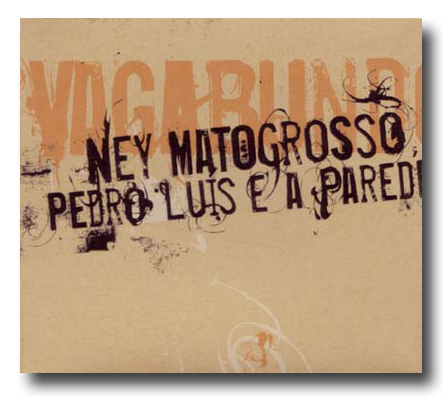 Ney Matogrosso seems to enjoy shaking the status quo and surprising his long-time followers. In addition to that, he is also a consummate interpreter that never ceases to search for new musical paths for his unending creativity. One does not even need to look back to when Matogrosso appeared in the Brazilian music scene as a member of the trio Secos & Molhados. If you just look at his albums in the last 10 years, you will likely agree with me. Back in 1994 he recorded an album dedicated to Brazil's legend Ângela Maria. The path from that album to Vagabundo was a constant uphill climb garnered with both public and critical acclaim. Um Brasileiro (1996) was Matogrosso's tribute to Chico Buarque. O Cair da Tarde (1997) was dedicated to the music of Villa-Lobos and Jobim. Then in 1999 he released Olhos de Farol, which was a pop album showcasing some new names in Brazilian contemporary music. That album was a sudden change from Matogrosso's previous work. Never stopping, he changed directions again in 2001 with the outstanding Batuque, which was full of music from the 1930's made famous by Carmen Miranda. Then 2002 brought a much calmer and dramatic Matogrosso with Ney Matogrosso Interpreta Cartola. As you can see, the man keeps changing directions and always seem to get it right. Maybe that is the lesson that other performers in Brazil should follow.
The musical romance between Ney Matogrosso and Pedro Luís began with Olhos de Farol. In that album, Matogrosso recorded two of Luís' songs, "Miséria no Japão" and "Fazê o Quê?". Five years later we come to Vagabundo. Here Matogrosso divides his performances with Pedro Luís e a Parede (here's a review of PLAP's Zona e Progresso).
A Parede is Sidon Silva, Mário Moura, C.A. Ferrari and Celso Alvim — all doing vocals and "batucada" (just about every percussion instrument you can imagine). As with previous Matogrosso's albums, guitarist Ricardo Silveira is also musical director. Completing the band, Pedro Jóia and Glauco Cerejo appear on guitar and saxophone, respectively.
Vagabundo could be considered like a sequel to Olhos de Farol. If you liked that album, you're bound to enjoy this one, too. The same experimental side of Matogrosso is present and even some of the same songwriters are here again, as is the case of Alzira Espíndola, Itamar Assumpção, Lula Queiroga, Luhli, and of course, Pedro Luís. As a bonus in Vagabundo, we have the incomparable music of Jackson do Pandeiro with the opener "A Ordem É Samba." The lyrics are so ironic as the music orders samba, except that here you have samba-rock. Another pleasant surprise is the Martinho da Vila classic "Disritmia," which here uses a drum to make the heart beats in the introduction. A trip back in time to Secos & Molhados is presented here with "Assim Assado." It is with this track that the listener will definitely have a deja vu moment. Yes, could it be that Matogrosso & PLAP sound like a reincarnated Secos & Molhados? You be the judge. Out of the 14 tracks, five bring Pedro Luís' signature. The most incisive lyrics are found in "Seres Tupy" and "Interesse" (co-written with Suely Mesquita). The repeating verse in "Seres Tupy" — "de Porto Alegre ao Acre, a pobreza só muda o sotaque" (from [south] Porto Alegre to [north] Acre, poverty only changes its accent) — definitely gives one food for thought. As for "Interesse," the sarcasm in the lyrics speaks for itself.
Vagabundo is a definite change from Matogrosso's previous album, but it's not really far from Ney Matogrosso's reality. Some fans will love this sudden switchback to ol' times while others will consider the album too intense. Well, Matogrosso remains true to his inner self. He continues to push the envelope.
ALBUM INFORMATION
Ney Matogrosso & Pedro Luís e a Parede
Vagabundo
Som Livre 6024981751-3 (2004)
Time: 58'29"
Tracks:
A Ordem É Samba (Jackson do Pandeiro – Severino Ramos)
Seres Tupy (Pedro Luís)
Transpiração (Itamar Assumpção – Alzira Espíndola)
Interesse (Suely Mesquita – Pedro Luís)
Assim Assado (João Ricardo)
Noite Severina (Lula Queiroga – Pedro Luís)
Vagabundo (Antonio Saraiva)
Inspiração (Gilberto Mendonça Teles – Pedro Luís)
Disritmia (Martinho da Vila)
Napoleão (Luhli – Lucinha)
Tempo Afora (Fred Martins – Marcelo Diniz)
Jesus (Pedro Luís – Gustavo Valente – Lucas de Oliveira – Dado – André Pessoa – Rodrigo Cabelo – Beto Valente)
Finalmente (Itamar Assumpção – Alzira Espíndola – Paulo Salles)
O Mundo (André Azambuja)