Still Sounding Great
Either you like him or you don't: Ney Matogrosso. The controversial singer/performer from Bela Vista, Mato Grosso do Sul (1941) is full of surprises. He likes to dive into a very diverse range of repertoires. Whether it's a chamber-music kind of setting; choro, samba, bossa, pop or rock: leave it to Ney Matogrosso to give it a special treatment.
The Atento Aos Sinais tour shows the pop/rock side of the musical chameleon. It forms a nice contrast with his most recent show before Sinais. Beijo Bandido (2009) showed the singer in a stylish suit, accompanied by piano, cello/acoustic guitar, violin/mandolin and percussion. Here on Sinais Ney Matogrosso wears his extravagant and provoking glitter again. And the accompanying band: as always perfect for the chosen repertoire. That repertoire features music from Brazil's independent artists like Pedro Luís, the late Itamar Assumpção and Vitor Ramil, to name only a few. There are also surprising renditions of songs by Caetano Veloso and Paulinho da Viola. Brain behind the clever and tasteful arrangements is keyboardist Sacha Amback. He draws from his rich experience to give each song an extra boost. He's helped by a solid bunch of instrumentalists. Of course percussionist Marcos Suzano leaves a clear mark. But also fellow percussionist Felipe Roseno fills in perfectly. On bass is the always reliable Dunga and on guitar we hear a razor-sharp performance by Maurício Negão. The line-up is completed by the two brothers Everson Moraes on trombone and Aquiles Moraes on trumpet. Ney Matogrosso clearly feels more than comfortable with this accompaniment. They give him the chance to focus on his expressive way of performing.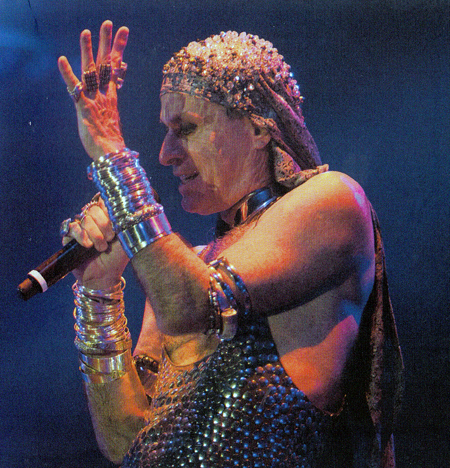 It's remarkable how good he sounds at the age of 72 (at the moment this concert was recorded)! It's like he never changes. The music was recorded live on stage in São Paulo in June, 2014. The opening "Rua da Passagem" (1999, by Arnaldo Antunes and Lenine) makes it immediately clear that Ney Matogrosso means serious business. It's a steaming performance that goes on for the next couple of songs. It's with the catchy "Roendo as Unhas" (1973) that Ney gets in his dancing mode. This samba from Paulinho da Viola sounds very contemporary, but at the same time also traditional thanks to Marcos Suzano and his exceptional pandeiro technique. On Criolo's "Freguês da Meia-Noite" (2011) the arrangement stays close to the original one. Just like on "Tupi Fusão" (2009, Vitor Pirralho e Unidade), although Sacha Amback fits in a hint to the project he did with the late Ramiro Musotto (Sudaka).
The 17 tracks on this live CD never fail to hold the attention. Of course there's also a DVD version. That one features two more tracks ("Amor" and "Poema") and clear enough the visual aspect of a Ney Matogrosso performance. However, the CD on its own will do just fine! Atento Aos Sinais – Vivo is another strong album in Ney Matogrosso's 40-year career.
ALBUM INFORMATION
Ney Matogrosso
Atento Aos Sinais – Vivo
Som Livre 3660 2 (2014)
Total time: 67'43"
Tracks:
Rua da Passagem (Trânsito) (Arnaldo Antunes – Lenine)
Incêndio (Pedro Luís)
Vida Louca Vida (Lobão – Bernardo Vilhena)
Roendo as Unhas (Paulinho da Viola)
Noite Torta (Itamar Assumpção)
A Ilusão da Casa (Vitor Ramil)
Two Naira Fifty Kobo (Caetano Veloso)
Freguês da Meia-Noite (Criolo)
Isso Não Vai Ficar Assim (Itamar Assumpção)
Pronomes (Beto Boing – Paulo Passos)
Beijos de Imã (Jerry Espíndola – Alzira E – Arruda)
Não Consigo (Rafael Rocha)
Tupi Fusão (Dinho Zampier – André Meira – Pedro Ivo Euzébio – Vitor Pirralho)
Samba do Blackberry (Rafael Rocha – Alberto Continentino)
Todo Mundo o Tempo Todo (Dan Nakagawa)
Astronauta Lírico (Vítor Ramil)
Ex-Amor (Martinho da Vila)