Outstanding Talents
Nelson Faria (born in Belo Horizonte, Minas Gerais, 1963) finally starts to earn more popularity. His recent appearance in João Bosco's band was a huge step to public recognition, although the guitarist's name was already underlined in many of Brazil's star musician's wish lists, from the late Cássia Eller to Milton Nascimento, Ana Carolina, Carlos Malta, Wagner Tiso, Ivan Lins and Leila Pinheiro, to name only a few. At 20, Nelson took off to Los Angeles and studied with jazz giants Joe Pass, Joe Diorio and fusion guitarists Scott Henderson and Frank Gambale (both known for their work with Chick Corea's Electric Band). Nelson Faria carefully divides his time in playing and teaching. Giving clinics in both Americas. Fans of Brazilian fusion treasure his trio album with the late bass miracle Nico Assumpção and drummer Lincoln Cheib.
On his fifth solo album, simply called Nelson Faria, the guitarist, composer and arranger decided to invite an impressive list of musicians to perform duets with, while playing the acoustic guitar.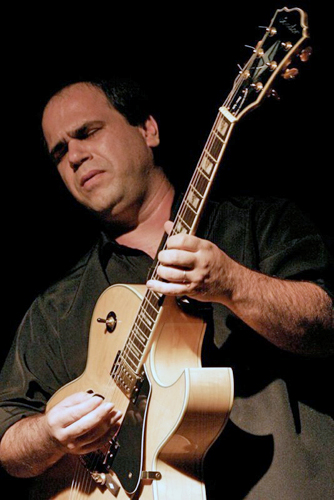 The album opens with the melancholic sounding classic "Manhã de Carnaval" (by Luiz Bonfá and Antônio Maria), in a solo performance. Arthur Lipner is the first guest, playing the vibraphone. While on tour, teaching and performing in Peru and Brazil, the New York based musician was happy to be guest on Nelson's album. "Rio" is a true jazz performance, showing why Arthur Lipner has emerged as one of the leading vibes voices in jazz, perfectly matching the acoustic guitar skills from Faria. Choro-canção "Juliana" (titled after Nelson's daughter) is enriched with the sounds of Toninho Horta, playing guitar and adding his voice in his own familiar way. The two acoustic guitars sound great together, not disturbed by their difference in style; with Faria soloing over Toninho's rhythm guitar playing. "Mr Albam" refers to master arranger Manny Albam, from whom Nelson Faria took lessons, too. Paulo Moura joins on clarinet on this valsa-choro. Another guest, Richard Boukas was named the best Brazilian jazz guitarist in the USA. Raised in Queens, NY, with Cretan/Greek roots, Boukas developed a huge interest in Brazilian jazz. On "Mexidinho" he gratefully takes the opportunity to duel with one of Brazil's true masters. A dazzling performance. From Poland and England respectively, Jerzy Milewski on violin and David Chew on cello join Faria on a moving tribute to Joe Diorio. The Diorio composition "Peaceful Journey" is played with such a respect and so much beauty. "Let's Be Happy Together" features the English sung vocals of Swedish singer Karolina Vucidolac, making this song sound like a jazz bossa classic. Nelson Faria pays tribute to Nico Assumpção by playing his composition "Maxixe." André Neiva has the unrewarding task to play the electric bass. The 36-year-old bassist does a great job, with a nice deep sound and a solo full of virtuosity on the higher registers of his bass, echoing one of Assumpção's trademarks. "Carinhoso" is the second solo track on the album. Faria shows his respect for Brazil's musical history by turning this performance into a beautiful rendition of the Pixinguinha and de Barro classic. "Ruas do Rio" is a duet with percussionist Armando Marçal, evoking feelings of saudades: Rio de Janeiro, the majestic city with the friendly but melancholic sounding samba.
As a bonus track a live recording is added. With pianist José Namen, Nelson Faria plays "Yesterday"  (Lennon and McCartney) as a beautiful jazz standard. With the pianist, a tribute cd to the music of the Beatles was released in 1998 ("Beatles, um tributo brasileiro"). Maybe this cut is called "bonus track" because it seems like an addition to that album…
With his fifth album under his own name, Nelson Faria confirms his outstanding talent as a Brazilian jazz guitarist. Rather than recording a cd showing all aspects of his musical skills, here Faria seems to focus on his jazzy side, resulting in a tasteful masterpiece.
The album is an independent release. Ordering info can be found at Nelson's website.
ALBUM INFORMATION
Nelson Faria
Nelson Faria
NF 005 (2002)
Time: 45'44"
Tracks:
Manhã de Carnaval (Luiz Bonfá – Antônio Maria)
Rio (Nelson Faria)
Juliana (Nelson Faria)
Mr. Albam (Nelson Faria)
Mexidinho (Nelson Faria)
Peaceful Journey (Joe Diorio)
Let's Be Happy Together (Nelson Faria – Maria Inez Boabaid)
Maxixe (Nico Assumpção)
Carinhoso (Pixinguinha – João de Barro)
Ruas do Rio (Nelson Faria)
Yesterday (John Lennon – Paul McCartney)