Perfect Big Band Music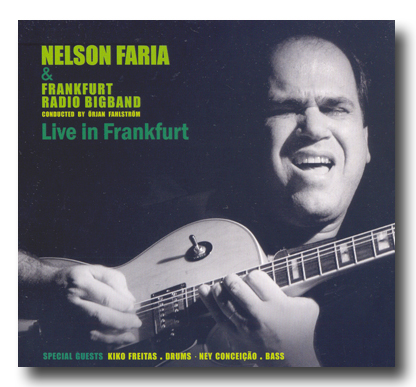 There are musicians whose participation on an album always adds something extra. Nelson Faria is one of those musicians. Whenever his name is mentioned in the line-up, one can be sure that there's something good about the album… Nelson Faria is a fantastic and dedicated musician (guitarist, composer, arranger). The various projects he participated in always benefited from his presence. So it was a smart move when the HR Bigband and Nelson Faria decided to join forces.
The HR Bigband is The Frankfurt Radio Bigband. The German orchestra acquired a solid reputation and worked with (jazz) musicians like Mike Stern, Michael Brecker, John Scofield and Jack Bruce. They also have experience in Brazilian music. They invited Tania Maria (2010, It's Only Love) and the orchestra recorded the album Viva o Som (2009) with the music of Hermeto Pascoal. With Nelson Faria on guitar and as arranger, we now have an album that was recorded live in Frankfurt, 2009, and is nothing short from fantastic! Nelson Faria invited the two other members of Nosso Trio as special guests to accompany him. Ney Conceição on bass and Kiko Freitas on drums do an outstanding job, as always. They forgot they're 2/3rd of Nosso Trio and make themselves part of the orchestra, leaving the honors as soloist to Nelson Faria. Another Brazilian input comes from the attentive percussionist Cristiane Gavazzoni (from Curitiba). She's a regular member of the HR Bigband and also performed in other bands and orchestras throughout Europe.
The clever and tasteful arrangements make sure that the music stays Brazilian. It also underlines the quality of the musicians from the HR Bigband and the orchestra as a whole that they seem to feel what Nelson Faria had in mind with the music. The album opens with Nelson's own composition "Brooklyn High," which serves as kind of an overture, an introduction of the orchestra with sharp soloing by the leader himself, Andy Greenwood (trumpet), Günter Bollmann (trombone), Ney Conceição (bass) and Kiko Freitas (drums). It's followed by another Nelson Faria composition, the Bossa Nova "Rio."
Among the repertoire we find three compositions by João Bosco. It's a funny thing about João Bosco's music that his own vocal interpretations of the songs always are the best. But on an album like this, it shows how much potential his music has for instrumental arrangements. It's pure jazz; something that also can be said, of course, about Jobim's representation on the album, his composition "Dindi." The rendition of this classic is breathtakingly beautiful, a perfect confluence of a Brazilian standard and jazz tradition. Nelson Faria opens in a most lyrical way after which Matthias Erlewein takes over the sentiment on the tenor sax. His soloing is absolutely a top performance. "Manhã de Carnaval" reaches that same level. Here it's Martin Auer on the trumpet who answers to the inspirational opening by Nelson Faria.
Each track on this album is a joy to listen to. The arrangements are surprising; the soloing is superb and never disturbed by a too heavy big band sound. Everything sounds in perfect harmony. It's absolutely among the finest releases in 2011, both in the jazz as in the Brazilian fields. Nelson Faria proves he can be counted among the greats, while the HR Bigband shows again that European Radio Orchestras often house the best local musicians; disciplined, original, dedicated and with perfect craftsmanship.
You can visit Nelson on his beautiful updated website.
ALBUM INFORMATION
Nelson Faria & Frankfurt Radio Bigband
Live in Frankfurt
Independent (2011)
Time: 75'20"
Tracks:
Brooklyn High (Nelson Faria)
Rio (Nelson Faria)
Dindi (A.C. Jobim – Aloysio de Oliveira)
Incompatibilidade de Gênios (João Bosco – Aldir Blanc)
Linha de Passe (João Bosco – Aldir Blanc – Paulo Emílio)
Bala com Bala (João Bosco – Aldir Blanc)
Manhã de Carnaval (Luiz Bonfá – Antonio Maria)
Estamos Aí (Mauricio Einhorn – Durval Ferreira – Regina Werneck)
Vera Cruz (Milton Nascimento – Márcio Borges)