A Winning Combination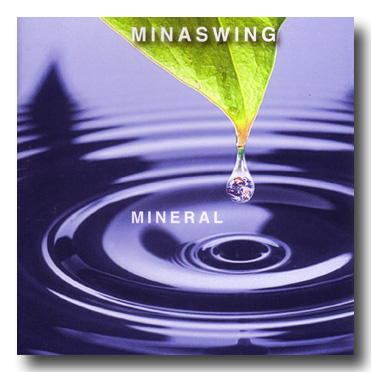 Following its 2003 debut, Beautiful Horizon, Japan-based Minaswing comes back with a winning formula of original songs and well-known pieces by Milton Nascimento and other songwriters from the state of Minas Gerais (the famous Clube da Esquina sound). Minaswing invites a number of special guests to perform with its original formation: Silvio Anastacio (acoustic guitar, lead vocals), Masami Hattori (percussion, background vocals), Kiyotaka Kuroda (drums, percussion), Kiichirou Komobuchi (electric and acoustic bass) and Steve Sacks (saxophones, flutes, keyboards, background vocals). Produced and arranged by Minaswing, Mineral is rich in Brazilian rhythms (e.g., xote, samba).
Though the group continues its focus with renditions of music from Minas Gerais, the opening track, "Da Montanha," is a delicious and infectious xote. The drum introduction instantly grabs the listener's attention to that captivating track. The addition of a Hammond B-3 organ solo, nicely played by Yuta Kaneko, adds a different twist to this piece.The lyrics sing about the beauty of mountains, sea and endless horizons. All along the triangle bass, drums and reeds keep the beat going in perfect sync. Great opener! Though the songs by Milton Nascimento, Ronaldo Bastos and other Clube da Esquina members provide that familiar touch, it is with the original songs that Minaswing shine. For example, after the samba "Reis e Rainhas do Maracatú," the gorgeous ballad "Tudo o Que o Amor Pode Fazer" brings soothing peace highlighted with a melancholy harmonica solo by Matsumonica. Another great feature of Minaswing is its ability to take a vocal number and expand it with rousing instrumental solos. The album is generously filled with those excellent solos, particularly with the almost all instrumental "Water Wheel" and "Don Quixote." However, it is noteworthy to call attention also to "Plum Rain" — guests Kiichi Futamura on piano and Cao Xuejing on erhu do a very fine job — and "Amor de Índio" — Sacks does a superb solo. In "Agora Sim," that João Donato bolero feeling is inevitable.
This love song is irresistible. As for the title track, "Mineral," guitars masterfully played by Anastacio and guest Kazuhiko Obata are matched by Kuroda's groovy drums and Sacks' rocking sax solos. Turn up the volume and dance along. More is yet to come. Joining three worlds — Brazil, U.S. and Japan — the album closes with "Atarashii Kimochi" bridging three languages and cultures in an energetic culmination for Mineral.
Part of the charisma of Minaswing lies in its members' artistry. Coupled with that, we have nice original songs performed with gusto. The band cannot go wrong with that winning combination.
For more information on the album and artist, please visit Silvio Anastacio.
ALBUM INFORMATION
Minaswing
Mineral
Happiness Records HRAD-00007 (2005)
Time: 50'09"
Tracks:
Da Montanha (Kichirou Komobuchi – Silvio Anastacio)
Reis e Rainhas do Maracatú (Milton Nascimento – Novelli – Nelson Angelo – Fran)
Tudo o Que o Amor Pode Fazer (Steve Sacks – Silvio Anastacio)
Water Wheel (Roda D'Água) (Silvio Anastacio)
Plum Rain (Steve Sacks – Silvio Anastacio)
Agora Sim (Steve Sacks – Silvio Anastacio)
Amor de Índio (Beto Guedes – Ronaldo Bastos)
Mineral (Silvio Anastacio – Steve Sacks)
Don Quixote (Milton Nascimento – Cesar Camargo Mariano)
Atarashii Kimochi (Masami Hattori – Silvio Anastacio – Steve Sacks)