Rio Pleasure
The last time Minas was in the recording studio was back in 1996, when they released BlueAzul exactly 10 years ago. Though the group did not stop performing, there was, of course, a long wait for its fourth studio album. As implied by the title, the album was indeed recorded in Rio de Janeiro in the Drum Studio, with additional instrumentation done back in Philadelphia, where the band is based. Produced by Orlando Haddad and Patricia King, who are also the major force behind the band, In Rio features ten original compositions by the couple.
Orlando is a native of Minas Gerais and now teaches at Philadelphia's University of the Arts. He met his wife Patricia back in 1974, after she moved from Colorado to Pennsylvania. Both are classically trained musicians — he on guitar and she on piano — and together they share vocals in Minas since 1984. Other talented musicians featured on this release are Adriano Giffoni (bass), João Cortez (drums), Afonso Cláudio (flute), Djalma Correa, Ramadés and Giló (percussion), John Swana (flugelhorn, trumpet), Tony Salicandro (soprano sax, flute), Ron Kerber (flute) and additional vocals by Nicole and Jordan Haddad and Jeff Bussman.
The best introduction to give you a glimpse of this wonderful work is through its liner notes, where Patricia and Orlando share what an experience it was to make the album. Their words not only match and accurately describe the joy and beauty of In Rio, but they also exemplify how these gifted artists compose and approach their art. Of course, "making music with the people there" in Rio de Janeiro shines brilliantly in the album, song after song. Take, for example, the captivating opener, "Feira Livre." The vivid images of Rio de Janeiro quickly pass in front of your eyes as flute, percussion and vocals paint the colorful and majestic scenery. No words are needed in "Feira Livre" to give you the joy and celerity of Rio's open markets.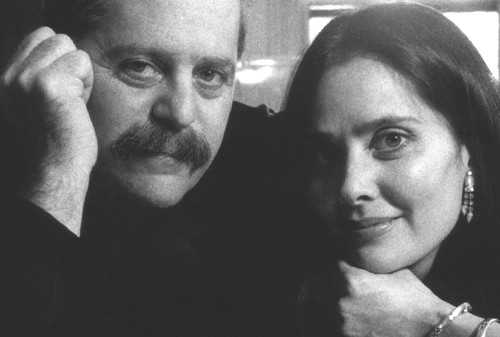 Special mention must be given to Djalma Correa's subtle and yet commanding percussion performance. In just under five minutes, you travel through a tropical urban forest as well as tunnels, lakes, mountains and simple, pure beauty. The great majority of the pieces here are soft ballads and bossa nova, but to add to that perfect combination, Minas knows exactly where to play some key sambas ("Carnaval") and even a Carnaval march ("Ash Wednesday March") in their repertoire. Using common themes in bossa nova, Orlando sings the gorgeous "Vento," a piece dedicated to the great pianist Mozar Terra. Whether you understand Portuguese or not, there is absolutely no way to avoid falling in love with "Vento." In addition to Orlando's soft and touching vocals, Afonso Claudio's flute solo adds another dimension to this fine song. "Lush Green" is another piece that will haunt you for days. It is like seeing the bright colors that paint a Brazilian landscape. How can you resist he invitation to "lay all your troubles down on this lush green meadow"? Piano, guitar, flugelhorn and voices sway you away gently as you escape the hustle and bustle of any big city life.
Must we wait another 10 years for another gold mine from Minas? I sure hope not! The meticulous blend of instrumentation and arrangements coupled with Minas's unique musical approach to perform these songs make In Rio an instant winner.
You can read more about the artists and listen to their music at Minas.
ALBUM INFORMATION
Minas
In Rio
BlueAzul RIO06 (2006)
Time: 58'26"
Tracks:
All tracks by Orlando Haddad and Patricia King.
Feira Livre (Open Market)
Vento (Wind) [Dedicated to Mozar Terra]
Lush Green
Flight from Pedra Bonita (Vôo da Pedra Bonita)
Perguntas (Questions)
Sinal Verde (Green Light)
Ash Wednesday March
Borboletas (Butterflies)
Wait
Carnaval (with lyrics by Hélio Haddad)