Honoring the Music of Edu Lobo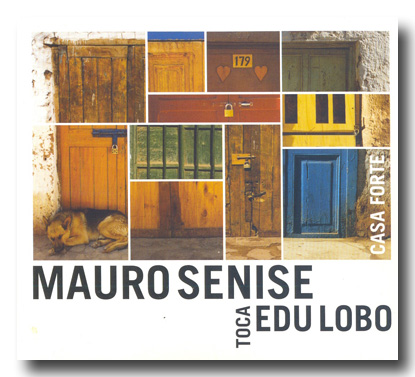 Mauro Senise is one of Brazil's settled names in instrumental music. The saxophonist (alto and soprano)/ flutist from Rio de Janeiro (1950) has an impressive career which even seems to get more impressive with every CD he releases. It all dates back to his early twenties, when Mauro worked with legends as Rosinha de Valença, Johnny Alf and Lúcio Alves. Also in the 1970's, he toured and recorded with Brazil's music icon Hermeto Pascoal as well as with Wagner Tiso, accompanying Milton Nascimento. This list of big names was followed by a fruitful eight year stay with Egberto Gismonti (1977-1985) that resulted in six albums, plus Luis Eça, Elis Regina, Antônio Carlos Jobim. The list of collaborations seems endless. In 1980 he was one of the founders of Rio's popular jazz quartet Cama de Gato. With the band's most popular formation (Arthur Maia on bass, Pascoal Meirelles on drums and Rique Pantoja on keys) he toured around the world, attracting the attention of musicians, music lovers and critics. How many people can say they have Wayne Shorter among their fans? Meanwhile, Mauro Senise happily absorbed the influences from the music he was exposed to during the countless concerts and recording dates. Whether it's jazz, MPB or classical music, Mauro Senise finds appreciation in everything he touches.
On this CD we hear Mauro Senise's interpretation of carefully selected songs from the hands of Edu Lobo. The repertoire of composer, singer and instrumentalist Edu Lobo (Rio de Janeiro, 1943) is immense. It's easy to find many of the fruits of his partnerships with Chico Buarque and Vinícius de Moraes among Brazil's classics. It was a difficult job for Mauro to come up with a reasonable choice, especially when Edu Lobo was kind enough to provide two songs which had never been recorded before. The music is performed in an old fashioned jazz quartet format. Pianist is no one less than Gilson Peranzzetta, who also took care of the arrangements. On bass we hear Paulo Russo and Ivan "Mamão" Conti is on drums (world famous for being one third of the band Azymuth).
The album opens with one of the new songs Edu Lobo wrote, "Arpoador." It's a beautiful samba-canção that immediately features Mauro Senise's most characteristic quality. Not too many saxophonists know how to create such a warm sound on the often edgy alto saxophone. The samba-canção lends itself perfect for a jazzy interpretation. Something that becomes very clear while listening to "Pra Dizer Adeus." The beautiful deep sound of the G (or alto) flute does credit to melody of this classic. The quartet is extended by Jota Moraes who delivers a wonderful solo on the vibraphone. The sentiment on "Canto Triste" is set by the cello of David Chew. With Mauro on the alto sax and the wonderful piano work of Gilson Peranzzetta, this certainly is among the album's most lyric moments. "Vento Bravo" is turned into a piece of straight jazz.
On the soprano sax, Mauro Senise clearly enjoys playing with the melody, supported by the other attentive members of the quartet. The song also features a great solo by pianist Gilson Peranzzetta. "No Cordão da Saideira" balances on the rhythm of the frevo. Mauro performs impressively on the flute and switches after a short percussion break to piccolo for the last few festive bars. "Valsa Carioca" was written by Edu Lobo for the Brazilian Sherlock Holmes movie "Xangô de Baker Street" (released outside Brazil as "A Samba for Sherlock"). This is the first time the song is recorded. Edo Lobo is the celebrated guest (acoustic guitar and vocals) on the album's closing song "Canção do Amanhecer."
Edu Lobo couldn't wish for better interpreters for his music. Mauro Senise and his quartet underline the exceptional quality of Lobo's compositions. It's like lifting them to another dimension where they can be further explored by instrumentalists. When that's done with so much grace and depth as by Mauro Senise, Gilson Peranzzetta, Paulo Russo and Ivan Conti, then the composer can rightfully be proud of his own work.
To learn more about the CD and the artist, please visit Mauro Senise.
ALBUM INFORMATION
Mauro Senise
Casa Forte (Mauro Senise Toca Edu Lobo)
Biscoito Fino BF661 (2006)
Time: 68'49"
Tracks:
Arpoador (Edu Lobo)
Negô Maluco (Edu Lobo – Chico Buarque)
Pra Dizer Adeus (Edu Lobo – Torquato Neto)
Vento Bravo (Edu Lobo – Paulo César Pinheiro)
Choro Bandido (Edu Lobo – Chico Buarque)
Ponteio (Edu Lobo – Capinan)
No Cordão da Saideira (Edu Lobo)
Beatriz (Edu Lobo – Chico Buarque)
História de Lily Braun (Edu Lobo – Chico Buarque)
Canto Triste (Edu Lobo – Vinícius de Moraes)
Valsa Carioca (Edu Lobo)
Casa Forte (Edu Lobo)
Canção do Amanhecer (Edu Lobo – Vinícius de Moraes) – w/ Edu Lobo