The Seduction of Piano and Voice.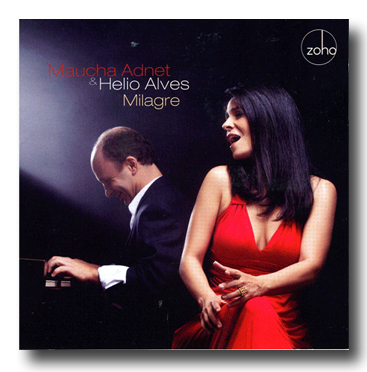 I have seen and heard several releases of piano and voice through the years. The minimalist approach is always very seductive, especially when one artist seems to be an extension of the other. Voice and piano blend in as if they were one single instrument. This miraculous combination has to exist in order for the production to work. Otherwise the album sounds flat and uninspiring. When one musician is pianist Helio Alves — you might know him from the Brazilian Trio's Forests and Constelação reviewed here in MB — and the vocalist is Maucha Adnet (just the Adnet name alone is enough introduction for her), one is guaranteed a fine album.
Milagre is solid proof of what piano and voice can do together. Produced by Helio and Maucha themselves, the album shines in polished performances and a meticulous repertoire that includes some of the best Brazilian gems from Dori Caymmi, Gilberto Gil, Antonio Carlos Jobim, Chico Buarque, Caetano Veloso, Dorival Caymmi, Hermeto Pascoal and others. The songs go from love to loss, lovers crossing paths, bucolic scenes to stormy weather.
After having performed in Tom Jobim's Banda Nova for several years and also being a member of vocal group Céu da Boca, Maucha (born June 11, 1963, in Rio de Janeiro) easily found herself being a guest performer with Trio da Paz, Cláudio Roditti, Chico Buarque, Edu Lobo, Joyce and others in the jazz and Brazilian musical world. As for São Paulo composer and pianist Helio Alves, his move from Boston (he is a graduate of the prestigious Berkelee College of Music) to New York City in 1993 put him right in the middle of the jazz world. He quickly became a musician in high demand performing with Joe Henderson, Paquito D'Rivera as well as Brazilian stars Joyce and Rosa Passos.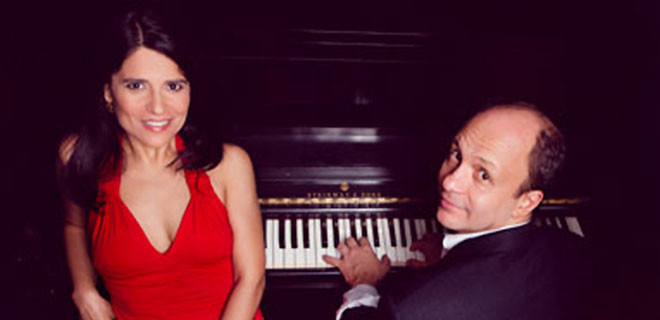 From the Tom Jobim songbook, the choices presented here are top notch. "Waters of March" marks the first time Maucha sings that song in English. Her husband, Trio da Paz' Duduka da Fonseca is credited for having suggested that version. Her delivery of the English lyrics is flawless. She swings from verse to verse with ease and charm. "Gabriela," the second Jobim song comes from the movie Gabriela, Cravo e Canela (Gabriela, Clove and Cinnamon), based on Bahia's writer Jorge Amado's book. The other two Jobim songs cover a wide span of his works, going from the beginning of Bossa Nova ("Caminhos Cruzados") in 1958 to later years in an outstanding partnership with Chico Buarque in "Retrato em Branco e Preto" in 1968.
All songs in Milagre carry a special meaning to both Maucha and Helio. Sometimes they are songs they grew up listening to, as is the case of "Desafinada," by Maucha's brother Mario Adnet, and the title track "Milagre," by Dorival Caymmi, and at times the song marks the start of this duo's musical affinity, as is the case of "Retrato em Branco e Preto," the first song Mauch and Helio played together. These special connections translate very well in the performances we hear in Milagre. The music comes from the heart with soulful, timeless renditions. Milagre highlights songs from the Brazilian songbook through the voice and hands of two talents who show their love for this music unabashedly. It is as touching as it is intense, and that is how the miracle of timeless music is made.
Incidentally, today marks Maucha's 50th birthday! Happy birthday to a fine singer.
ALBUM INFORMATION
Maucha Adnet & Helio Alves
Milagre
Zoho ZM 201302 (2013)
Time: 57'33"
Tracks:
O Cantador (Dorí Caymmi – Nelson Motta)
Eu Vim da Bahia (Gilberto Gil)
Waters of March (A.C.Jobim)
Gabriela (A.C.Jobim)
Retrato em Branco e Preto (A.C.Jobim – Chico Buarque)
Coração Vagabundo (Caetano Veloso)
Caminhos Cruzados (A.C.Jobim – Newton Mendonça)
Vale do Ribeira (Hermeto Pascoal)
Desafinada (Mario Adnet – Cláudio Nucci)
Amor Infinito/Bons Amigos (Toninho Horta – Ronaldo Bastos)
Milagre (Dorival Caymmi)
Tico-Tico no Fubá (Zequinha De Abreu – Aloysio de Oliveira)
Canto Triste (Edu Lôbo – Vinicius De Moraes)
April Child (Moacir Santos – Jay Livingston – Ray Evans)