Touring Europe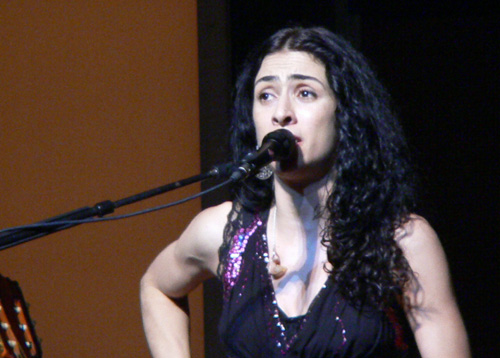 Brussels, Belgium
September 23, 2006
All photos ©2006 Kees Schoof
With the release of her two cds (the samba influenced Universo ao Meu Redor and the pop influenced Infinito Particular), Marisa Monte quickly decided to do some serious touring. Apart from Brazil, Europe and the USA were also included in the touring schedule.
To give a clear clue about the repertoire of the concerts, the tour was given the name "Universo Particular Tour," some kind of a contamination of the two cd titles. As seen in Brussels (Belgium) at the beautiful Cirque Royal theatre (September 23, 2006), Marisa indeed performed mostly songs from her two new cds, along with a few Monte-classics.
It must have been almost six years ago since Marisa last visited Europe. Since then a lot seems to have happened. The concert then was based on the heavily pop orientated Memórias, Crônicas e Declarações de Amor cd. Now Marisa sat quietly on a chair on a little platform, singing, playing guitar, ukulele and even the harmonica. The mainly acoustic band formed a secure and beautiful accompaniment for the singer. Guitarist Pedro Baby and Mauro Diniz (on cavaquinho and acoustic guitar) took care of the bossa influences in the music. Along with bassist Dadi, Carlos Trilha gave the whole a contemporary touch with his various keyboards. Marcelo Costa modestly accentuated the rhythm with his drum kit and percussion instruments. And the whole was beautiful coloured by Marcos Ribeiro (cello), Juliano Barbosa (bassoon), Pedro Mibielli on the violin and trumpeter Maico Lopes.
During the middle part of the concert, Marisa used the whole stage playing with the somewhat amateurish but cute special effects. The voice sounded matured and well balanced with the music. The songs from the two albums were performed very close to the studio recordings. At moments the band sounded like a chamber orchestra, especially the beautiful sounds of the bassoon, cello and violin. The show took an hour and a half, which wasn't too short or too long. Just a wonderful evening!
CONCERT INFORMATION
Marisa Monte
Universo Particular
Concert Review
Brussels, Belgium
September 23, 2006