All Music and No Noise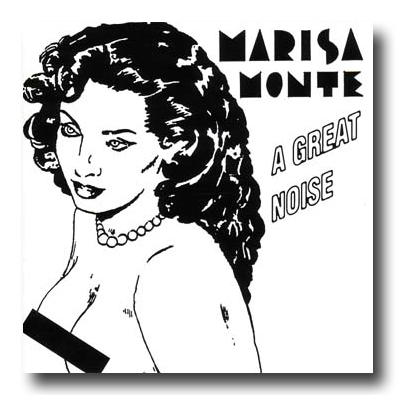 Originally released in Brazil at the end of 1996 as a two-CD set, Marisa Monte's A Great Noise (Barulhinho Bom was the title in Portuguese) is available as a single CD in the international version. This highly anticipated CD combines both studio and live performances. In addition to seven new studio songs, there are 11 live performances drawing from Marisa Monte's previous releases, specifically from her highly acclaimed 1994 Rose and Charcoal CD. The art work, in particular, had been much talked about in Brazil. Gringo Cardia based the cartoon-like characters of the liner notes on the works of Carlos Zéfiro. The result was that this U.S. release had its cover touched up. Inside, the drawings are complete and untouched. Furthermore, song lyrics and guitar chords are also included for songs not previously released in other Marisa Monte's albums.
Monte has become a world-known singer from Brazil. Her greatest appeal, besides her crystal clear voice, seems to be the eclectic combination of various Brazilian music styles: Brazilian rock and reggae, samba, choro and forró, among others. With the careful production of Arto Lindsay and Marisa Monte herself, A Great Noise is all music and no noise. With new songs by Carlinhos Brown, Gilberto Gil, and even a poem by Octavio Paz (translated by Brazil's great Haroldo de Campos), A Great Noise will appeal to all audiences. The only foreign song on the CD is George Harrison's "Give Me Love (Give Me Peace on Earth)." The arrangement for that song, however, made it sound very Brazilian with the masterful addition of a bandolim, ganzá and accordion.
A strong presence in Monte's band is accordionist Waldonys Menezes. His participation throughout the entire CD gets your attention. He uses the accordion to enhance the rhythms and Brazilian flavor in every song. Especially in the live tracks, Waldonys Menezes steals the show.
ALBUM INFORMATION
Marisa Monte
A Great Noise
Metro Blue CDP 7243 8 53353 2 7 (1997)
Time: 57'08"
Tracks:
Arrepio (Carlinhos Brown)
Magamalabares (Carlinhos Brown)
Chuva no Brejo (Moraes Moreira)
Cérebro Eletrônico (Gilberto Gil)
Tempos Modernos (Lulu Santos)
Maraçá (Carlinhos Brown)
Blanco (Marisa Monte – Octávio Paz (Poema) – Vrs. Haroldo de Campos)
Panis et Circenses (Caetano Veloso – Gilberto Gil)
De Noite na Cama (Caetano Veloso)
Beija Eu (Arto Lindsay – Arnaldo Antunes – Marisa Monte)
Give me Love (Give me Peace on Earth) (George Harrison)
Ainda Lembro (Marisa Monte – Nando Reis)
A Menina Dança (Galvão – Moraes Moreira)
Dança da Solidão (Paulinho da Viola)
Ao Meu Redor (Nando Reis)
Bem Leve (Arnaldo Antunes – Marisa Monte)
Segue o Seco (Carlinhos Brown)
O Xote das Meninas (Luiz Gonzaga – Zé Dantas)
A modified version of this review first appeared in Luna Kafé in February 1997.