A Tribute to the Marvelous City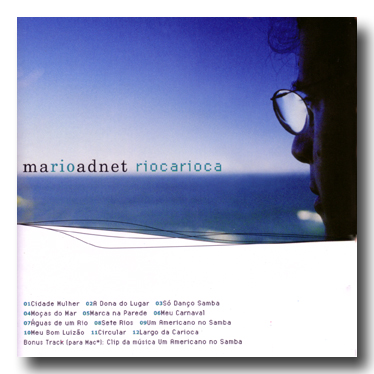 Rio de Janeiro, know as the marvelous city in Brazil, has been the theme of many great songs throughout the years. Composers such as Noel Rosa, Assis Valente and Tom Jobim are just three names in a long list of outstanding songwriters who have praised the beauty and charm of that magical city. With Rio Carioca, Mario Adnet is adding his name to that distinguished list of Rio lovers. It is no surprise, of course, since he is a native Carioca (one born in Rio de Janeiro). Even in some of his previous works, Adnet had already sung the beauties of his hometown, Rio de Janeiro. Rio Carioca, nevertheless, is more direct.
As he had done in his previous works, Adnet plays the acoustic guitar here and is also the arranger and musical director. Production was handled by Mario and Mariza Adnet, with studio production given to gifted pianist Marcos Nimrichter, who also provides all piano and keyboard remarkable work in Rio Carioca. The list of musicians in this album is much longer and also includes strings in several tracks. Some of the more well-known performers include Armando Marçal (percussion), Bororó (electric bass), Hugo Pilger (cellos), Marcello Gonçalves (7-string acoustic guitar), Nailor Proveta (alto sax, clarinet), Jurim Moreira (drums), Teco Cardoso (baritone sax, flutes), Zé Nogueira (soprano sax), Zeca Assumpção (acoustic bass) as well as Adnet's super-talented family (Chico, Muíza and Joana).
Besides the superb repertoire, the album also contains a special bonus: a four-minute video clip of "Um Americano no Samba." The video shows Adnet and several musicians performing the song as well as some beautiful shots of Rio de Janeiro: beaches, Sugar Loaf, Municipal Theatre, etc. As expected, the music in this album covers the whole spectrum of Rio beauties. In Noel Rosa's opener, "Cidade Mulher," Rio is praised as inimitable, irresistible and rich. From that march, we go right into soft sambas: "A Dona do Lugar" and "Só Danço Samba." With "Moças do Mar," Adnet makes a dedication to two of Brazil's beloved crooners, Dick Farney and Lúcio Alves. Ismael Neto's "Marca na Parede" is lovingly dedicated to the people of Rio, aos Cariocas. Other tributes are for Luizão Maia ("Meu Bom Luizão) and Moacir Santos ("Largo da Carioca"). Besides natural beauty, Rio is also known for Carnaval, a celebration of poetry, harmony and parades ("Meu Carnaval"). Whether talking about the city proper or its icons, this CD is a musical portrait of a marvelous place. The balance of styles and the beauty of arrangements make Rio Carioca a favorite stop in anyone's musical journey.
ALBUM INFORMATION
Mario Adnet
Rio Carioca 
MP,B 32591200371 2 (2001)
Time: 43'15"
Tracks:
Cidade Mulher (Noel Rosa)
A Dona do Lugar (Mario Adnet – Bernardo Vilhena)
Só Danço Samba (Tom Jobim – Vinícius de Moraes)
Moças do Mar (Mario Adnet – Bernardo Vilhena)
Marca na Parede (Ismael Neto)
Meu Carnaval (Lisa Ono – Mario Adnet)
Águas de um Rio (Mario Adnet – Lysias Enio)
Sete Rios (Mario Adnet)
Um Americano no Samba (Mario Adnet – Lysias Enio)
Meu Bom Luizão (Mario Adnet)
Circular (Claudio Nucci)
Largo da Carioca (Mario Adnet)
Bonus Track Clip: Um Americano no Samba