Symphonic Jobim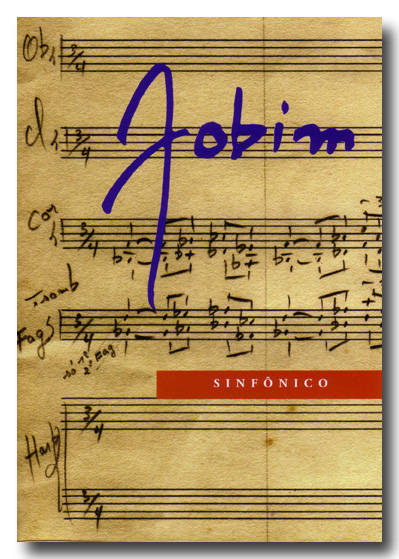 Even if this recording had not won a 2004 Latin Grammy, it would still certainly be considered a magnificent production of Mario Adnet and Paulo Jobim. Using the original arrangements created by Claus Ogerman, Tom Jobim, Eumir Deodato, Nelson Riddle, Dori Caymmi, Paulo Jobim and Mario Adnet himself, Jobim's music presented here is superb. Special guests invited to perform in this recording were Milton Nascimento, Maúcha Adnet and Muíza Adnet. In addition to the sumptuous Orquestra Sinfônica do Estado de São Paulo (OSESP), under Roberto Minczuk's direction, the band who performed with Mario Adnet (acoustic guitar, voice) was comprised of Marcos Nimrichter (piano), Duduka da Fonseca (drums, percussion), Zeca Assumpção (acoustic bass), Paulo Jobim (acoustic guitar, voice) with special guests Benjamin Taubkin (piano), Teco Cardoso (flutes, tenor sax), Nailor Proveta (clarinet, alto sax), Paulo Guimarães (flutes, tenor sax) and Léa Freire (flutes). With such talented artists, Jobim Sinfônico leaves no room for disappointments.
The DVD presents the same song listing as the CD (Biscoito Fino BF 547) but in a different order. It is my inclination to believe the order in the DVD is probably actual concert footage. In addition to the full-length concert, the DVD also includes a special bonus feature of the making of Jobim Sinfônico (time: 24'18"), featuring a few interviews with Paulo Jobim and others. For that special feature, there are optional subtitles in English or Spanish. The audio for the DVD is available in Dolby 5.1 and DTS 5.1. Although nothing negative can be said of the music and performers, the DVD does have a few very minor technical problems, which in no way prevent the listener from fully enjoying this magnificent work. On some occasions, the cameras are not quite in focus, probably due to reflections from the brass section.
This release is definitely a must-have for any Jobim or Adnet fan. It presents Jobim in a different light and covers the broad range of his work, from popular to erudite, including his successful ventures into motion picture soundtracks.
The listener wins whether buying the CD or the DVD. I personally prefer the added bonus of the visual impact that seeing the performers can create. In the case of Jobim Sinfônico, seeing the joy of these performers is a rare joy.
DVD INFORMATION
Mario Adnet
Jobim Sinfônico 
Biscoito Fino DVD BF 704 (2003)
Time: 108'17"
Tracks:
All music by Antonio Carlos Jobim, except where noted.
Brasília, Sinfonia da Alvorada (Antonio Carlos Jobim – Vinícius de Moraes):
O Planalto Deserto
O Homem
A Chegada dos Candangos
O Trabalho e a Construção
Saudade do Brasil
Imagina  (Antonio Carlos Jobim – Chico Buarque)
Modinha – w/ Paulo Jobim & Muíza Adnet
A Casa Assassinada:
Trem Para Cordisburgo
Chora Coração (Antonio Carlos Jobim – Vinícius de Moraes) – w/ Mario Adnet
O Jardim Abandonado
Milagre e Palhaços
Prelúdio – w/ Benjamin Taubkin
Lenda
A Felicidade (Antonio Carlos Jobim – Vinícius de Moraes) – w/ Maúcha Adnet
Orfeu da Conceição (Antonio Carlos Jobim – Vinícius de Moraes):
Overture
Macumba
Se Todos Fossem Iguais a Você – w/ Milton Nascimento
Matita Perê (Antonio Carlos Jobim – Paulo Cesar Pinheiro)
Gabriela
Canta, Canta Mais (Antonio Carlos Jobim – Vinícius de Moraes)
Meu Amigo Radamés
Garota de Ipanema (Antonio Carlos Jobim – Vinícius de Moraes)
Bangzália