Jazzing up with Jobim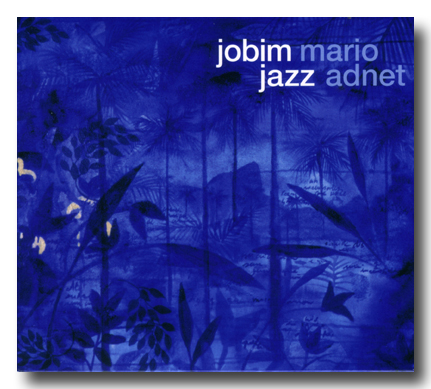 Hot in the footsteps of From the Heart, Mario Adnet returns with yet another gorgeous album. Celebrating what would have been Tom Jobim's 80th birthday (January 25, 2007), Jobim Jazz combines Adnet's meticulous arrangements with Jobim's timeless repertoire and an array of musicians to make any Brazilian music lover drool with joy. Marcos Nimrichter (piano, accordion), Eduardo Neves (tenor sax), Ricardo Silveira (guitar), Nailor Proveta (clarinet), Jessé Sadoc (flugelhorn), Helio Delmiro (acoustic guitar), Marcello Gonçalves (7-string guitar), Andrea Ernest Dias (flute), Armando Marçal (percussion), Joyce (voice), Vittor Santos (trombone), Romero Lubambo (guitar) are only but a few of the names you will recognize performing in this album.
Arranged and directed by Mario Adnet, Jobim Jazz presents some well-known Jobim classics along with rare recordings of seldom heard Jobim material, such as the samba "Domingo Sincopado" from 1956. That opener features a delicious samba beat with an incredible brass arrangement featuring Nailor Proveta (alto sax), Marcelo Martins (tenor sax), Vander Nascimento (trumpet), Vittor Santos (trombone), Antonio Henrique Seixas (bass trombone) and Philip Doyle (French horn). Nimrichter's piano solo is the icing on the cake. This first track alone would justify the entire album even if the other tracks were not up to par.
However, knowing Adnet's previous works, you can expect a lot more. In the following track, the baião and maracatu flavor in "Quebra Pedra (Stone Flower)" is enhanced with Marçal's percussion and Nimrichter's accordion solos. With each new arrangement, the listener absorbs more of Jobim's timeless compositions.
The liner notes in the album are rich with valuable information about each track, their history and how they fit within Jobim's works. For example, "Sue Ann" was written by Jobim for the only "movie score he created outside of Brazil." Also from the same soundtrack (the movie title was The Adventurers) comes the closing track here, "Polo Pony." Another curious fact is stated about "Tema Jazz (Jazz Theme)," which Adnet says "is the only explicit citation of 'jazz' in" Jobim's work. These are little gems that make listening to Jobim Jazz even more enjoyable. Another nice feature in the album is the time span it covers: from the 1950's through the 1990's. It is a good sample of the various styles Jobim presented in his work: samba, bolero, jazz, baião, frevo, choro, waltz. Though the album features mostly all Jobim music, Adnet also included Jobim partnerships with Luiz Bonfá, Vinícius de Moraes (Jobim's most frequent collaborator) and the touching "Meninos, Eu Vi," one of Jobim's collaborations with Chico Buarque, one of Brazil's best lyricists. Adnet listened to the original tape Jobim had sent to Buarque and decided to give this tune that choro feeling. The result is simply beautiful.
Jobim Jazz is yet another great Mario Adnet release. Songs, arrangements and performances are stellar. More information about this album can be found in Adnet Mvsica and Adventure Music.
ALBUM INFORMATION
Mario Adnet
Jobim Jazz 
Adventure Music AM1035 2 (2007)
Time: 57'21"
Tracks:
All compositions by Antônio Carlos Jobim, except where noted.
Domingo Sincopado (Antônio Carlos Jobim – Luiz Bonfá)
Quebra Pedra
Sue Ann
Tema Jazz
Rancho nas Nuvens
Surfboard
Meninos, Eu Vi (Antônio Carlos Jobim – Chico Buarque)
Só Danço Samba (Antônio Carlos Jobim – Vinícius de Moraes)
Paulo Vôo Livre
Valsa do Porto das Caixas
Frevo de Orfeu (Antônio Carlos Jobim – Vinícius de Moraes)
Bate Boca
Polo Pony