Northeastern Choros: Classic Meets Folklore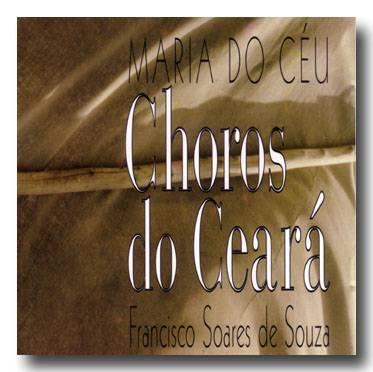 Until 2000, the work of Francisco Soares de Souza (1905-1986) had been more admired outside of Brazil, particularly in Europe, where an album with some of his choros, waltzes and preludes was released in 1996. Thanks to his nephew's efforts and a Brazilian virtuoso guitarist, Souza's music is beginning to receive well-deserved attention in Brazil.
Francisco Soares de Souza was born in the Brazilian northeastern state of Ceará. An excellent self-taught guitarist and composer, Souza's music follows the outstanding guitar tradition in Brazilian music. With almost fifty compositions written especially for acoustic guitar, Souza's choros are particularly enchanting. These masterpieces have been hidden for too long. Now, thanks to Maria do Céu's brand new album, Choros do Ceará, we can experience the magic of Souza's music.
Maria do Céu worked with Brazilian renowned guitarist Turíbio Santos in Rio de Janeiro. Since beginning her professional career in 1984, she has played with a variety of groups, including the Orchestra of Acoustic Guitars of Rio de Janeiro and the Quinteto Clássico. She has performed throughout Brazil as well as abroad. Together with Rodrigo Sebastian (bass) and Di Lutgardes (percussion), she dedicated this entire album to the choros of Francisco Soares de Souza.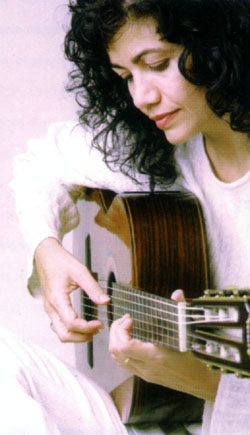 The simplicity and musical richness of these twelve pieces are alluring from beginning to end. Maria do Céu's artistry enhances the quality of this music with unequaled sensitivity. These choros are a perfect hybrid of classic and folkloric styles in Maria do Céu's expert performance. Sometimes playful, sometimes contemplative, Choros do Ceará evokes beauty and a touch of class. Some pieces performed here can be thought of as different movements of a larger classical work, such as "Caboré 1" and "Caboré 2" and "Clipe 1" and "Clipe 2." They are not just mere variations on a similar theme, though. They show just how expressive and intriguing the musical world of Souza was. Although most pieces display the vivacity so typical in choros, in the slow pieces you will also find that mesmerizing element of Souza's compositions. The frolicsome tone of "Samburá," for example, is masterfully contrasted with the meditative mood of "Jane," one of the album's waltzes.
What makes this album so captivating is not only the entrancing quality of Francisco Soares de Souza's music. An artist of the caliber of Maria do Céu transforms these choros into timeless masterpieces. Her ease, expertise and skills shine brightly.
For more information on how to purchase this album and to hear samples of it, please visit Maria do Céu's web site.
ALBUM INFORMATION
Maria do Céu
Choros do Ceará 
Independent 300-300 (2000)
Time: 29'32"
Tracks:
All music by Francisco Soares de Souza.
Caboré 2
Cangapé
Peneirando
Caboré 1
Choro nº 19
Samburá
Clipe 2
Jane
Clipe 1
Choramingando
Tira-Teima
Aquário
A modified version of this review first appeared in Luna Kafé in December 2000