Extraordinary Beauty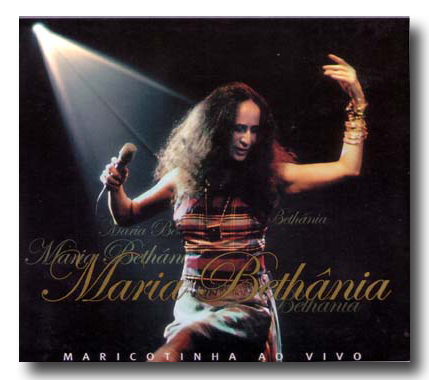 What makes Maria Bethânia (born in Santo Amaro da Purificação, Bahia; 1946) indistinguishable from other singers of her generation is that, besides staying true to her own concept (music combined with poetry), she constantly enriches her repertoire with compositions from both past and present. This live cd-set is not only the concert version of her most recent studio album Maricotinha. It also commemorates the 35th anniversary of her career, completely in line with the trend these days. Although there was a special album for her 25th anniversary too…
Of course the Maricotinha album is well represented here, but there's still room for some 40 more little pieces of art covering songs the diva performed throughout her impressive career. The track that lends its title to this cd was discovered by the singer only a few years ago. Nana Caymmi was humming something while visiting Maria Bethânia at her home. Surprised she couldn't hum along, Bethânia asked what song it was. Nana replied it was a samba her father Dorival wrote. Next it became another landmark in Bethânia's repertoire. And she's liked to be referred as Maricotinha. (After performing the song, Maria Bethânia says "Thank you, Maricotinha thanks you…)
The program for this concert is extremely well balanced. Songs by her obvious composers (Chico Buarque, Caetano Veloso, Edu Lobo, Dorival Caymmi, AC Jobim,…) are alternated by compositions from a next generation (Djavan, Frejat/Cazuza, Vanessa da Mata, Chico César, Lenine, Adriana Calcanhotto,…). In between Maria Bethânia recites little poems from her favorite poets, among those Ferreira Gullar, Fernando Pessoa and the late Natália Corrêa. The poem "Quando o amor vacila" has no credits. It was just there, no one knows where it came from… It's evidence of great respect and good taste that Bethânia corrects an error she made in the last sentence of a poem by Sophia de Mello Breyner, one of Portugal's most important poets. The booklet of the cd shows the correct text. Composer Sueli Costa is represented by an extra studio recording of "Coração Ateu".
After the beautiful saudades arousing rendition of Carlos Guinle/Dorival Caymmi's "Sábado em Copacabana," Maria Bethânia shares a first story about the early days of her career. About going to Rio at age 17, nothing to lose, a lot to gain.
"When I arrived in Rio de Janeiro, in (19)65, it was Copacabana that welcomed me. With its smells of French fries and gasoline. Its afternoons with unexpected thunder and lightening. And its unforgettable, magical, pure glamorous evenings."
Also her frequent appearances at the so called "boates" (bars with live entertainment) are narrated in an easy going way.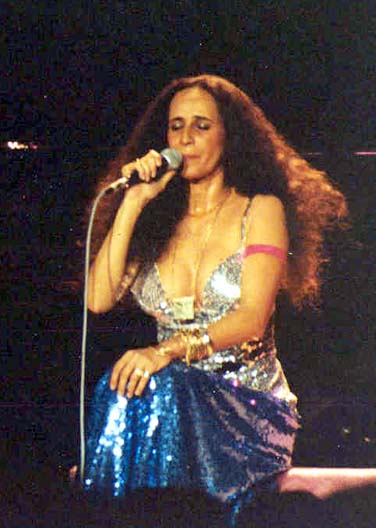 "The public in a bar is a bit different from that in a theatre (…) They drink a bit, flirt a lot and forget a little about the singer who sings for them. That was cool, because I learned to sing everything while performing in bars…"
The 1968 album Ao Vivo na Boate Barroco is an example of such an event (although of course poorly recorded, specially compared with this superb registration). The appropriate performance of Gilberto Gil's composition "Se eu morresse de saudades" is followed by a second story. (Note that the cd is recorded in São Paulo's Direct TV Hall, while the DVD shows the concert at Rio's Canecão.) São Paulo was the second big city she stayed at, playing at bars and beautiful theatres ("casas de espetáculos"). She also mentions it was in São Paulo where she learned about Chico Buarque "with his eyes with the color of the sea and his beautiful songs." Followed by a composition of São Paulo born but Rio raised samba lover Paulo Vanzolini.
The band is superb. Jaime Alem is the musical director and accompanying on acoustic guitar and additional keyboards. Pianist João Carlos Coutinho, drummer Carlos Bala, percussionist Reginaldo Vargas, guitarist João Castilho and bassist (both acoustic and electric) Rômulo Gomes are the perfect band members. Cellist Márcio Mallard adds his talents, as do violinists Bernardo Bessler and Ricardo Amado. Beautiful cello and violin performance on "Noite de Estrela."
As said before, the recording is of an extraordinary beauty. Also the presentation of the cd-set is very well taken care of. A true tribute to a majestic career of one of Brazil's most important performers.
CD recorded live at the Direct TV Hall in São Paulo, December 2001.
ALBUM INFORMATION
Maria Bethânia
Maricotinha ao Vivo
Biscoito Fino BF 521 (2002)
Time: 42'42" and 47'16"
Tracks:
Disc 1
Abertura: Dionísia número 1 (Jaime Alem)
A Moça do Sonho (Edu Lobo – Chico Buarque de Hollanda)
(Texto) Sou Eu Mesmo o Trocado (Fernando Pessoa – Domínio Público)
O Quereres (Caetano Veloso)
Pau-de-arara (Guio de Morais – Luiz Gonzaga)
Dona do Dom (Chico César)
Festa (Gonzaga Jr.)
(Trecho) A Moça do Sonho (Edu Lobo – Chico Buarque de Hollanda)
(Texto) Eu Não Sabia, Tu Não Sabias (Ferreira Gullar)
Fotografia (Tom Jobim – Aloysio de Oliveira)
Anos Dourados (Tom Jobim – Chico Buarque de Hollanda)
Todo o Amor que Houver Nessa Vida (Frejat – Cazuza)
De Todas as Maneiras (Chico Buarque de Hollanda)
(Texto) Eu Quero Ser Possuída por Você (José Vicente)
Seu Jeito de Amar (Gilson – Joram)
Negue (Enzo de Almeida Passos – Adelino Moreira)
Sobre Todas as Coisas (Edu Lobo – Chico Buarque de Hollanda)
Sob Medida (Chico Buarque de Hollanda)
Casinha Branca (Gilson – Joram)
O Canto de Dona Sinhá (Toda Beleza que Há) (Vanessa da Mata)
O Tempo e o Rio (Edu Lobo – Capinam)
Menininha (Vinícius de Moraes – Toquinho)
Le Lac de Come (Instrumental) (M. Gallus)
(Texto) Poema do Menino Jesus (Fernando Pessoa – Domínio Público)
O Doce Mistério da Vida (Ah! Sweet Mystery of Life) (Victor Herbert – Vrs. Alberto Ribeiro)
Disc 2
A Voz de uma Pessoa Vitoriosa (Caetano Veloso – Waly Salomão)
Maricotinha (and introduction of the band) (Dorival Caymmi)
Baila Comigo (Rita Lee)
Cantada (Depois de Ter Você) (Adriana Calcanhotto)
Nossa Canção (Luiz Ayrão)
Sábado em Copacabana (Carlos Guinle – Dorival Caymmi)
(Texto) Boites (Maria Bethânia)
Se Eu Morresse de Saudades (Gilberto Gil)
(Texto) Boites Sampa (Maria Bethânia)
Ronda (Paulo Vanzolini)
Álibi (Djavan)
Nem Sol, Nem Lua, Nem Eu (Dudu Falcão – Lenine)
(Texto) Quando o Amor Vacila (Direitos Reservados)
Noite de Estrelas (Ana Basbaum – Roberto Mendes)
(Texto) Quem É Essa Agora (Lya Luft)
Pra Rua Me Levar (Ana Carolina – Totonho Villeroy)
(Texto) Senhores, Sou um Poeta (Natália Corrêa)
Apesar de Você (Chico Buarque de Hollanda)
(Trecho) A Moça do Sonho (Edu Lobo – Chico Buarque de Hollanda)
Opinião (Zé Kéti)
Rosa dos Ventos (Chico Buarque de Hollanda)
(Texto) E Depois de uma Tarde (Sophia de Mello Breyner)
Amor de Índio (Beto Guedes – Ronaldo Bastos)
(Estúdio) Coração Ateu (Sueli Costa)