A New Label and Its Debut Releases
Not since Malandro Records released its first album in 1996 have I seen such a promising new label in the U.S. dedicating its efforts to Brazilian music. Adventure Music is the new kid on the block, and its first six releases deserve many praises for bringing the music of Nelson Ângelo, Hermeto Pascoal, Ricardo Silveira and more. Out of this first excellent debut batch, I must say that Mike Marshall and Jovino Santos Neto's Serenata and Ricardo Silveira's Noite Clara stand out brightly. Always a fan of Silveira's music — whether with his solo works (e.g., the 1989 Sky Light) or arranging for Brazilian artists (e.g., Ney Matogrosso's 2002 Interpreta Cartola) — I rushed to play this brand new album. I was not disappointed a bit. As for Marshall and Santos Neto's tribute to Hermeto Pascoal's music, I held back all my previous thoughts and ventured into their performances with a fresh attitude. I am not a fan of Pascoal's music. There, I've said it. Boy, was I pleasantly surprised with Serenata. I hope I don't wear out the CD and its cover for taking it along from home to the the car to the office and back.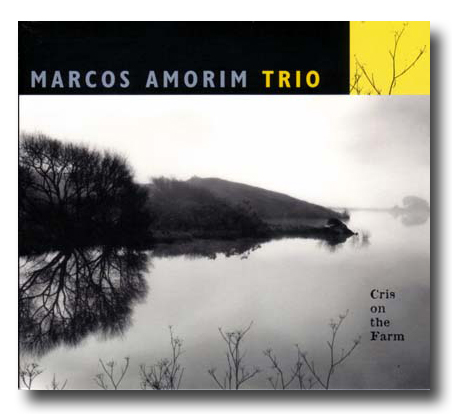 Though Cris on the Farm is Marcos Amorim's third album, it marks his debut in the U.S. In the traditional style of other Brazilian trios, such as Zimbo Trio, the Marcos Amorim Trio substitutes the guitar for the usual piano. The group is formed by Marcos Amorim on guitars, Ney Conceição on basses and Robertinho Silva on drums and percussion. The eleven tracks featured in this recording are all written by Marcos Amorim himself, except the Toninho Horta/Ronaldo Bastos's "Bons Amigos" and Helio Celso's "Mr. Birdman." Just as with Ricardo Silveira's Noite Clara, Adventure Music hits bull's-eye with this up and coming guitarist and his trio. Amorim has performed with Célia Vaz, Mauricio Einhorn and Helio Delmiro, and in this release Amorim brings his experience to his own compositions with style and grace. He knows how to draw from Brazilian sambas, such as "Manaíra," Brazilian legends, such as in "Baden," as well as folkloric themes, as in "O Boto." 
The tracks in Cris on the Farm are carefully chosen to provide a nice balance among the three members of the trio and yet focusing on Amorim's guitar work. Though most tracks are smooth, the tempo in each song varies. The nice contrast between the upbeat "O Boto" and the Bossa Nova swing of "Bons Amigos" is a good example of the variety of works you will find in this strong U.S. debut of the Marcos Amorim Trio.
Serenata – The Music of Hermeto Pascoal is a collection of 13 original Pascoal gems, some of which appearing on record for the first time. Joining Marshall (mandolins and guitars) and Santos Neto (piano, harmonium and flutes), Hermeto Pascoal himself doubles on bass flute and melodica. Though for some Mike Marshall is probably best known for his participation in David Grisman Quintet, I first became acquainted with his music via the 1996 Brasil (Duets), a choro album in which Marshall was joined by other greats performing Brazilian legends such as Pixinguinha, Zequinha de Abreu, Egberto Gismonti and Hermeto Pascoal among others. As for Jovino Santos Neto, he was a member of Pascoal's group for 15 years before embarking on a solo career. He currently resides in Seattle, Washington, and divides his time teaching at the Cornish College of the Arts, performing and being the sole curator of Hermeto Pascoal's work. If not Hermeto Pascoal himself, no one is better to play Pascoal's music than Jovino Santos Neto. He is truly prodigious.
If you have heard many of Pascoal's songs and are aware of his experimental musical talents, you can certainly understand why words such as the "sorcerer" or the "crazy albino" are frequently associated with him. In Serenata, though, those elaborate and challenging pieces that Pascoal is famous for make room for serene and beautiful music. The Pascoal chord progressions and intricacies are still present, don't get me wrong. This album fills the double duty of being a remarkable introduction to Pascoal's music for the novice as well as a hidden treasure for the more experienced Pascoal fan. Of course having Pascoal present in this recording only makes it even better. The album has a little bit of every Brazilian genre without losing focus and cohesiveness, thanks to these two magnificent artists. In this kind of work, it is very hard to isolate one track as better than another. Whether with the simplicity and vivacity of the xote "July 17," featuring Michael Spiro on triangle and John Santos on surdo, or the mysticism of "Os Guizos," Serenata is a mesmerizing recording.
Cláudia Villela and Ricardo Peixoto's Inverse Universe features ten original compositions by this vocalist and guitarist duo. The album's only flaw is with the vocalise performances. Though Villela's voice is very pleasing, the vocalise style of those songs is what becomes outdated in an otherwise fine recording. Thankfully, Villela and Peixoto know better not to overdo on that style. Backed by an incredible team of musicians that includes Rogério Botter Maio (see review of Aprendiz), Sidon Silva, Cásio Duarte and many others, Inverse Universe does not lack variety. Toots Thielemans also guest stars in two tracks, adding his unmistakable harmonica sound to those beautiful melodies. The title track is an effervescent frevo that clearly stamps how good these two artists are. Here Villela and Peixoto's duo is outstanding and will leave you breathless. It's truly a welcome change to hear "Falsa Valsa" after that frevo. Listeners will definitely welcome the calm and restful tone of this song, especially since Thielemans's harmonica comes back a second time. 
Villela's samba anthem "Brasil com S" is a very fitting song to showcase her vocal abilities, particularly in the duels between voice and percussion. The beautiful lyrics touch on several Brazilian folkloric themes, such as the Saci Pererê, as well as other Brazilian wonders. In closing the album, "In Your Name" leaves listeners with a flavor of Clube da Esquina music. This is a promising duo, and I hope that we'll get to experience more of Peixoto's guitar work and Villela's lyrics in future albums.
The last time U.S. audiences were treated to a Ricardo Silveira solo album was in 1995 with Storyteller. Needless to say thatNoite Clara was long overdue. Ricardo Silveira has consistently received praises from the most respected magazines and critics worldwide. His guitar style has been compared to Pat Metheney and George Benson. Even though comparisons are likely to happen, it is essential to note that Silveira's style is uniquely Brazilian. 
Noite Clara features 8 tracks written by Silveira and one by Baden Powell/Vinícius de Moraes and another by Jorge Benjor. This repertoire gives us a chance to experience the many moods in Silveira's singular guitar work. Featuring a band that includes Jorge Helder on bass, Armando Marçal on percussion, Carlos Balla on drums and Sasha Amback on piano,Noite Clara also has room for special guest Gilson Peranzzetta on accordion.
After the first two smooth tracks, the album begins to diversify its genres. With "Tango Carioca," for example, Silveira's electric guitar sets the mood for Peranzzetta's fine accordion solo. It's a great track. The tribute to one of Brazil's extraordinary guitarists, Baden Powell's "Consolação," is another unforgettable moment of the album. The bolero-flavored "Ingênua" gives Marçal the right space for showcasing his Caribbean percussion. To wrap up this excellent release, Silveira goes back to one of Brazil's popular songs, Jorge Benjor's 1969 "País Tropical." It's a fun piece performed in Silveira's light and cool style.
If you are one of those listeners who enjoy the not-so-common performer or the songwriter performing his own works, then Nelson Ângelo's Cateretê is for you. You might not be familiar with his voice, but if you like Brazilian music, chances are you have heard Ângelo's music before. He is the composer of well-known tunes such as "Tiro Cruzado," "Canoa, Canoa" and other Brazilian standards. 
He has been recorded by Tom Jobim and Miúcha, Milton Nascimento, Simone, Simone Guimarães in addition to having worked with giants such as Chico Buarque, Milton Nascimento, Nana Vasconcelos and Joyce, just to name a few. Nelson Ângelo is also associated with Milton Nascimento's Clube da Esquina.It is no surprise that Ângelo's music bears resemblance to that Minas Gerais style known as Clube da Esquina. Cateretê is sometimes experimental, as with the title track, but it also features traditional Brazilian styles, as with "Vera's Frevo" and the classic Antônio Maria's "Suas Mãos (Your Hands)," here performed in a rather somber and introspect arrangement featuring special effects by Cláudio Guimarães over Ângelo's voice and electric guitars. It is amazing the number of musicians that join Nelson Ângelo inCateretê. The list includes Dom Um Romão, Ricardo Costa, Cláudio Guimarães, Novelli and eleven other noteworthy artists.
Finally, the sixth Adventure Music release is the most Bossa Nova influenced album of this batch and also the only one by a non-Brazilian artist. Tom Lellis' Southern Exposure reminded me a bit of the Kenny Rankin's 1997 Here in My Heart album . It is probably Lellis's voice tone, I'll admit. Southern Exposure is well produced and takes advantage of Brazilian music previously written with English lyrics as well as non-Brazilian tunes, such as Charles Trenet and Jack Lawrence's "Beyond the Sea" (the liner notes only credit Trenet) or Sammy Cahn and Nicholas Brodszky's "Be My Love." Lellis's best moments are found in Djavan's tunes, "Being Cool" and "Obi." Even singing in Portuguese, as in "Obi," Lellis carries the song with grace, style and lots of energy. His Portuguese accent is not perfect, but he is capable of using his weaknesses to his advantage by making Djavan's lyrics fit his voice and accent perfectly. Also Kenny Werner's rocking piano solo and Romero Lubambo's dazzling guitar solos make that one of the best tracks of the album. "Being Cool" also features Lubambo doing what he does best along with Dave Kikoski's piano accompaniment. Another Brazilian giant that is featured here is Toninho Horta. 
In fact, Horta's tribute to Tom Jobim, "From Tom to Tom," receives English lyrics by Lellis. This is a great combination of a fine melody with deserving lyrics to Jobim. The same magic of Horta and Lellis is repeated with "Luísa." I cannot deny my admiration of U.S. standards performed with Bossa Nova influences. So many songs have been given that treatment well, and "Be My Love" is no exception. The minimalist arrangement is enough: Lellis on vocal, Horta on guitar and vocal and Frank Colon on soft percussion. Somehow, and strangely enough, the two Milton Nascimento tracks featured in this album, "Canções e Momentos" and "Bridges," don't seem to fit with Lellis' fine vocals. He does a fine job, but the songs do sound very dated. Lellis's two original compositions, "Count to Two" and "Free Bossa," provide a nice break among a mostly Brazilian songwriters' repertoire, with "Free Bossa" being the most original of the two tracks. Closing this nice recording, Lellis goes directly to the Jobim songbooks and extracts two gems, "Falando de Amor" and "Tema de Amor" (from the Gabriela movie soundtrack). Lellis's sensual rendition along with Horta's acoustic guitar is simply beautiful.
ALBUM INFORMATION
Marcos Amorim Trio
Cris on the Farm
Adventure Music AM1005 2 (2003)
Time: 45'29"
Tracks (all tracks by Marcos Amorim except where noted):
Juca e Helena
Manaíra
Baden
Cristina na Fazenda
Trenzinho para Vera Cruz
O Boto
Bons Amigos (Toninho Horta – Ronaldo Bastos)
Largo das Neves
Sodalita
Mr. Birdman (Helio Celso)
Procissão (Marcos Amorim – Robertinho Silva)