A Thousand Lights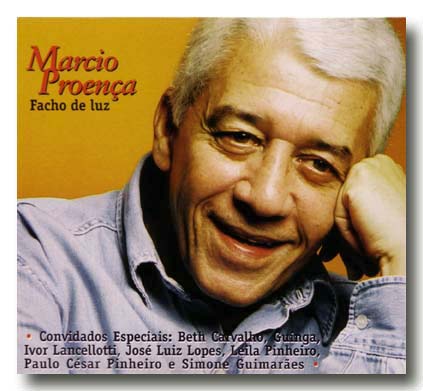 Deixa eu contar meu delírio em prosa e verso Sou bem prolixo e até convexo Bem pouca chance pra mudar
Those are the first words you will hear in Marcio Proença's Facho de Luz. Produced by João Carlos Carino and arranged by super talented pianist Cristóvão Bastos, this album makes those introductory words quite unnecessary and even redundant. Proença does not need to ask to sing his music. Whether in his own, intimate style or with the help of luminaries Leila Pinheiro, Guinga, Simone Guimarães, Ivor Lancellotti, José Luiz Lopes, Paulo César Pinheiro and Beth Carvalho, Proença is a prolific song writer. As listeners, we are lucky to have his music.
Proença (born in Niterói, Rio de Janeiro, in 1943) started his professional musical career at age 17. Later, during the years of Brazil's military dictatorship, he was a member of the Movimento Artístico Universitário (MAU, Universitarian Artistic Movement; the acronym means "bad"). Also part of that movement were Gonzaguinha, Aldir Blanc and Ivan Lins. Proença's music has been recorded by Nana Caymmi, Zé Luiz Mazziotti, Gonzaguinha, Simone and many others. Who can forget Proença's "Pare de Me Arranhar" whether sung by Mazziotti or Simone? Proença's music marks moments and leaves unforgettable memories.
Proença defines himself as a "son of Bossa Nova." So, it is only obvious that he was influenced by Tom Jobim as evidenced in the opening track, "Delírio," in which Marcelo Bernardes's flute and Maurício Carrilho's acoustic guitar give a distinct Bossa Nova mood. Besides those musicians, other names present in Facho de Luz include Jorge Hélder (bass), João Lyra (acoustic guitar), Don Chacal and Ovídio Brito (percussion). As for the stellar guest vocalists, Proença said some of the names had been determined well in advance. Unfortunately, he and producer Carino had to make some changes as in the case of Nana Caymmi. She was scheduled to appear in this album but her participation in Caymmi's 90th birthday show prevented her appearance here.
Bossa Nova is not the only genre you will find in Facho de Luz. In fact, you might find out that Proença's strongest and most touching melodies are his boleros — "Gosto de Batom" and "Bons Momentos" — and the slow, heart warming love ballads — "Que Bom Seria," "Um Pouco Mais Canção" and "Marcas do Passado." The combination of Proença's music with Lopes's lyrics proves to be a good match.
If you can read Portuguese, Niterói Discos has more information about Marcio Proença.
ALBUM INFORMATION
Márcio Proença
Facho de Luz
Niterói Discos ND/CD 106 (2004)
Time: 52'36"
Tracks:
All songs by Marcio Proença & José Luiz Lopes
Delírio
Que Bom Seria – w/ Leila Pinheiro
Gosto de Batom
Um Pouco Mais Canção – w/ Guinga
Bons Momentos – w/ Simone Guimarães
Já Foi, Mas Volta
Marcas do Passado – w/ Ivor Lancellotti
Um Mal de Amor
Avassalador – w/ José Luiz Lopes
É Bom, Mas É Ruim – w/ Paulo César Pinheiro
Cilada Fatal
Atitude – w/ Beth Carvalho