With Devotion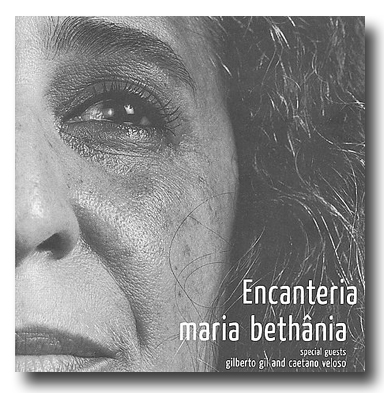 In Brazil many occasions are coloured by music. It's how the art form easily finds its way to all layers of the Brazilian society. It's also why tradition always takes a prominent role in the music scene of the country. Singer Maria Bethânia is without questioning the best known representative of this special connection between music and Brazilian traditions. She has dedicated different parts of her career to various aspects of the country's wealthy cultures; she literally keeps them alive. On Encanteria the repertoire is dedicated to expressions of faith and devotion (see also Cânticos, Preces, Súplicas à Senhora dos Jardins do Céu).
Encanteria is not only about faith in religion, but also about faith in humanity, love, people, or in short: faith in a metaphorical sense. However, an explanation for the word "encanteria" can be found in the Afro-Brazilian cult from the Amazon. It's a special form of shamanism in which music and dance invoke different gods of different beliefs. For this album you could expand that vision on faith as a trigger for various human accomplishments. The album features four compositions by Roque Ferreira (1947), who's known as an important singer and composer of sambas in the northeast of Brazil. On the opening song, "Santa Bárbara," his lyrics say praise to this Christian saint, a virgin martyr who's considered to protect against storms, thunder and lightning. Maria Bethânia sings the song in a most devoted way, only accompanied by pianist Cristóvão Bastos. It's one of the rare occasions on which we hear the singer in a duo setting (although we're surprised with yet another one on this album). As a contrast, the following "Feita na Bahia," a typical samba from Bahia about the Afro-Brazilian Ketu Candomblé religion, is sung in a much larger setting. The Escola Portátil de Música supplies the singer with a real big band. "Minha Rede" features the acco
Composer and poet Paulo César Pinheiro (1949) from Rio de Janeiro is very present in the repertoire of the greatest Brazilian singers. No less than 700 of his songs, written with various partners, have been recorded. Here he's represented by two of his works, the title track "Encanteria" and "Linha de Caboclo." The samba "Encanteria" features the musicians from the Escola Portátil de Música again with a nice modest big band sound. One of the most remarkable songs on the album is "Saudade Dela" by Roberto Menezes and Nizaldo da Costa. The song is dedicated to Dona Edith do Prato (Edith Oliveira Nogueira) who died January 9, 2009, at the age of 94 and is remembered as a wise, optimistic and joyful woman. Like Maria Bethânia, she was from Santo Amaro. She didn't become a professional singer until her 60s, when Caetano Veloso invited her to do a concert with him in Salvador. Caetano is guest vocalist on this track, together with Gilberto Gil. Another noticeable track is the composition by Maria Bethânia's long time arranger and guitarist Jaime Alem. He composed "Doce Viola" as a dedication to his favourite instrument, the 10-string viola caipira. This is the second duet on this album; Maria Bethânia is accompanied by the viola caipira of the composer. The album closes in a glorious way with "Sete Trovas," a dedication to the song in general. In the lyrics we can hear references to some of Maria Bethânia's earlier albums. Can music sound more beautiful than on this track?rdion of an excellent performing Toninho Ferragutti. He underlines the sentiment of the xote. Toninho is also guest on "Estrela" by Vander Lee.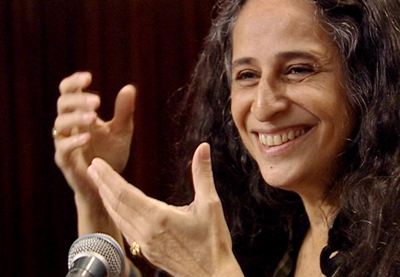 This might well be one of the most beautiful albums in the discography of Maria Bethânia. The repertoire has a lovely variety in sentiments and styles, while the choice of the instrumentation is really outstanding. It makes Encanteria a timeless album.
ALBUM INFORMATION
Maria Bethânia
Encanteria 
Biscoito Fino Quitanda QUI 018 (2009)
DRG Records DRG Brazil DRG-CD-31625 (2010)
Time: 33'17"
Tracks:
Santa Bárbara (Roque Ferreira)
Feita Na Bahia (Roque Ferreira)
Coroa Do Mar (Roque Ferreira)
Encanteria (Paulo César Pinheiro)
Saudade Dela (Roberto Mendes – Nizaldo Costa) – w/ Gilberto Gil & Caetano Veloso
Linha De Caboclo (Paulo César Pinheiro – Pedro Amorim)
Estrela (Vander Lee)
Minha Rede (Roque Ferreira)
Doce Viola (Jaime Alem)
E Senhora/Batatinha Roxa (Vanessa da Mata)
Sete Trovas (Consuelo de Paula- Etel Frota – Rubens Nogueira)