Poetical Notes
Rio de Janeiro poet, composer and singer Lourdes Ábido is a rare name in the Brazilian musical scene. With a strong academic background in Brazilian, Portuguese and French literatures, she also has a personal interest in philosophy. As for her musical education, she studied with Chiquita França (piano) Egberto Gismonti (guitar) and Célia Vaz (harmony and guitar). Her musical studies began at age ten. When she was 16, she wrote her first song. Moving from Niterói to Nova Friburgo to Paris (she studied at the Sorbonne), she finally set her roots in Rio de Janeiro, where she perfected her musical skills concentrating on the acoustic guitar and harmony. Her musical influences, according to Ábido, are Baden Powell, Egberto Gismonti, Tom Jobim, Chico Buarque, Moacir Santos, Edu Lobo, Paulinho da Viola, Nelson Cavaquinho, Francis Hime, Dorival Caymmi and Zé Miguel Wisnik. With this remarkable background of influences in her music, it is no wonder that she was one of the finalists of the 6th Visa Award for Composers in 2003. With her first solo album Golfinho/Gaivota, Lourdes Ábido comes to the forefront of the musical scene. Her music is richly poetic and at the same time elaborate and highly sensitive. Her songwriting partners include poet and journalist Reynaldo Jardim and singer/songwriter Simone Guimarães. Golfinho Gaivota pleases with its wealth in poetry and musical beauty.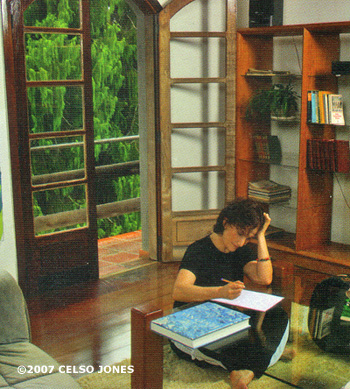 Probably nothing can describe Golfinho/Gaivota better than this statement from Márcia Tiburi in the liner notes. She said: "Lourdes Ábido's compositions are the possibility of the meeting between poetry and music." Indeed Ábido's command and ability to write music that transcends the banal can be evidenced in the twelve gems she presents us in this solid debut. She conceived and produced the entire project and had the support of heavyweights in the Brazilian music scene, including Trio Arcano (Victor Somma on flute, Bianca Gismonti on piano and José Izquierdo on percussion), Willians Pereira, Marco Pereira, Lula Galvão, Miúcha, Leandro Braga, Célia Vaz, Jane Duboc, Nós Quatro, Leila Pinheiro and Egberto Gismonti — and those are only the special guest appearances. Other musicians performing in this fine album include Zeca Assumpção, Jessé Sadoc, Alexandre Gismonti, Kiko Continentino and several others. Though Lourdes Ábido did some of the arrangements, she also left room for the other guests to provide some of the beautiful arrangements we have in the album.
The album opens with the haunting instrumental "A Era do Vazio." Bianca Gismonti's touching piano accompaniment serves as the base for Victor Somma's flute solo. Like an overture to sublime music, this melody opens the musical spectrum to follow. Willians Pereira's gentle guitar introduction in "Princípio da Incerteza" is paired with Jorge Continentino's soulful sax solo. Then we hear Ábido's heartfelt voice for the first time.
Her unforgettable tone and enunciation are the perfect match for these introspective songs she sings. Sometimes, even when singing about force, weapons and lament, Ábido brings forth an optmistic message of a people singing, of a samba or an anthem as in "Gaivota." Acoustic guitar solos are the central focus in these first three songs: Willians Pereira, Marco Pereira and Lula Galvão, respectively. The optimistic thread in the lyrics also rise from song to song and reach a life celebration in "Recompondo o Sonho," with the help of Ramiro Musotto's fine percussion and Nicolas Krassik's violin providing a fine accompaniment to Ábido's voice and Galvão's acoustic guitar. The next two tracks will feature Miúcha on vocals. In the first, "L'Amour pour un Monde plus Humain," Ábido and Miúcha share vocals. You are nearly transported to a classic Claude Lelouch movie. The feeling intensifies when you hear the incidental "Un Homme et une Femme" play in the end of this track. The circle is complete and ecstatic! "Gotas de Poesia" shows Ábido's poetic vein just as strong as her musical talents. When Miúcha sings that "the most beautiful sentiment is to transform sadness in musical happiness" (in "Gotas de Poesia"), we clearly hear these poetic drops that are present in all of these songs.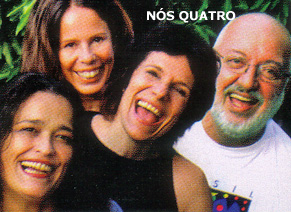 The two tracks featuring Jane Duboc have a certain Baroque sound at first. Alexandre Gismonit's excellent acoustic guitar work is a strong presence in both songs. The other half of the album title is the next track, "Golfinhos." Here the vocal prowess of the phenomenal quartet Nós Quatro — Clarisse Grova, Fabíola Sendin, Célia Vaz, Márcio Lott– is featured on vocals. This track bears a clear and positive influence of Tom Jobim in Ábido's music. To make it even more prominent, Simone Guimarães' lyrics sing about porpoises and dolphins, a theme also sung by Jobim. Through slow sambas and thoughtful ballads, Ábido delivers material that is very rich. The final number, the sublime duet with Leila Pinheiro (voice) and Egberto Gismonti (piano) is nothing short of superb material. Once again, Ábido proves what an extraordinary composer and poet she is. "Your voice and enchantment come with the morning breeze, and with time comes this love song" — with opening verses like this, "Fantasia" is a beautifully evocative number. Gismonti's piano accompaniment is perfect, as is Pinheiro's sensitive vocals.
Listening to Golfinho/Gaivota made me want to understand the composer's own frame of mind in coming up with these beautiful songs. So, I asked Lourdes to elaborate on the harmonies, melodies, lyrics and songs in general. If you read Portuguese, please enjoy getting inside the composer's mind.
The surprises in music and poetry never cease to amaze the listener. Golfinho/Gaivota is not an album to play in the background. You will want to have this music surround all your senses. Listen carefully and intently. You will enjoy the great music in Golfinho/Gaivota.
You can visit Lourdes Ábido to learn more about the artist, this album and hear song samples. If you would like to read Lourdes Ábido's explanation for each track, please see this Portuguese article.
ALBUM INFORMATION
Lourdes Ábido
Golfinho/Gaivota 
Independent LA-0001 (2007)
Time: 50'28"
Tracks:
All track by Lourdes Ábido, except where noted.
A Era do Vazio
Princípio da Incerteza (Lourdes Ábido – Reynaldo Jardim)
Gaivota (Lourdes Ábido – Reynaldo Jardim)
Recompondo o Sonho
L'Amour pour un Monde plus Humain (Simone Guimarães – Lourdes Ábido) w/ Miúcha
Gotas de Poesia – w/ Miúcha
Calendário (Lourdes Ábido – Reynaldo Jardim) – w/ Jane Duboc
Vento de Agosto (Lourdes Ábido – Reynaldo Jardim) – w/ Jane Duboc
Golfinhos (Lourdes Ábido – Simone Guimarães) – w/ Nós Quatro
Da Arte de Não Esperar (Lourdes Ábido – Simone Guimarães – Reynaldo Jardim)
Samba Marcha (Simone Guimarães – Lourdes Ábido) – w/ Trio Arcano
Fantasia – w/ Leila Pinheiro & Egberto Gismonti