Substance Meets Style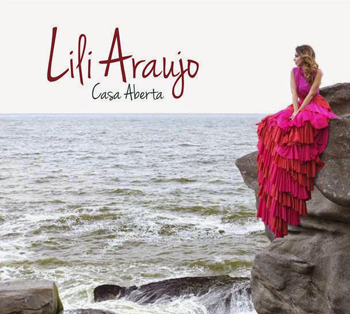 Immediately upon hearing the initial groove of "Negro Coração" (composed by Alegre Corrêa and Raul Boiera), the song chosen to open the second release of Rio born vocalist / composer Lili Araújo, entitled Casa Aberta (Delira Música, 2012), you know you are going to be on an interesting, yet relaxing, musical journey. Ms. Araújo has crafted a wonderful set of jazz influenced bossa and MPB that features her unique vocal style along with some of the finest musicians Brasil has to offer. After moving through the slightly dark textures of "Até Quando Durar" (by Daniel Santiago and Mauro Aguiar) with special guest Martin Reiter on piano, Ms. Araújo finally hits her full stride in a perfect vehicle for her sound on the third track, the artist's own composition "Vai Saber." Mr. Reiter again contributes strongly with his solo on electric piano, but this number makes the listener immediately wish for more songs from Ms. Araújo's own pen, and she does not disappoint.
The "participação especial" of legendary pianist João Donato provides the major guest appearance of the recording, as he joins an outstanding rhythm section for his own composition "Não Tem Nada Não." And what a rhythm section this is! Fueled by the guitar (and many wonderful arrangements) of Daniel Santiago, the bass of Guto Wirtti (and on two occasions Rodrigo Villa), along with arguably the best drummer on the planet, Rafael Barata, the collaboration of the band is stylish, somewhat understated, and musically appropriate in every way throughout the recording. The afore mentioned pianists, along with the tasteful contributions of Vitor Gonçalves, who plays on a majority of the tunes, contribute strong solos and jazz influenced harmonic touches.
But even a band as strong as this could be limited without the wonderful compositions heard on Casa Aberta. Ms. Araújo's other contributions, including the title track; the contemplative "Pra se Lembrar de Mim"; "Sinceridade," with its complex melodic countours; "Vindobona Viena," featuring a beautifully arranged horn section of Eduardo Neves (flute), Denize Rodrigues (sax), and Aquiles Moraes (trumpet); and particularly the set's energetic closer, "Pode Ir," are the compositional highlights of the recording. Well-known writers such as Ivan Lins and Chico Pinheiro are included here as well, but the compositional work of Ms. Araújo easily stands out.
However, it is Ms. Araújo's unique voice that is showcased most often. She brings an expressive approach to the excellent variety of material offered here, ranging from the hushed tones of "Até Quando Durar" to the sweet sound she employs on "Vindobona Viena." She demonstrates a solid rhythmic conception throughout, and integrates seamlessly with the marvelous group of musicians. Casa Aberta leaves the listener wanting more of Ms. Araújo's expressive voice, her well-crafted compositions, and the fantastic musicians with whom she collaborates.
You can read more about the artist and this release in her web site.
ALBUM INFORMATION
Lili Araujo
Casa Aberta
Delira Música DL564 (2012)
Time: 43'00"
Tracks:
Negro Coração (Alegre Corrêa – Raul Boeira)
Até Quando Durar (Daniel Santiago – Mauro Aguiar)
Vai Saber (Lili Araújo)
Não Tem Nada Não (João Donato – Eumir Deodato – Marcos Valle) w/ João Donato
Casa Aberta (Lili Araújo)
Onde Estiver (Chico Pinheiro – Paulo Neves)
Pra se Lembrar de Mim (Lili Araújo)
Sinceridade (Lili Araújo – Alegre Corrêa)
Não Tem Perdão (Ivans Lins – Ronaldo Monteiro)
Vindobona Viena (Alegre Corrêa – Lili Araújo)
Pode Ir (Lili Araújo)