A Follow-up with Style!
As best performer in the SESC Tom Jobim 2011 Music Award, Leonel Laterza brings his smooth vocals and strong performances once again in a remarkable follow-up album, Guardados. Giving continuation to his excellent debut album, Esmeraldas, Leonel is back with the same quality, integrity and artistic excellence as before.
With musical production by Hamilton Pinheiro, Guardados was originally conceived by Leonel Laterza and recorded in Brasília, where he resides. One of the reasons why this album has everything to succeed in a difficult market dominated by female singers is Leonel's keen vision and determination to record a good repertoire. He is not afraid to insist on good Brazilian music featuring composers such Cartola, Ivan Lins, Fátima Guedes, Sérgio Santos, Dori Caymmi, Rosa Passos and Tom Jobim, among others. His efforts are well recognized and applauded by Rosa Passos, his artistic godmother, and Sérgio Santos, who wrote the title track for the album. Both also took time to record duets with Leonel in Guardados. Rosa, for example, does not hold back her admiration when talking about Leonel Laterza. She says,
"He has a calm style and a hardwood voice, a messenger of music, always singing from the heart. I enjoyed it immensely! It's beautiful, elegant, impeccably clean! The arrangements have this cheerful, light and jazzy 'brazilianity'. He is very Brazilian and cosmopolitan at the same time."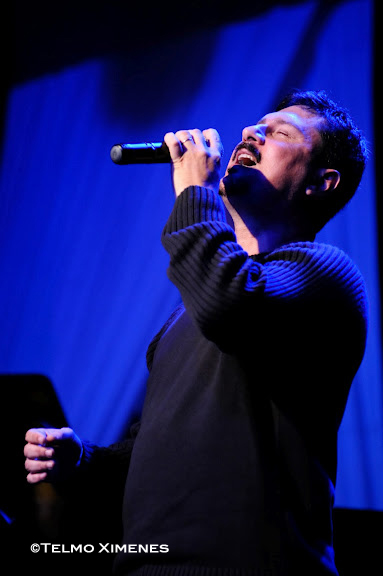 If you heard Leonel in his debut album (Esmeraldas), you will clearly hear in Guardados what Rosa Passos means by "Brazilian and cosmopolitan." Leonel is confident improvising and throwing in some subtle jazz influences in songs such as "Alvorada," "Até Quando" and "Tim Tim por Tim Tim," for example
Leonel Laterza is backed up in Guardados by a solid group of musicians. Some of the aces featured here include Hamilton Pinheiro (electric bass), Rafael dos Anjos (acoustic guitar), Flávio Silva and Daniel Baker (piano), Márcio Bezerra (flutes), Rafael dos Santos (drums, percussion), Oswaldo Amorim (acoustic bass), Ocelo Mendonça (cello), Lula Galvão (guitars), Juninho Ferreira (accordion) and others. What these musicians do is nothing short of beautiful. In "Amor" — one of my favorite tracks in the album — Daniel Baker does a superb arrangement for Leonel's heartfelt interpretation of this Ivan Lins' classic.
As for special appearances, the first guest is Rosa Passos in the delicious duet "Se Acaso Você Chegasse." With Lula Galvão on guitars and behind the arrangement, this is one of those memorable encounters of two incredible musicians who blend in their talents and voices to make a great song even better. Rosa's and Leonel's voices are perfect together. The second guest, Sérgio Santos, is featured in his own "Coração do Mato." Yet another fortunate duet, this song features Victor Angeles on mandolin and Juninho Ferreira on accordion. Just as with the vocal duet, these two instrumentalists heighten the beauty of this song.
Leonel Laterza can carry sambas with plenty of ease and style. That is crystal clear with the opener, "Alvorada," as well as "Tim Tim por Tim Tim" or the José Cabrera's arrangement for "Dunas." Leonel's phrasing is always right on. When he switches gears and goes into ballads, such as "Amor" and "Dor Medonha," his vocals soar to new heights. "Dor Medonha," for example, features Leonel's voice with an all acoustic guitar arrangement by Paulo André Tavares. The instrumental setting and vocal rendition are truly memorable.
Leonel Laterza has struck gold once again with Guardados, and we are the lucky winners for being able to hear such good music. The album is impeccable in its repertoire, arrangements and performances.
You can visit Leonel Laterza to learn more about the artist and this album.
ALBUM INFORMATION
Leonel Laterza
Guardados 
Independent (2011)
Time: 55'39"
Tracks:
Alvorada (Cartola – Carlos Cachaça – Hermínio Bello de Carvalho)
Amor (Ivan Lins – Vitor Martins) [Incidental music: O Cantador (Dori Caymmi – Nelson Motta)]
Se Acaso Você Chegasse (Lupicínio Rodrigues – Felisberto Martins) – w/ Rosa Passos
Dor Medonha (Fátima Guedes)
Até Quando (Sérgio Magalhães)
Tim Tim Por Tim Tim (Haroldo Barbosa – Geraldo Jacques)
Coração do Mato (Sérgio Santos – Paulo César Pinheiro) – w/ Sérgio Santos
Armadilhas de um Romance (Dori Caymmi – Paulo César Pinheiro)
Dunas (Rosa Passos – Fernando de Oliveira)
Estrela da Terra (Dori Caymmi – Paulo César Pinheiro)
Guardados (Sérgio Santos – Paulo César Pinheiro)
Outra Vez (Tom Jobim)