Leo Gandelman Lets the Stars Sing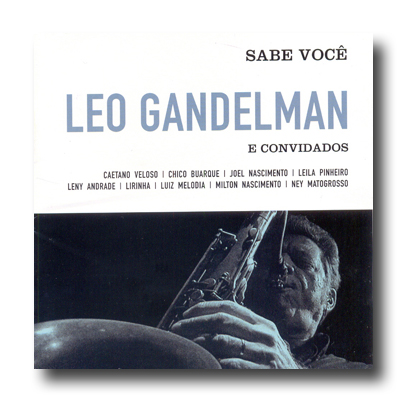 Saxophonist Leo Gandelman leaves his marks in 2008 with an outstanding album that features many of Brazil's legendary vocalists.
The craftsmanship of Leo Gandelman (Rio de Janeiro, 1956) is widely recognized. During his career, that started at age 15 as soloist with the Brazilian Symphony Orchestra, he has won many prices and polls. After studying at Berklee in Boston, he returned back to Brazil in 1979 to follow the road of success. He has lent his recognizable sound to countless productions, both in popular music and in jazz.
Sabe Você is his eleventh solo album and maybe his most important. The performance is great as always, the repertoire is beautiful as always, but the special guests make this an exceptional album. The vocalists all deliver superb performances, perfectly fitting into the concept Leo had in mind.
Their voices shine in the chosen repertoire. The album's opener that features Luiz Melodia singing "Aos Pés da Cruz" is good example. After a wonderful sax intro, Luiz Melodia sings this popular 1942 samba in his unmistakable relaxed way. Gandelman trades solos with Lula Galvão on the acoustic guitar. The only non-vocal guest performance is by Joel Nascimento on the mandolin on the Pixinguinha choro "Sensível." Ney Matogrosso's voice sounds as a dedication to Ary Barroso on his composition "Pra Machucar Meu Coração," and how good it is to hear Chico Buarque performing his own "Futuros Amantes." Caetano Veloso sings "Chove Lá Fora" the way only he can, while Leila Pinheiro gives her best on Caetano's composition "Coração Vagabundo." The list doesn't end: Milton Nascimento is in great shape on the Dolores Duran/Jobim classic "Por Causa de Você"; Leny Andrade justifies the honour to sing the album's title track, "Sabe Você"; and youngster José Paes de Lira (or in short Lirinha) closes the vocal part of the repertoire with "Só por Amor." Lirinha (1976) is mostly known because of his presence in the band Cordel do Fogo Encantado from Pernambuco.
It's amazing to hear all these voices on one album. However, the most amazing thing maybe is that the cd doesn't sound like a "who is who" in Brazilian vocal music. Leo Gandelman manages to make his guests all part of his project. The different voices don't interfere with the flow of the album; the songs gently connect with one another. In a clever way the unique sound of Leo Gandelman's saxophones (soprano, alto and tenor) glue all the songs together, making sure we don't forget that this is Leo's album. He's helped with that by a bunch of fantastic musicians. David Feldman on the piano, Lula Galvão on electric and acoustic guitars, André Vasconcelos on bass, Allen Pontes on drums and Sidinho Moreira is the percussionist on duty. The band is featured in a couple of instrumentals. There's no doubt about it: Sabe Você is one of those timeless albums that will always leave its listener with a feeling of pleasure and (thanks to the voices) nostalgia.
ALBUM INFORMATION
Leo Gandelman
Sabe Você 
Saxsamba EMI 242785 2 (2008)
Time: 64'39"
Tracks:
Aos Pés da Cruz (Marino Pinto – Zé da Zilda) – w/ Luiz Melodia
Sensível (Pixinguinha) – w/ Joel Nascimento
Pra Machucar Meu Coração (Ary Barroso) – w/ Ney Matogrosso
Futuros Amantes (Chico Buarque) – w/ Chico Buarque
Chove Lá Fora (Tito Madi) – w/ Caetano Veloso
Coração Vagabundo (Caetano Veloso) – w/ Leila Pinheiro
Por Causa de Você (Dolores Duran – AC Jobim) – w/ Milton Nascimento
Amargura (Radamés Gnattali – Alberto Ribeiro)
Sabe Você (Carlos Lyra – Vinícius de Moraes) – w/ Leny Andrade
Só Por Amor (Baden Powell – Vinícius de Moraes) – w/ Lirinha
Chuva (Durval Ferreira – Pedro Camargo)