Progressive Art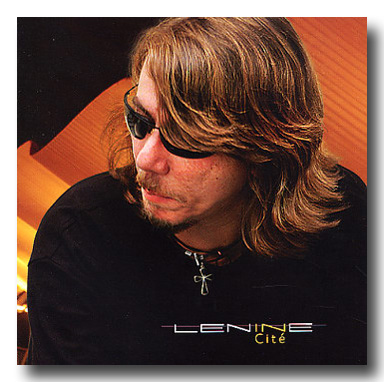 When talking about Brazilian music, people very often mention Rio de Janeiro, São Paulo and Salvador de Bahia as the most important cities. Of course, these cities are very important in the history of Brazilian music, but the northeastern city Recife also fits very well in that list. Its African influenced dance music was brought up to date in the early 90ies. The maracatu formed the basis for a musical style that would conquer the rest of Brazil and beyond: the Mangue Beat, created by the late Chico Science. By that time Lenine had already moved to Rio and established himself as a composer of very strong and progressive songs. Born in Recife (February 2, 1959), Lenine grew up listening to rock music. At age 18 he decided to live in Rio, although he never forgot his roots. Although the maracatu most certainly is part of his musical heritage,  he looks further than that and enriches his music with the influences of many musical styles. He has signed more than 500 compositions and his music is sung by the big names in Brazilian music. As a performer he was rewarded with his first success in the early 90ies, when the album he did with percussionist Marcos Suzano (Olho de Peixe, 1993) surprised music critics and music lovers all over the world. The album is a cherished treasure in Brazilian popular music. Four years later Lenine's first solo album was released (O Dia Que Faremos Contato). The album was also successfully released in Europe. Time for Lenine to move on and release a second album, Na Pressão (1999), followed by a world tour. Especially in Europe Lenine's fame grew, being the highlight at various important world music festivals. Falange Canibal (2002) is his most recent studio album. On each album Lenine changed his style a bit. On Falange Canibal he took up with the more electronic influenced music of that time.
Last year Lenine went on a world tour again. It brought him in Paris, France, where this live album was recorded. And what a fantastic piece of work this is! His music amazes you. It sounds so honest, so pure and it swings like hell! Lenine got on stage with two fantastic musicians. Argentinean percussionist Ramiro Musotto is an established and respected name in Brazilian music. His originality is so unique, that when he's asked for a project he always leaves his mark on the music. He's an important addition to everything he's involved with and also a very progressive musician. Yusimil Lopez Bridon, or in short Yusa (born 1973), is from Havana, Cuba. This multi-instrumentalist and singer has her own career, and is also touring world music festivals with lots of success. Here we hear her playing the 5-string electric bass and adding some background vocals. The trio captured the interest of the critical Paris audience for every minute with powerful but yet sophisticated music. Lenine plays his acoustic guitar in his own very rhythmical style, the bass accentuates his chords and the percussion outlines the various colours of the compositions. The voice of Lenine has no trouble to literally stand up against that musical wall of quality. The vocals set the sentiment of each song, where the lyrics are superb. On "Todas Elas Juntas Num Só Ser" the listener can only be full of admiration how such long lyrics can be sung so accurate and full of passion (the lyrics cover two columns over two pages of the booklet). Lenine stands behind every word he's singing; that's how he sounds and that's a talent on its own. The song pitiless works to a climax, where also the listener is carried away with the musical enthusiasm. It seems impossible not to be moved by this song; a deep breath is the only answer after hearing this composition.  "Rosebud," written with his long time musical partner Lula Queiroga (with whom he released one of his earliest albums in 1983, Baque Solto), is another highlight. The percussion is outstanding again and it's funny how the song ends with a wink to the Cuban origin of bassist/vocalist Yusa. On the ballad "Todas os Caminhos," Yusa gets a chance to show her skills on the bass. "Relampiano," co-written with Paulinho Moska, is another peaceful moment in the show. The gentle swing makes you rock without even knowing. The album closes with the beautiful "O Marco Marciano," accompanied by the berimbau and a dark bass line. The song is marked with a duration of 8 minutes and 58 seconds, but be aware: the song only lasts for 1'15", the rest is filled by the audience,  patiently applauding for an encore. Whether that extra song is given is something we won't find out. It's the end of the cd…
There's no doubt that this album will be among the best releases of 2005. Three masterful musicians and compositions that betray an outstanding originality. Musicians like Lenine are very important for Brazilian music. His music is pure Brazilian, but can be brought to concert halls all over the world. The music is boundless and a compliment for Brazilian culture.
ALBUM INFORMATION
Lenine
In Cité
BMG Brasil M003 (2004)
Time: 52'56"
Tracks:
Do It (Lenine – Ivan Santos)
Vivo (Lenine – Carlos Rennó)
Ninguém Faz Idéia (Lenine – Ivan Santos)
Todos Os Caminhos (Lenine – Dudu Falcão)
Rosebud (O Verbo e a Verba) (Lenine – Lula Queiroga)
Virou Areia (Lenine – Bráulio Tavares)
Relampiano (Lenine – Paulinho Moska)
Todas Elas Juntas Num Só Ser (Lenine – Carlos Rennó)
Anna e Eu (Lenine – Dudu Falcão)
Caribenha Nação / Tuareguê Nagô (Lenine – Bráulio Tavares)
Sentimental (Lenine – Lula Queiroga – Arnaldo Antunes)
O Marco Marciano (Lenine – Bráulio Tavares)