The Jazzy Side of Rock
Guitarist Kiko Loureiro is a modern musician who knows what's happening in today's music world. His personal website is more than informative: he backs it up with a page at the very popular "MySpace," he has recorded several guitar instructions videos and he travels around.
Kiko has been studying music ever since he was eleven years old. His guitar talent made it possible to develop a dazzling technique. After playing in various bands, he joined the São Paulo based Angra at age 19. It's with this band that he continues to break borders. Angra can be qualified under heavy metal or at least hard rock. Most of their cds are recorded in Germany, there's a live album from Paris, France, and they're quite popular in Japan and of course in Brazil, too. On the side Kiko finds time to release solo projects, too. On his debut album No Gravity (2005) he showed his skills as a multi instrumentalist (guitars, bass, keyboards and percussion).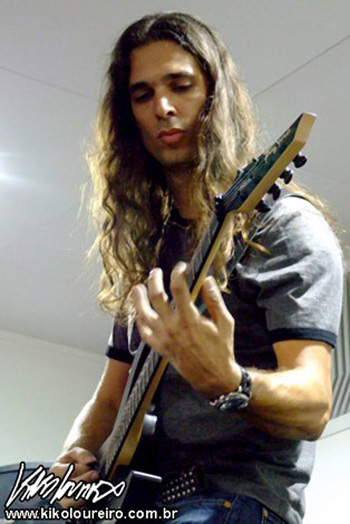 On his new album Universo Inverso the guitarist decided to work in a quartet formation, bringing music from the Jazz/rock and Jazz areas. It's the right music for Kiko to show his exceptional talent. He can play a thousand notes per minute like Al DiMeola, next he shows that he also studied the basics of Wes Montgomery…
In this quartet we find Yaniel Matos (Havana, Cuba) behind the keyboards. He mainly works in the Cuban music scene (salsa) and also participates in Carlinhos Brown's band for the album Carlito Marron. To develop his jazz skills, he studied with giants like Wynton Marsalis and Anthonio Hart.  In Brazil he's one third of the Mani Padme Trio (with Zeca Assumpção, bass and Ricardo Mosca, drums). Living in Brazil for the past half decade, he established himself as a wonderful and tasteful pianist. On bass is Carlinhos Noronha, a well known name in São Paulo's music scene. He's playing bass since he reached the age of 9 years old; also adapting knowledge of choro and samba, which made him an all round musician.  Edgard "Cuca" Teixeira is on drums. He's well known from his work with Marina Lima and more recently Maria Rita. He also worked with Hermeto Pascoal, Dominguinhos, Raul de Souza, Leo Gandelman and jazz artists from the United States like Lee Konitz, the late Michael Brecker and Joe Lovano, to name just a few.
The cd starts with a few compositions which are clearly influenced by the jazz/rock style of the 80's. "Ojos Verdes" recalls memories of Chick Corea's Return to Forever (with guitarist Al DiMeola in the line-up). The rhythmic complexity of the composition's theme is performed with impressive self-confidence, especially if you consider that most of the music on this album was recorded "live" in the studio. The Spanish influence in the composition adds to the resemblance with Chick Corea's work.  "Feijão de Corda" has a clear rhythmic reference to Brazil's northeast. "Havana" is a Yaniel Matos composition, a tribute to his home town. It's a pure rock composition with a touch of the world famous music from the band Toto (with Steve Lukather). It's clear that the guitarist finds inspiration from various corners of the music world. Pianist Yaniel Matos delivers a delightful solo. Another musician who has an impact on Kiko's music is Carlos Santana. On "Camino a Casa," Kiko recalls the Latin groove from Santana and adjusts his guitar style a bit to the one of the master himself. In "Samba da Elisa" Kiko shows his love for Rio de Janeiro. It's a delightful jazzy samba with nice bass lines from Carlinhos Noronha. The tune seems a bit out of place on this cd, although "Realidade Paralela" is of the same beauty. Here the pure jazz qualities of the guitarist makes you wish for a straight ahead jazz album by Kiko Freitas. Again pianist Yaniel Matos surprises with a breathtaking solo completely dedicated to the beautiful music culture of his homeland. He drastically changes the color of the song. In "Monday Mourning," Kiko pays tribute to the sadness in some of the compositions by Jobim, Villa-Lobos, Guinga. It's another nice jazzy moment on the cd. The album's closing song, "Recuerdos," with Kiko on the acoustic guitar, forms a quiet exit for this impressive album. The four members of the quartet sound great together. Bassist Carlinhos Noronha perfectly adjusts to the music and soloists; drummer Cuca Teixeira is a sure bet, perfectly accompanying with a dazzling timing and technique. And of course there's no doubt about the exceptional quality of the guitarist. The cd has two faces: one of jazz rock and one of beautiful jazz, a strange combination. But it works fine. Kiko Loureiro: a name to pay attention, too.
ALBUM INFORMATION
Kiko Loureiro
Universo Inverso
Rock Brigade ASL120-2 (2006)
Time: 52'47"
Tracks:
All compositions by Kiko Loureiro, except where noted.
Feijão de Corda
Ojos Verdes (Yaniel Matos)
Havana (Yaniel Matos)
Anastácia
Monday Mourning
Arcos da Lapa
Samba da Elisa
Camino a Casa (Yaniel Matos)
Realidade Paralela
Recuerdos (Yaniel Matos)