An Exceptional Trio!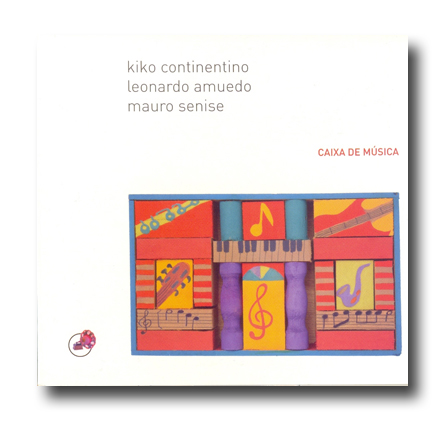 Here's an instrumental album by a remarkable trio of musicians. It's not often that we hear a trio formed by piano, guitar and sax. But a setting like this works just fine when the musicians are Kiko Continentino (piano), Mauro Senise (saxes and flutes) and Leonardo Amuedo (electric guitar). The classic rhythm section (bass, drums) isn't missed during this occasion.
Pianist Lincoln "Kiko" Continentino (Belo Horizonte, 1969) comes from a musical family. Both parents are pianists, Mauro Continentino and Marisa Gandelman (sister of saxophonist Leo Gandelman). Mauro introduced his nine-year-old son to the secrets of the keyboard. Six years later, in his father's jazz club the Pianíssimo Studio Bar, Kiko officially started his career. When 18, he moved to Niterói, on the other side of Rio's famous bay. There his talent didn't stay unnoticed. He soon accompanied illustrious artists like Djavan, Milton Nascimento, Gilberto Gil, Chico Buarque and many others, flanked by with various gigs in Rio's jazz scene. Along the way he formed The ContinenTrio with his two younger brothers, Jorge on reeds and Alberto on bass, while he's also part of the Sambajazz Trio (with Luiz Alves, bass and Clauton Sales, drums).
Guitarist on this album is Leonardo Amuedo from Montevideo, Uruguay. For about twelve years he resided in Holland, where he soon started to circulate in the local jazz and pop scenes. There's a great document of that period on which Leonardo confirms his unique talent; a trio (guitar, bass, drums) cd, "Live in Amsterdam" (2002). However, when he was on tour in Brazil with Dutch Bossa Nova star Josee Koning, he met Ivan Lins who was able to convince him to stay in Rio (2002). In his band Leonardo toured around the world. Back in Rio he teamed up with icons like João Bosco, Caetano Veloso and the late Márcio Montarroyos (among others).
The third member of the trio on "Caixa de Música," Mauro Senise (saxes and flute), is no stranger for the readers of MúsicaBrasileira. His various projects all have a common high quality.
The repertoire of the album has pleasant variety. Along five compositions by Kiko Continentino, we find works of some of Brazil's most famous composers. There's an interesting rendition of "Valsa Brasileira," the classic from Chico Buarque and Edu Lobo. The work of Antônio Carlos Jobim is honoured by erudite versions of "Andorinha" and "Esperança Perdida." One of the highlights on the album is the composition with the odd name "20 de Setembro de 1996" by Hermeto Pascoal. Between June 24 1996 and June 23 1997 Hermeto wrote at least a music score per day, collected in his "Calendário do Som" (Calendar of Sound). This composition is the fruit of the mentioned date. The trio takes the opportunity to show their astonishing originality on this track.
Kiko Continentino's contributions fit perfectly between these famous works. One could say that they bring moments of contemplation.
With a wink to the title of this cd, it's indeed like you open a music box (Caixa de Música) as soon as you put this disk in the cd player. The instrumental craftsmanship of these three gentlemen makes sure you'll keep the box open until the last tones of Continentino's composition "No Cinema" fade away in the air.
ALBUM INFORMATION
Kiko Continentino, Leonardo Amuedo, Mauro Senise
Caixa de Música 
Delira Música DL532 (2008)
Time: 78'07"
Tracks:
Quase Tudo em Menor (Antônio Adolfo)
Cantos de Andersen (Roberto Araújo)
Depois do Amor (Kiko Continentino)
Valsa Brasileira (Edu Lobo – Chico Buarque)
Tenho Tudo o que Preciso (Gilson Peranzzetta – Roberto Neves)
Samba pro Wayne (Kiko Continentino)
Andorinha (Tom Jobim)
20 de Setembro de 1996 (Hermeto Pascoal)
Dom de Iludir (Caetano Veloso)
Pé Quebrado (Kiko Continentino)
Faz Tanto Tempo (Kiko Continentino)
Samba Sagrado (Yuri Popoff – Márcio Borges)
Esperança Perdida (Tom Jobim – Billy Blanco)
No Cinema (Kiko Continentino)