Unpretentious Craftsmanship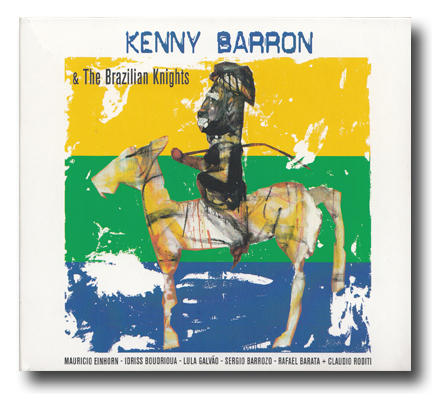 Pianist Kenny Barron and Brazilian Music — the two go well together. Kenny's love for Latin Music was fueled by working with Dizzy Gillespie (on, among others, Jambo Caribe in 1964 and The Melody Lingers On from 1966 on which they recorded "Mas Que Nada" from Jorge Ben). With his participation on Bossas & Ballads (released by Stan Getz in 1989), the pianist got a chance to venture further into Brazilian jazz. Under his own name, Kenny Barron released Sambão in 1993 (with star participations by guitarist Toninho Horta and the late Nico Assumpção on bass) and in 2002 there was Canta Brasil, recorded with the Trio da Paz. Now Mr. Barron treats us with a fantastic Kenny Barron & The Brazilian Knights.
Kenny Barron (1943, Philadelphia) is ranked among the most respected jazz musicians. The influence he has on pianists all over the globe is immense. As a piano and harmony teacher he hears his lyrical style gratefully studied and absorbed by his students at the Rutgers University in New Jersey and more recently at the Juilliard School of Music in New York City.
When producer Jacques Muyal came up with the idea to record an album in Brazil with Brazilian jazz musicians,Kenny Barron didn't need much time to agree. And indeed, some of Brazil's finest musicians showed up in the studio in São Conrado. The rhythm section includes bossa specialist Sergio Barrozo (1942, Rio de Janeiro) on bass and an eager Rafael Barata (1980, Rio de Janeiro) on drums. They kindly accompany and support Kenny Barron on his musical journey by adding strong Brazilian influences.
The repertoire is built up around the work of Johnny Alf and Maurício Einhorn. Pianist, singer and composer Johnny Alf(1929-2010) is represented with three of his compositions. Over the years "Rapaz de Bem," which opens the album, has become a true bossa nova standard. Saxophonist Idriss Boudrioua (born in France but living in Brazil for almost a quarter of a century already) is the soloist on Johnny's compositions. He has worked with the pianist for years, so he knows his work as no one else. "Ilusão à Toa" is a gentle ballad that also features the guitar of Lula Galvão (1962, Brasilia). Kenny Barron does his own thing here with an extraordinary beautiful solo. Maurício Einhorn (1932, Rio de Janeiro) is an icon on the harmonica in Brazil. He's an important name in jazz samba and bossa nova. With four compositions by his hand, Maurício shows us his exceptional talent both as composer and as instrumentalist.
Claudio Roditi (1946, Rio de Janeiro) is guest on flugelhorn (theme) and muted trumpet (solo) on Baden Powell's "Só por Amor." Antônio Carlos Jobim's classic "Triste" is performed in a duo setting with piano and the acoustic guitar of Lula Galvão. Once again it is shown that Jobim's work fits perfect in the jazz tradition. It's funny how Kenny Barronmixes the piano-style of Jobim in his own performance. A wonderful tribute. Kenny Barron also pays tribute to Brazilian actress Sônia Braga (1950, mainly known for her role in the telenovela Gabriela, based on the bookGabriela, Cravo e Canela, by Jorge Amado).
All in all this is a most entertaining album with a nice variety and outstanding musicianship. Kenny Barrondemonstrates how much he loves Brazilian Music. His exceedingly respectful performance doesn't only show his good taste, it also confirms his status as a pianist. There's more info about the album ("making of" video and interviews) on the website of Kenny Barron. This review is based on the single CD version; there's also a deluxe 2-CD edition with extra tracks.
ALBUM INFORMATION
Kenny Barron
Kenny Barron & The Brazilian Knights
Groovin' High Universal 372 019-6 (2013)
Time: 73'31"
Tracks:
Rapaz de Bem (Johnny Alf)
Já Era (Maurício Einhorn)
Ilusão à Toa (Johnny Alf)
Só por Amor (Baden Powell)
Curta Metragem (Maurício Einhorn)
Nós (Johnny Alf)
Triste (Antônio Carlos Jobim)
Sônia Braga (Kenny Barron)
Tristeza de Nós Dois (Maurício Einhorn)
Chorinho Carioca (Alberto Chimelli)
São Conrado (Maurício Einhorn)