Paula Toller is mainly known as the lead singer from Kid Abelha, one of Brazil's more popular pop bands. In 2000 she released her first solo album, which was well received also among the non-fans of Kid Abelha. Born on August 23, 1962, in Rio (Copacabana), Paula studied ballet and English. Instead of a job as an English teacher, she started a career as a singer. She studied vocal techniques with Vera Maria of Canto e Mello. Her singing songs in German explains her attraction to the German language. Since 1982 she's a singer and lyricist with Kid Abelha. Here is a short talk with the star.
KS – Kid Abelha e Os Abóboras Selvagens have a long history already (20 years). The music of the band changed a lot since the 80's. Emphasis changed from the sax and guitar to your vocals. Long instrumental solos have disappeared since the band's simply called Kid Abelha. Is there a specific reason for that change, or is it driven by commercialism?
PT – Not a single note in our music was ever due to any kind of pressure of the industry or the media. I intuitively tolerated the bad reviews and reputation in our debut because I knew nothing we could possibly change would please anybody, so, better do what we wanted to. This statement may sound quite weird in these hyper-commercialistic days, but all changes since 1982 are the result of the artistic practice and learning, live performances and the several inspiring contacts with other artists and interesting people around us. Rock concerts in the US and Europe have a tradition of long instrumental solos, but here in Brazil we give emphasis to harmony, melody, lyrics and percussion.
KS – Your voice gained maturity over the years sounding beautiful on an album like Meio Desligado. Arrangements on that album seemed to serve your vocals. Was the album something you always wanted to do and did it lead you to your solo project Paula Toller?
PT – Meio Desligado was an exercise of musical modesty. We tried to cut out every useless element in the songs, leaving only their essence, which is Kid Abelha's essence: melody and lyrics. The acoustic arrangements reveal more subtle details of my voice because they interfere less in the general sound. My solo album was more an experience with other producer, musicians and repertoire than a "diva moment."
KS – On your solo album you performed some wonderful renditions of more traditional songs. "E o Mundo Não se Acabou" is one of them. Your version stands up well against Ney Matogrosso's version on his recent Batuque. Noel Rosa's "Onde Está a Honestidade" and Dominguinhos' "Eu Só Quero Um Xodó" are others. Do you feel a special challenge in recording these classics?
PT – My favorite one is "1800 Colinas", a 70's Carnival hit in which I've always viewed a very romantic and delicate touch. These other songs you mentioned are familiar to me, I listened to them quite often at home, because they were in Carmen Miranda's albums. My grandfather, who raised me, was a big fan of her. Singing beautiful and intelligent songs is like Disneyland to me, less responsibility and lots of fun! Recording your own compositions is too dangerous, I always feel lots of pressure… but it is what I do, so I've been lately trying to balance these two feelings.
KS – Can we expect more of that traditional repertoire on a future release? Your voice seems to be perfect for those classics.
PT – Thank you! I intend (in fact I still owe an album to Warner) to record another one in 2002, but I have no idea of what it will be. Those classics keep falling on my head like rainbricks (sorry), and when this happens, I go to the studio and say: "Good evening guys, today it will be "Fly me to the moon"!" It's a great thing to say, isn't it?
KS – On the same solo album you perform that jazz standard "Fly Me To The Moon," while on the collection album O Cravo e a Rosa – Novela you give a wonderful rendition of "Someone to Watch Over Me." Do you feel a desire to record an album with jazz ballads and standards? Maybe with Portuguese translated songs?
PT – Not bad… Every person on Earth (and outside) should sing. It's the best drug for the body and soul. These wonderful Gershwins, Porters and Jobims are perfect for any shower or stage performance. Maybe I'll do it more effectively when I grow up, but I also feel like recording wonderful treasures of my "non pedigree" generation.
KS – How did you get involved in singing German songs? The German language stands in contrast with the beautiful Portuguese language.
PT – German is a very sad and solemn language to sing classical music. The Lieder from Strauss, Schummann and Schubert, and the lyrics from Schiller, Heine and Chamisso are perfect for my sad Austrian Toller soul! Pop and rock, I very much enjoy Kraftwerk.
KS – What music do you listen to these days? Do you also listen to foreign (pop) music?
PT – I was recently invited to be part of a Brazilian music award jury, so I am listening to all releases in all categories. The best albums, except for João Bosco, are the pop-rock, hip-hop and electronic ones. O Rappa, Charly Brown Jr., Rappin' Hood, DJ Patife are my favorites. Foreign? Strokes, PJ Harvey, The Avalanches. The loves of my life? Rita Lee, Roberto & Erasmo, Beatles, Pretenders, Police…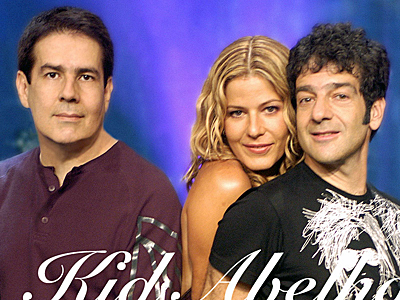 KS – Can you explain the frequent use of electronic percussion on both your own album as on Kid Abelha's albums? Don't you agree that percussionists might lift the music to an even higher level?
PT – We use both in the studio and live. Kid Abelha will always have real drums and percussion, but we do like to play with new toys. George (Israel) and I always start with an acoustic guitar. After that we keep asking to the new song: What do you want? What do you need? And it answers. And we obey.
KS – You're one of the too few female Brazilian lyric writers. How does that start? Do you listen to the music and come up with lyrics; or do you fit the lyrics into a composition?
PT – Lyrics come first. I write (always with a rhythm and melody in mind) and send that to George (Israel, saxophonist with Kid Abelha). He calls me the next day and says: "I did something." We meet and decide the final structure, and I keep changing details till I sing the best track.
KS – Where do you find your inspiration for lyrics? I don't only mean the bathroom or the car; but do you get inspired by things you see happen around you; or fictitious events? Can you give a few examples?
PT – Real life and death, literature, live performances and contemporary art always give me light. Fernando Pessoa, Pedro Juan Gutierrez (Cuban writer), Hilda Hilst (Brazilian writer), the streets of Rio, the sea, my friends, my 2 men (husband Lui Farias and their son Gabriel).
KS – As a writer, by whom would you prefer your songs to be sung?
PT – "Nada por mim", the jazzy ballad from Herbert Vianna and I, was recorded by Marina Lima, Emílio Santiago, Fafá de Belém, the great Nelson Gonçalves, Alejandro Sanz, Leila Pinheiro… Tough question. I don't know. Ok, let's dream: Chryssie Hynde (singer of The Pretenders).
KS – At Rock in Rio this year you and the band played on a wonderful evening. Did you get a chance to see other concerts and how did you like those? (Engenheiros; Elba and Zé; Dave Matthews; Sheryl Crow; Neil Young; Torcuato Mariano, Paulinho Moska and others).
PT – I didn't see much. Neil Young was playing "Hey hey, my my" while I was waiting for the cue in Rede Globo link. Elba was great, Sheryl made it correct but a bit bureaucratic.
KS – What do you consider as a highlight in your career so far? Are there any wishes you want to fulfill, musically wise?
PT – There are a few unforgettable good and bad highlights, but the most important is when I write down a good phrase or finish a lyric, alone, at home. That's the origin of everything else.
KS – What are your future plans?
PT – In 2002 we complete 20 years and will go "MTV acústico", with lots of interesting special features. Maybe it's time to start my second solo… besides I'm trying to politically organise the music artists.
Beijos a todos e obrigada pelas perguntas inteligentes.