Germany Concerts 2006
It's not given to many musicians to attract constant curiosity. Katia B's first cd (Katia B) was a big surprise, mixed by, and dedicated to the late sound wizard Suba. Katia's second cd (Só Deixo Meu Coração na Mão de Quem Pode) proved she was more than one step ahead of colleague Suba adepts Cibelle and Bebel Gilberto. Katia B stays much closer to Suba's ideas but with a very personal touch at the same time. Next thing that made me curious was how the music would sound in concert. The answer to that was given with a successful show during a world music festival in Paris (2005). Katia had reshaped the music according to the participating musicians in her band. When back in Rio, Katia surprisingly stripped down the band to the Nu Bossa trio. With Marcos Cunha (loops, keyboards, acoustic guitar and flute) and Gustavo Corsi (electric and acoustic guitars) the music was performed in a minimal setting.
What a good choice that proved to be, and it could be witnessed within a period of one week in Germany. Being invited for the Berlin Popkomm Festival, Katia was able to do a gig in Frankfurt first. There she performed her Nu Bossa show. The intimate setting emphasizes the quality of the vocals and the wonderful arrangements. This Frankfurt concert also showed that the musicians had worked very hard in Rio to sound close to perfect. The crowded Sinkkasten club was delighted. People left their places to sit down on the floor right in front of the stage. Katia's idea about Brazilian world music had success. Of course Katia sung in Portuguese, but there was a song in English, one ("just for the fun of it") in French and one in Spanish. No matter what you think of that, it laid a bridge between the open minded music and the equally open minded audience. Songs from both albums were combined with new and not recorded songs. That same successful mixture also formed the basis for the concert at the Popkomm Festival in Berlin.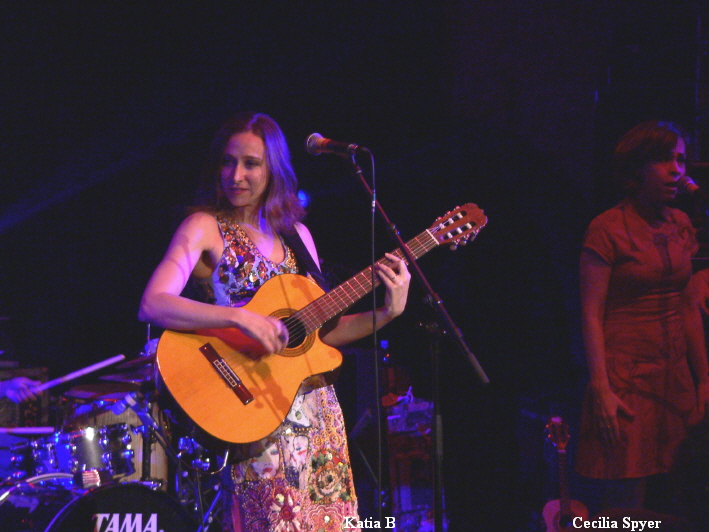 This time Katia performed with her full band (which included besides Cunha and Corsi, also Plínio Profeta (bass/ cavaquinho), Cecília Spyer (background vocals) and Jam da Silva (drums)). The concert had more power than the Nu Bossa show. The band (with a guest appearance of percussion star Marcos Suzano) gave other dimensions to the music.
It all sounded a bit more aggressive. It's to one's personal taste which concert to like most. This festival date also was a huge success; here too the audience was full of appreciation. According to these two concerts, Katia B definitively arrived where she deserves to be: among the settled names in Brazilian contemporary music; a sure bet for attentive concert promoters. Rumours are that there is a new cd on its way… and I stay more than curious!
More Concert Photos
CONCERT INFORMATION
Germany concert dates:
September 18, 2006
Frankfurt, Sinkkasten
September 22, 2006
Berlin, Popkomm Festival
All photos ©2006 Kees Schoof