Two Stars Having Fun
An album that unites Joyce Moreno and João Donato can only be good. Aquarius proves that in the best possible way. Whether you're a fanatic Brazilian music fan or whether you're someone who just likes Brazilian music so now and then, the album will suit in any collection. In a relaxed way Aquarius treats us with some fine music by two of Brazil's most experienced musicians.
Both Joyce and João Donato have a solid reputation in and (far) outside Brazil. Singer, guitarist, composer Joyce Silveira Moreno (Rio de Janeiro, 1948) picked up the guitar at age fourteen. She was intrigued by her guitar playing brother Newton, who had musical friends like Bossa Nova stars Roberto Menescal, Leny Andrade and Eumir Deodato. They had a big influence on the musical direction Joyce chose for. Gifted with a direct and clear voice, the sixteen year old Joyce began recording under supervision of Roberto Menescal. Soon her star rose, sublimated by frequent tours and recording dates throughout Europe, Japan and the USA. As a composer, Joyce reached performers with fame like Milton Nascimento, Elis Regina, Gal Costa, Maria Bethânia, and also Flora Purim. In 2008 Joyce directed a huge Bossa-Nova 50th Anniversary celebration at the Barbican Hall in London, in which João Donato also participated.
As a guest of honour João Donato de Oliveira Neto (Rio Branco, capital of the state of Acre; 1934) delivered an outstanding performance at the concert. The young João Donato discovered his musical abilities on the accordion. Not everyone took the talent of the youngster serious. Ary Barroso didn't even allow the kid to participate in his famous talent hunt show on TV. During his late teens, Donato switched over to piano and started to form his own bands. He recorded instrumental versions of Brazilian and American standards.
After being a participating witness of the first signs of Bossa Nova, João Donato moved for a short time to the USA (1958). There he absorbed other Latin, especially Cuban influences while playing in the band of Mongo Santamaría. The mix with Cuban music and Bossa Nova has been part of Donato's style ever since. In Rio he recorded one of his landmark albums A Bossa Muito Moderna de João Donato (1963), a record that definitively put his name among the big names. When João decided to use his voice as well, some of the songs from that album were given lyrics (and new titles). It marked the beginning of another career in music. The artist, who always seems to be in a good and gentle mood, is enthusiastically interested in other forms of popular music. Therefore he's a wanted guest by a wide variety of musicians of all ages.
On this album we get the chance to hear the two musicians in their own characteristic way. The voice of Joyce Moreno, dominant as always, leaves no doubt about whose album this is. But it's João Donato who dominates the sentiment of the album in the way only he can do that. His modest but jazzy style is a perfect answer to Joyce's work that is often powerful and direct. It is pure entertainment how Joyce absorbs the gentle touch of João Donato in her performance. For me, that's the driving force of this wonderful album; Joyce Moreno and João Donato sound great together. We hear the pianist form a vocal duo with Joyce on a couple of tunes ("Xangô É de Baê" and "E Passa o Carrossel"). Both musicians perform a rendition of one of their own landmark songs, "Feminina" (Joyce) and "Amazonas" (João Donato). Although all tracks are joyful, I'd vote for "Amor nas Estrelas" as the album's highlight. Everything comes together in this song and the bonus is a nice short piano solo.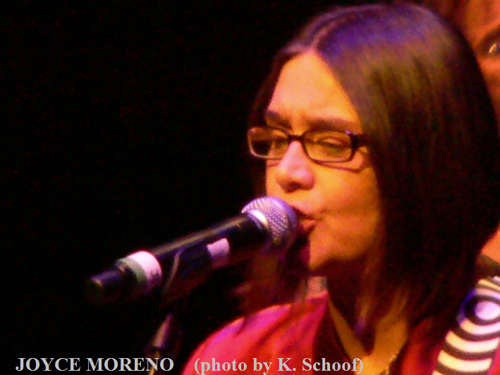 The band that accompanies the duo on the album isn't bad either with Jorge Helder on bass, Joyce's husband Tutty Moreno on drums, Mattis Cederberg (trombone), Jesse Sadoc (trumpet, flugelhorn), Ricardo Pontes (flute) and Sidinho (percussion). The result is an album full of uncomplicated music by two complicated artists on an album that's always fun to listen to. The music gives away that these two music stars had a ball recording this album
ALBUM INFORMATION
Joyce Moreno Featuring João Donato
Aquarius 
Far Out Recordings FARO149CD (2010)
Total Time: 44'56"
Tracks:
No Fundo do Mar (Joyce Moreno – João Donato)
Amor nas Estrelas (João Donato – Lysias Ênio)
Amazonas 2 (João Donato – Arnaldo Antunes)
Guarulhos Cha Cha Cha (Joyce Moreno)
Caymmi Visita Tom (Joyce Moreno)
Xangô É de Baê (João Donato – Rubem Confete – Sidney da Conceição)
Luz da Canção (Joyce Moreno – João Donato)
Feminina (Joyce Moreno)
Aquarius (João Donato)
E Passa o Carrossel (Joyce Moreno – João Donato)
E Muito Mais (João Donato – Lysias Ênio)
Tardes Cariocas (Joyce Moreno)
Chama o Donato (Jorge Helder – Joyce Moreno)