50 Years of Bossa Nova
A few years after a very successful commemoration of Tropicalismo (see also: Os Mutantes Ao Vivo), the beautiful Barbican Center in London, England, was now host of a 50 Years of Bossa Nova celebration. The derivate of the samba marks the release date of Elizete Cardoso's album (with João Gilberto) "Canção do Amor Demais" (May 1958) as its official birthday and nourishes many parties worldwide this year. As birthplace of Bossa Nova, Rio's Ipanema neighborhood kicked off festivities in March with a huge concert on its famous beach. Some of the musicians of that concert were also guest in London.
As an opener for the concert, one of Barbican's cinemas showed the film "Coisa Mais Linda: Histórias e Casos da Bossa Nova" or in English "Bossa Brasil" from Paulo Thiago (2005). Narrated by Carlos Lyra and Roberto Menescal, the movie proved to be a pleasant and informative guideline for the concert.
The show itself at the sold out theatre was built around singer Joyce and her splendid band (Rodolfo Stroeter on bass, Tutty Moreno on drums and Fernando Merlino on piano, extended by trumpeter Jesse Sadoc and saxophonist Ricardo Pontes). Joyce opened with a solo performance of "Águas de Março" before she invited her first guest on stage,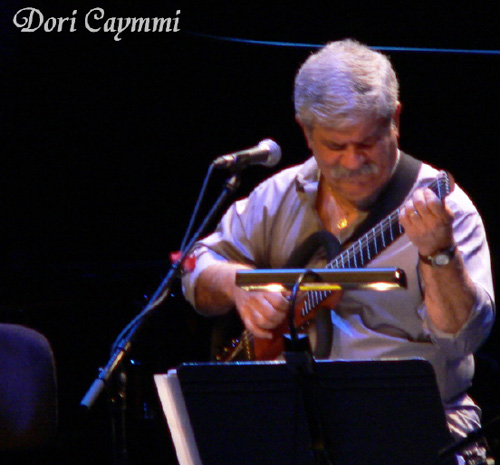 Dori Caymmi. It marked the beginning of a memorable evening. Like all following guests, Dori Caymmi was given something like 15 minutes to do his thing. Carlos Lyra showed up next for his set, followed by Roberto Menescal with the legendary Bossa Nova singer Wanda Sá. The repertoire of all these icons was of course based upon their early contributions to the music style; it was like listening to a Best of Bossa Nova album…
After a short break the sentiment changed a bit with more contemporary bossa sounds. An emotional Vinícius Cantuária performed a very well received solo set, accompanying his own vocals on the acoustic guitar. His set ended with a duet with singer, guitarist Celso Fonseca. The latter decided to play a set of duets with respectively trumpeter Jesse Sadoc, guest percussionist Aldo Fonseca and singer Clara Moreno. Clara Moreno's own set led to Marcos Valle, clearly very popular in England. With the inseparable vocalist Patrícia Alví, he performed easy listening bossa, making way for the undeniable talent of João Donato. Donato made clear why many jazz musicians fell in love with Bossa Nova. This was unquestionable the most jazzy set of the evening with sublime soloing by the master himself and his band for this evening (which was actually Joyce's band). It was the perfect ending of an evening full of joy and recognition.
As an encore everyone climbed back on stage to sing the inevitable "Girl from Ipanema." Three hours of Bossa Nova, performed by some of Brazil's finest musicians; it was an honorable evening for Brazilian Music.
More Concert Photos
---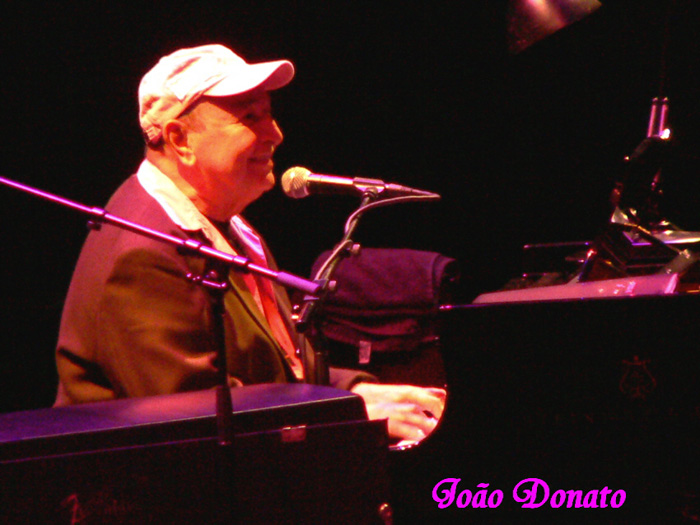 CONCERT INFORMATION
50 Years of Bossa Nova
Joyce and Special Guests
Concert Review
May 26, 2008
The Barbican – London, England
All photos © 2008 Kees Schoof