A Surefire Recipe
How does three-time Latin Grammy nominee Jovino Santos Neto follow up his 2010 superlative release Veja o Som – See the Sound? Here is a surefire recipe. Write all new original compositions and make sure they cover the wide and varied spectrum of Brazilian music, including choro, baião, marcha, samba and xote. Of course, if you are a competent and accomplished musician such as Jovino, you will want more than that.You will infuse a modern twist to those musical genres and make sure your music blends in a perfect share of stimulating harmonies and infectious improvisations. Finally, since beauty is to be shared, you invite friends to form a quintet and perform these new melodies.
Formed in 1993, the Jovino Santos Neto Quinteto has kept the same solid formation since its inception. This assures them a tight and comfortable interplay. Communication among these musicians is always a high point whenever they perform together. The Quinteto is Jovino Santos Neto on piano, rhodes, flute, melodica and hand claps; Chuck Deardorf on acoustic and electric basses; Mark Ivester on drums; Harvey Wainapel on clarinets and saxophones; and Jeff Busch on percussion. As if those players were not enough, Jovino invited special guests Ben Thomas on vibraphone, and Lena Simon and Caroline Corcoran on vocals.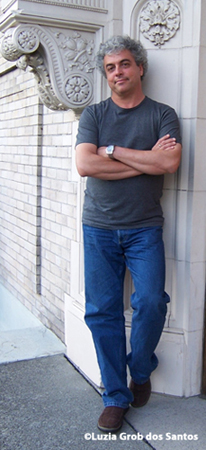 Current is a tremendously pleasing album that follows up on the giant footsteps of previously successful Jovino CDs, such as Ao Vivo em Olympia (2000), Canto do Rio (2004, a Latin Grammy nominee) and Live at the Caramoor (2009, also a Latin Grammy nominated album with Weber Iago).
Whether performing at home in Seattle or San Francisco and New York or around the world, the Jovino Santos Neto Quinteto brings the same energy you hear in this studio recording. Current tracks will please listeners who like uptempo music such as "Vivendo no Presente" and "Matraca" with a good percussion base as well as those who prefer swinging rhythms as in "Outras Praias" and "Pra Casa." Current always delivers consistent performances. Jovino continues to innovate and present Brazilian music to a new generation of music lovers.
ALBUM INFORMATION
Jovino Santos Neto Quinteto
Current
Adventure Music AM1068 2 (2011)
Time: 57'54"
Tracks:
All music composed by Jovino Santos Neto.
Corrente (Current)
Vivendo no Presente (Living in the Present)
Two Friends, True Friends
Matraca (Rattle)
Outras Praias (Other Beaches)
Zagaia (Spear)
Pra Casa (Homeward)
Sea and Sky
A Fonte (The Source)