An Ageless Tribute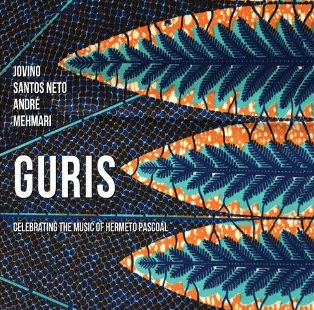 To celebrate the 80th birthday of music wizard Hermeto Pascoal, pianists Jovino Santos Neto and André Mehmari placed themselves in Mehmari's brand new studio to record some amazing music. Jovino Santos Neto (1954, Rio de Janeiro) is of course known for his work as pianist, flutist, composer, arranger and producer for Hermeto Pascoal. He was with the master between 1977 and 1992, when he decided to spend his life in the USA. There he toured with his own band and also with Airto & Flora and Mike Marshall. André Mehmari (1977, Niterói), on the other hand, was seriously influenced by Jovino Santos Neto and the music of Hermeto Pascoal. It was a weird but wonderful experience for André to be in his own studio (Estúdio Monteverdi (Mairiporã, São Paulo)) with both Jovino and Hermeto. The latter showed up as a special guest on his own party! As the musical center of this album, Hermeto joins in on three tracks. Miles Davis called "the crazy albino" "one of the most important musicians on the planet." You could say that Hermeto (1936, Lagoa da Canoa, Alagoas) is a multi-instrumentalist. But that isn't enough. OK, he's a pianist, flutist, accordionist, guitarist, saxophonist, percussionist… But Hermeto, aka "o bruxo" (the sorcerer), hears an instrument in just about everything. One famous example can be found on his album Slaves Mass (1977) where he actually plays a pig. Less discussable instruments for Hermeto are chairs, a glass of beer, pieces of metal, well: everything!
For this tribute album, Jovino Santos Neto and André Mehmari searched through the hundreds of compositions of Hermeto. They focused on the compositions that were never recorded before. And then they let themselves loose on their keyboards. Although the acoustic grand piano is featured, the pianists added other instruments that highlights the music of Hermeto. André Mehmari plays in an appropriate way the harmonium on "Igrejinha" or "Little Church," the kind of church in which the pump-organ often is found. André Mehmari also plays the Fender Rhodes piano and mandolin. Jovino Santos Neto can be heard on the melodica and flute. His way to play the melodica on "Certeza" is amazing in combination with the piano (André Mehmari). The extra instruments recall the sound of Hermeto Pascoal.
It's obvious that the gentlemen had lots of fun to record this music. It's challenging, especially with two pianos, and the music of Hermeto gives room for a very personal touch. The master bubbles on the teakettle on two tracks. It marks "Igrejinha" and "Jovino em Realengo" as tracks that can only be colored this way by Hermeto Pascoal. But also the melodica on "Aquela Valsa" is so typical Hermeto. The nicest compliment for the two pianists is that Hermeto's three appearances on Guris enthusiastically join in with their performance; a perfect fit.
The CD comes with an informative booklet with explanations for every song. The recording is superb. Jovino Santos Neto and André Mehmari succeeded to come up with an album that is as adventurous and most of all as timeless as the music of Hermeto Pascoal. Their performance comes straight from their Hermeto-heart. No bombastic piano duo, but virtuosity in all its glory in celebration of the magical 80 of the sorcerer!
ALBUM INFORMATION
Jovino Santos Neto & André Mehmari
Guris
Adventure Music AM1108-2 (2017)
Time: 66'36"
Tracks (all music by Hermeto Pascoal, except where noted)
Samba do Belaqua (Belaqua's samba) (1979)
Baião da Sorte (Lucky Baião) (André Mehmari, 2002)
Bailando com Cerveja (Dancing with Beer) (1991)
Aquela Valsa (That Waltz) (1975)
Dois Santos: Jorge e Antonio (Two Saints: George and Anthony) (1978)
Igrejinha (Little Church) (1970)
Tambô d'Oshó (Oshó's Drum) (Jovino Santos Neto, 2016)
Certeza (Certainty) (1987)
Guris (Boys) (1991)
Andorinhas (Swallows) (984)
Pro Hermeto (For Hermeto) (André Mehmari, 1993)
Jovino em Realengo (Jovino in Realengo) (1984)
Acordando com os Acordes (Waking uh the Chords) (1986)