Irresistibly Intoxicating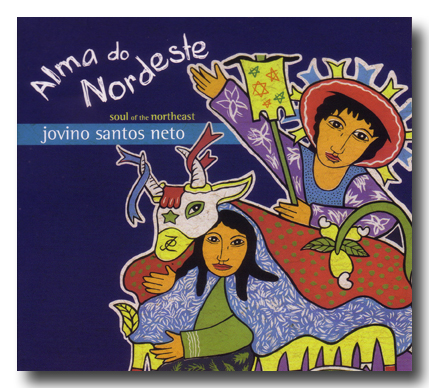 Besides arrangements and performers, certain musical genres are so irresistible that no matter what mood you're in, upon listening to that type of music you feel an uncontrollable urge to get more involved with it. Alma do Nordeste will tease you and challenge you. The album is irresistibly intoxicating with a lively repertoire and top-notch artists bringing you the best of Brazil's northeastern music. Off the top of my hear, the last time I felt this enthusiastic about a similar release was back in 2000 with Gilberto Gil's album with the songs from the movie Eu, Tu, Eles.
The genesis of Alma do Nordeste is explained in detail in the colorful liner notes of the album. Although Jovino was not born in the northeast of Brazil, his grandfather was from the region. Furthermore, we cannot forget that Jovino was a member of Hermeto Pascoal's band for several years. So, the northeastern flavor had somewhat been around him. When he received a grant from Petrobrás, the Brazilian owned oil company, he decided to immerse himself in the northeast of Brazil, traveling over 800 miles in the short span of two weeks. The trip was very fruitful and provided him with inspiration for this album.
As Jovino says, "the natural and musical culture of the Nordeste could be a never-ending source of inspiration for a composer." Alma do Nordeste is proof of that statement. With baião, xote and forró, Jovino and his talented group of musicians let loose and are bound to please everyone who listens to this album. Frankly, the only way you will not enjoy the album is if you're dead.
Playing along with Jovino (piano, melodica, fifes) we find an A-team of Brazilian stars. Rejoining him from his days with the Hermeto Pascoal group, we have Pernambuco (cattle calls), Márcio Bahia (drums, snare) and Carlos Malta (flute, fifes). In addition to these guys, add to the list the names of Toninho Ferragutti (accordion), Gabriel Grossi (harmonica), Eduardo Neves (saxes, flutes), Marcelo Martins (flutes, saxes) and another half dozen of excellent musicians. Together these guys bring the house down with the infectious rhythm of the northeast of Brazil.
The opener baião "Festa na Macuca," dedicated to accordion master Sivuca, features Toninho Ferragutti in a lively dialogue with Marcelo Martins. The 7/4 meter is invigorating and captivating. The beautiful and solemn dedication to legendary queen of xaxado, Marinês, is touching and beautifully performed with piano, accordion, bass and Durval Ferreira's cadenced zabumba. It is a winner! To perfectly give you a feel of what it is like to be in a small plaza in a town in the countryside of Brazil's northeast, all you need is to listen to "Passareio." The mixture of percussion instruments and the fifes will transport you there.
The northeast of Brazil is culturally rich in music as well as in other traditions. It is during the month of June that the region celebrates Saints Peter and John with the tradition of Festas Juninas. With folkloric dances and music and tasty food, everything comes alive, as in "São Pedro na Jangada." Another memorable moment in the album is the title track, "Alma do Nordeste." Jovino and Carlos created a flute conversation in one take.
Each track in Alma do Nordeste is a homage to the region artistically crafted by the hands of talented Jovino Santos Neto. Together with his ensemble, he paints a truly magnificent portrait of Brazil's northeastern soul.
For more about the album and artist, please visit Jovino Santos Neto.
ALBUM INFORMATION
Jovino Santos Neto
Alma do Nordeste 
Adventure Music AM1041 2 (2008)
Time: 64'31"
Tracks:
All tracks by Jovino Santos Neto.
Festa na Macuca
Saudade de Sua Gente
Amoreira
Passareio
São Pedro na Jangada
Rede, Sossego e Chamego
Fulô Sertaneja
Alma do Nordeste
Biboca
Forró Vino
Borborema
Donkey Xote
Vermeio Agreste Lampião