Universal Music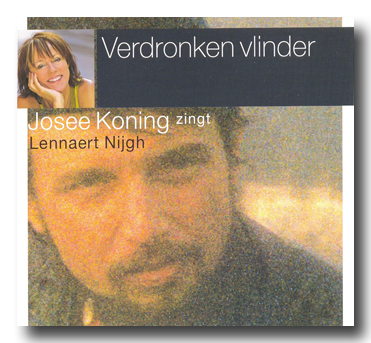 After three albums in Portuguese, Josee Koning decided to try another concept. It sounds rather complicated, but the result is superb. What happened? Lennaert Nijgh was one of the most important lyricists in The Netherlands. Together with composer/singer Boudewijn de Groot he dominated the Dutch chanson scene in the 1960s and 1970s. At age 57, Lennaert passed away in November 2002. Josee, who lived with Lennaert for 12 years, decided to bring the music of Nijgh and De Groot to new life and brought it with her to Rio. There she asked guitarists Leonardo Amuedo and Nelson Faria, bassist Ney Conceição and pianist Leonardo Braga to take a look at the music and arrange the songs into their own likes. In Rio's Discover Studio the result was recorded and Josee supplied the music with the vocals, in Dutch. As said, the result is superb. The music, written long ago, sounds fresh and contemporary. Composer Boudewijn de Groot (guest vocalist on two songs) was pleasantly surprised too by the Brazilian colour of his own songs. Josee again does a wonderful job; maybe sounding even a bit more relaxed while singing these beautiful love songs in her own language. Other featured instrumentalists are Peter Schön (keyboards), Marçalzinho (percussion), Kiko Freitas (drums) and Gert Wantenaar (bandoneon, accordion). A delightful album, which proves how universal music can be when performed by full-hearted musicians.
Bonus: cd-rom clip: the making of.
ALBUM INFORMATION
Josee Koning
Verdronken Vlinder
Artist & Company AC 300438 (2004)
Total time: 61'35"
Tracks:
All tracks by Lennaert Nijgh & Boudewijn de Groot, except where noted.
Liefde van later (Gerard Jouannest – Jacques Brel – Lennaert Nijgh)
Vlucht in de werkelijkheid
Als jij niet van me houdt
Naast jou
Verdronken Vlinder
Tip van de sluier
Onderweg
De rover
De reiziger
Beneden alle peil
Het Spaarne
Zomaar tegen het lijf (Josee Koning – Lennaert Nijgh)
Kijken hoe het morgen wordt
Terug van weggeweest
Zonder jou (Henny Vrienten – Lennaert Nijgh)