The Perfect João Bosco
It all started for João Bosco in 1972 with a "Disco de Bolso" (pocket record). As an extra, the music magazine O Pasquim (Rio de Janeiro) offered its readers a free single with each issue (for the MP3-generation: a single is an ancient two tracks vinyl record, one track on side 1 and one track on side 2…).  The intention was to seduce its readers  with a well-known artist on side 1 in order to introduce them to a new artist on side 2. The first edition of the magazine's extra had Tom Jobim on side 1 (singing "Águas de Março") and  it was on side 2 that young João Bosco performed his own (co-written with Aldir Blanc) "Agnus Sei". For the record: unfortunately there was only one more issue of O Pasquim to follow (with Caetano Veloso on side 1 and Fagner on side 2).
Now, 40 years later, or "40 anos depoís" João Bosco recorded the song again as opener for the album that celebrates his 40 years as a musician. The singer/ guitarist/ composer from Ponte Nova (Minas Gerias; 1946)  invited Milton Nascimento to make this an unforgettable interpretation of "Agnus Sei". Milton's voice sounds great in all its richness, accompanied by João Bosco and Toninho Horta with their distinctive guitar styles and a rhythm section that fills in in a way that's nothing short from absolutely perfect: Jorge Helder on bass, Kiko Freitas on drums and Armando Marçal on percussion.  These last three mentioned musicians form the basis of João's accompanying band here. Kiko Freitas and Armando Marçal have a special chemistry between their two exceedingly tasteful styles. It's as wonderful as it is interesting. You can listen to this CD and focus on the drums/percussion and you'll have a great time full of amazement! They're present on all but two tracks.
It's weird how the guests on João Bosco's albums often sound better than on their own releases. Is it the repertoire? Is it Bosco, who knows how to perfectly fit in the talents of his musicians? It's a fact that the guests all show their own unique styles in the best possible way. The Trio Madeira Brasil add their traditional sound, Ricardo Silveira shows his jazz chops, Roberta Sá sings beautifully in her own, modest way, and João Donato… How good it is to hear him play his lazy, nonchalant piano lines. Especially on "Drume Negrita". This Cuban lullaby is most often credited to Eliseo Grenet, but it was indeed his brother Ernesto (1908 – 1981) who wrote the song. João Donato can fully dedicate his love for Cuban music in this gem. He makes it one of the highlights on the album. It's also good to hear Cristóvão Bastos again on the piano on a couple of tracks. Guitarist Nelson Faria switches stage with Ricardo Silveira; they both play the electric guitar on the album, giving an extra jazz sentiment to the music. Chico Buarque is also present on the list of guests with his nostalgic voice.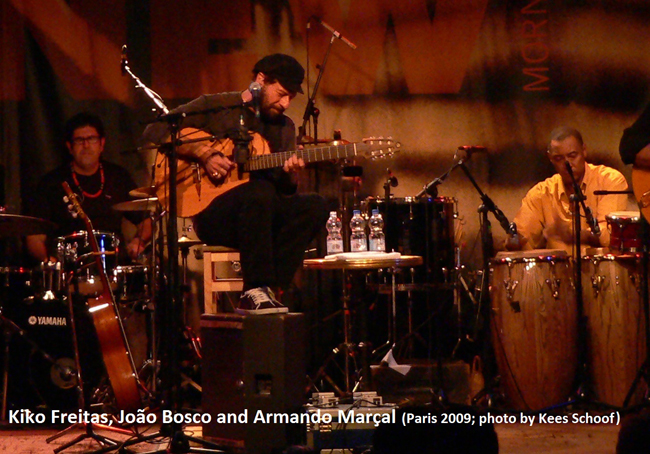 The inevitable solo performances of João Bosco are "Pra Que Mentir", a samba from 1937 by Vadico (Oswaldo Gogliano) and Noel Rosa and "Tudo se Transformou (by Paulinho da Viola).
On "40 Anos Depoís" João Bosco treats his listeners with his very best performances under the very best musical circumstances. If this is his way to thank the audience again (like on his earlier Obrigado, Gente), then we can only be very grateful! One hour and twenty minutes of joy on one CD.
For more about the artist and his music, please visit João Bosco or other reviews in MB.
ALBUM INFORMATION
João Bosco
40 Anos Depoís
MP,B Discos (Universal) 0602537025237
Time: 79'28"
Tracks:
All compositions by João Bosco – Aldir Blanc, excepts where noted.
  Agnus Sei
  Plataforma
  Fotografia (AC Jobim)
  Tanajura (João Bosco – Francisco Bosco)
  Eu Não Sei Seu Nome Inteiro (João Bosco – João Donato – Francisco Bosco)
  De Frente pro Crime
  Lilia (Milton Nascimento)
 Pra que Mentir (Vadico – Noel Rosa)
 Bodas de Prata
Jimbo no Jazz (João Bosco – Nei Lopes)
O Mestre Sala dos Mares
Caça à Raposa
Tudo se Transformou (Paulinho da Viola)
Tarde (Milton Nascimento – Márcio Borges)
Drume Negrita (Ernesto Grenet)
Bom Tempo (Chico Buarque)