A Clube da Esquina Legacy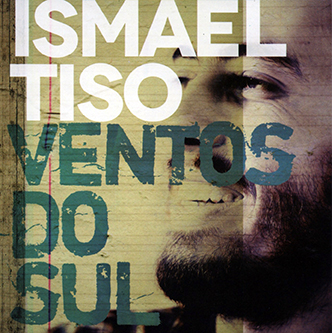 The saying goes that the apple does not fall far from the tree. A native of Três Pontas (Minas Gerais, 1986), Ismael Tiso is a living example of that old adage. The family name is well known in Brazil. His cousin, Wagner Tiso, is one of Brazil most renowned arrangers. He is also from Três Pontas, where Milton Nascimento grew up, and the city is known in Brazil as the birth place of the Clube da Esquina. This legacy was not wasted in Ismael Tiso, singer, composer and multi-instrumentalist.
At age six, he began his musical studies on the piano in the municipal music conservatory Heitor Villa Lobos. At age 11, the shift to the guitar was a natural move since that instrument was around the house. Growing up in a musical family helped form Ismael's early identity as a future professional musician. Besides piano and guitar, he also plays drums, percussion, bass and viola caipira (you can actually hear him play those instruments in this album). His professional music debut happened at age 15, as he was a member of the band Ummagumma The Brazilian Pink Floyd Cover.
Ismael obtained his music degree from the Universidade de Três Corações (UNUNCOR-MG) with further studies at the prestigious Conservatório de Música de Tatuí, in São Paulo. His musical influences while growing up went from Pink Floyd, Genesis and Beatles to Mutantes and, of course, Milton Nascimento. In 2004 he met Milton Nascimento during a recording of the Pietá DVD, where several musicians from Três Pontas were featured. As a result of the meeting, Ismael began touring with Milton, which culminated with Milton's recording of Ismael's song "Do Samba, do Jazz, do Menino e do Bueiro" in …E A Gente Cantando (2010). In that track, Ismael divides the vocals with Milton. Now in 2016, Ismael Tiso releases his first solo album, Ventos do Sul, featuring his original compositions.
Produced and arranged by Ismael Tiso, Ventos do Sul is a reference to the mystical Northern Winds in Spain. The album title translates that to the southern region of Minas Gerais, where Três Pontas lies. The album brings very intricate compositions with Baroque and Impressionism influences, while at the same time adding jazz and Clube da Esquina sounds. The CD is captivating, detailed, complex and enthralling.
Right off at the start, the opening track, "Revoada," mixes vocals and guitars and violas bringing home that Minas Gerais sound so familiar in Clube da Esquina. Violas seem to be tightly connected to Central Brazil, and its effective use in the album is a perfect addition. Ismael Tiso connected himself with great lyricists, as evidenced in the seven tracks presented here. Clayton Próspero's verses in the song "A Primeira" hits bull's eye with the "entire universe opening up." That sums up the musical possibilities in Ventos do Sul. It is clear that Ismael Tiso is destined to conquer that universe. "Do Samba, do Jazz, do Menino e do Bueiro" needs no introduction. You might have heard it in the duet I previously mentioned above with Milton Nascimento, but here the composer himself puts his stamp on a beautiful slow samba. I must note the excellent inclusion of Lisandro Massa's swinging Fender Rhodes solo in the track. That gives it a unique sound, and it's quite elegant and pleasing. Ismael's vocals, drums and percussion are also noteworthy. The title track closes this very short CD (clocking under 25 minutes) and leaves listeners wanting more, a whole lot more. Perhaps the lyrics in "Ventos do Sul" are a premonition and promise of things to come. João Marcos Veiga's verses in that track sing of "things that will come" and "a dream that appeared from a breath without a place." We can only hope that we will be listening and hearing from Ismael Tiso soon again. Here's a talented musician, song writer and performer with an alluring sound. Let's stay tuned to this artist's music and the promise of another capful of wind to our ears. Ventos do Sul is a good first solo album.
Here you can see Ismael Tiso performing the track "Do Samba, do Jazz, do Menino e do Bueiro" in a 2010 concert.
ALBUM INFORMATION
Ismael Tiso
Ventos do Sul
Independent (2016)
Time: 23'05"
Tracks:
Revoada (Ismael Tiso – João Marcos Veiga)
A Primeira (Ismael Tiso – Clayton Prósperi)
Do Samba, do Jazz, do Menino e do Bueiro (Ismael Tiso – Miller Sol)
Reino de Pedras (Ismael Tiso – Miller Sol)
A Nossa Raiz (Ismael Tiso)
Outono (Ismael Tiso – Miller Sol)
Ventos do Sul (Ismael Tiso – João Marcos Veiga)