In Good Company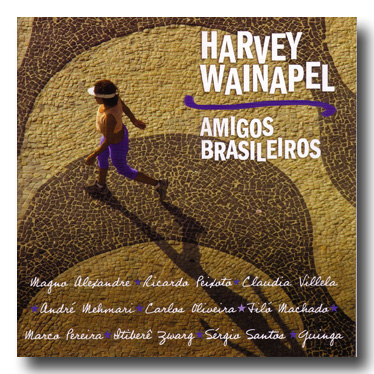 When an artist takes time to get involved profoundly with the culture and music of a foreign country, the results can be amazing. Suddenly, the music performed at a live concert or CD bears the same musical quality as if you were in the country of its origin. Harvey Wainapel has delved deep into Brazilian music, and the end product shows in his latest CD, Amigos Brasileiros. In this album he is joined by some forty Brazilian musicians. The various ensembles he creates, the amazing arrangements we hear and the variety of Brazilian genres — samba, baião, choro, waltz, etc. — all melt into a watercolor of Brazilian music. Harvey Wainapel shows what is capable of, and while surrounded by friends, they all have a great time with the music showcased in Amigos Brasileiros.
Besides the artistic qualities of the album — Harvey and these musicians know their stuff! — the repertoire selection is also captivating. Sometimes on sax, sometimes on clarinet, Harvey also contributed with two original tracks in this collection of music that will please everyone. Except for three tracks — "Sambadalú," "Baião do Porão" and " Nem Mais um Pio" — all other tracks have never been previously recorded. This is yet another plus to the album. Harvey did not rely on old Brazilian standards, sometimes recorded too often. Instead, the music here is fresh and vibrant.
Harvey is a superb musician whether playing with a large ensemble, such as in "Árvore de Maçã," or in the intimate and yet dynamic closing number "Vivo Entre Valsas." In the former, he joins a 12-piece horn ensemble with arrangement by Itiberê Zwarg. The piece, Harvey says, "was composed and arranged in one five-hour rehearsal at Itiberê's house in Rio." You will find the same magic that Itiberê has created when performing with Hermeto Pascoal. In the latter, pianist André Mehmari proves he is destined to be a name we will all be familiar with in a very near future.
The opening number, dedicated to Luciana Souza, "Sambadalú," brings Harvey together with one of Brazil's guitar wonders of today: Marco Pereira. The addition of Amoy Ribas' pandeiro and Marcelinho Moreira's repique de mão gives this nostalgic samba a new life. Other great Brazilian guitarists also lend a hand in other numbers, such as Sérgio Santos in "Dando Risada," Ricardo Peixoto in "Pixinguinga" and, of course, Marcus Tardelli and Guinga in "Nem Mais um Pio." Brazil's northeast is well represented in the album with "A Toada," written by Carlos Oliveira, a native of Pernambuco, as well as with Filó Machado's "Baião do Porão." As always, Filó's elaborate vocals are an extra bonus in the track.
And while at vocals, I cannot forget to mention the amazing trio in "Pixinguinga." The song title, of course, is a word play on two of Brazil's geniuses: Pixinguinha and Guinga. Joining Harvey in this tribute is Cláudia Villela (voice) and Ricardo Peixoto (7-string guitar). A good instrumental Brazilian album could not exist without musicians from Minas Gerais. Sérgio Santos was featured in "Dando Risada." Then there is also Magno Alexandre and his funky samba "Procurando um Caminho," where Enéias Xavier (electric bass) and André "Limão" Queiroz (drums) prove that a younger generation of musicians is poised to continue Brazil's tradition of excellent instrumental music.
Amigos Brasileiros is a great accomplishment in Harvey Wainapel's career. His vision and approach to Brazilian music hit just the right notes. Blending new talents and established names in a well-balanced repertoire makes this album a winning record.
To learn more about the artist and hear sample tracks, please visit Harvey Wainapel on the web.
ALBUM INFORMATION
Harvey Wainapel
Amigos Brasileiros 
JazzMission Records #7001 (2007)
Time: 53'57"
Tracks:
Sambadalú (Marco Pereira) – w/ Marco Pereira
Dando Risada (Sérgio Santos) – w/ Sérgio Santos
A Toada (Carlos Oliveira)
Procurando um Caminho (Magno Alexandre)
Pixinguinga (Ricardo Peixoto – Cláudia Villela) – w/ Cláudia Villela & Ricardo Peixoto
Baião do Porão (Filó Machado) – w/ Filó Machado
Sempre Voltando (Harvey Wainapel)
A Garota da Garoa (Harvey Wainapel)
Nem Mais um Pio (Guinga – Sérgio Natureza) – w/ Guinga
Árvore de Maçã (Itiberê Zwarg)
Vivo Entre Valsas (André Mehmari) – w/ André Mehmari