A Welcome Sequel
It was good news when the word came out about a part two of Hamilton de Holanda's 2006 Brasilianos CD. And indeed, Brasilianos 2 is another jewel in the discography of the mandolin player from Rio. On Brasilianos 2Hamilton is backed up again by his own amazing quintet with Gabriel Grossi on the harmonica, Daniel Santiago on acoustic guitar, André Vasconcelos on electric and acoustic basses and Marcio Bahia on the drums.
The CD opens in a dazzling tempo. The three opening songs show that each member of the quintet is exceptionally gifted. It's pure fun to hear all the instrumentalists work to perfection in the nasty arrangements. Listen how Marcio Bahia sets the pace with the brushes on "O Mundo Não Acabou"; firm but without interfering with the sound of his fellow musicians. The tempo slows down drastically on the extraordinary beautiful ballad "Desceu o Anjo." "Virtude da Esperança" ventures into a wonderful arrangement.
The sentiment of this second edition of Brasilianos is jazzier than on its predecessor. On "Tamanduá" the quintet provides a male choir that suddenly changes the colour. The song also brings bassist André Vasconcelos in the spotlights with an impressive solo. The simple beauty of "Amor, Saudade Amor" is performed in a trio setting with mandolin, guitar and bass. "Rafaela" is a breathtaking duet by mandolin and acoustic guitar. Each song on the album has its own character. It may be clear: this is another exceptional album by Hamilton de Holanda, who shows how he benefits from his versatility. During recent years he could be heard in any style and in various large and small line-ups: mandolin-guitar (New Words, with Mike Marshall), mandolin-piano (Continuous Friendship, with André Mehmari), and mandolin-percussion (with Marcos Suzano), and he enthusiastically accepted innumerable guest appearances. It all shapes his ever progressing style.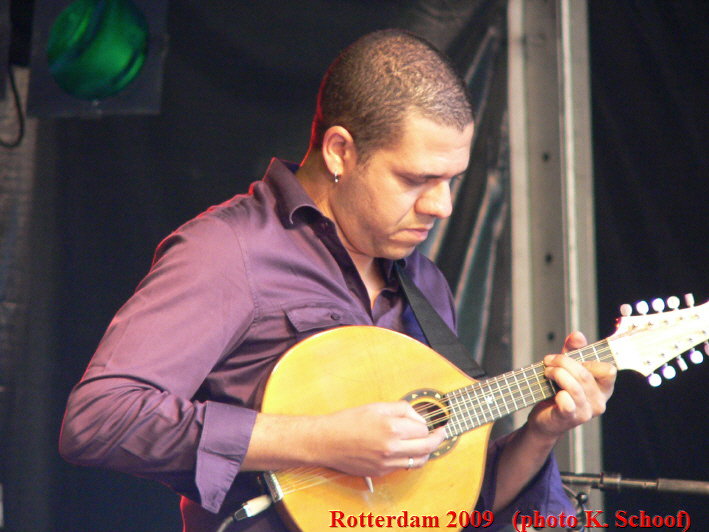 Adventure Music throws in an extra DVD with a concert by the quintet, taped in France during the band's 2008 European Tour. With the experiences of Brasilianos recorded in 2006 and Brasilianos 2 recorded in 2007, the band reached an amazing level of artistic creativity during this tour. The repertoire is taken from both album plus a few extra songs. Hamilton goes solo on an improvisation ("Nuit en Coutances," dedicated to and inspired by the place in France where the DVD was filmed) which nicely flows over in "Adios Nonino – Astor Piazzola." It's fascinating to see the quintet at work. The joy of the challenge to perform the most complicated arrangements is clearly visible on the faces of the musicians; a sentiment that is picked up gratefully by the audience. The DVD turns out to be a generous bonus of the already outstanding CD!
ALBUM INFORMATION
Hamilton de Holanda Quintet
Brasilianos 2 
Adventure Music AM 1055 (2009)
Total Time CD: 72'44"
Total Time DVD: 61'46"
Tracks:
All compositions by Hamilton de Holanda (with input by all band members), except where noted.
CD
Ano Bom (Good Year)
O Mundo Não Acabou (The World Is Not Over)
Paz, Paes (Peace, Paes)
Desceu o Anjo (The Angel Arrives)
Virtude da Esperança (Virtue of Hope)
Tamanduá (Anteater)
Estrela Negra (Black Star)
Ajaccio
Carolina de Carol
Amor, Saudade Amor (Love, Longing Love)
Rafaela
A Vida Tem Dessas Coisas (That's Life)
DVD
Pedra da Macumba (Macumba's Stone)
Baião Brasil
O Mundo Não Acabou (The World Isn't Over)
Ano Bom (Good Year)
Paz, Paes (Peace, Paes)
Tamanduá (Anteater)
Estrela Negra (Black Star)
Nuit en Coutances (Night in Coutances)
Adios Nonino (Astor Piazzola)
Carolina de Carol
Ponteio (Edu Lobo – Capinam)
Joyce (Hermeto Pascoal)
A Vida Tem Dessas Coisas (That's Life)