On-Line With Expectations
It has been a while since Gilberto Passos Gil Moreira (Salvador de Bahia, 1942) showed up with a studio album (Quanta, 1997). Of course, the past five years he was enthusiastically busy with his job as Brazil's Minister of Culture. But he also suffered from problems with his vocal cords; a polyp had to be removed. So performing music wasn't very obvious; other than an occasional tour or concert, mostly according to his travel schedule as a minister. Since Gilberto Gil feels most like being a creative artist, he recently decided to resign from his job as minister and to focus again on his musical career.
Communication has always been among Gil's special interests, with, since its existence, a special fascination for the internet. Remember the song "Pela Internet" on Quanta? Communication techniques have changed quickly and Gilbert Gil enjoys using them. On Banda Larga Cordel he gives the listener a wonderful view on where he stands now. The music clearly refers to some of his earlier works as well as to his interest in modern sound techniques. Almost all the new songs were composed in hotel rooms while he was on journey for his work as minister. Although very supportive about the possibilities of the internet, Gilberto Gil is also concerned about how more traditional forms of communication will survive, the "literatura de cordel," for instance.  These short stories in a kind of pamphlet form have always been very popular in Brazil's northeast. As long as the internet is not reachable to every single soul, that art, too, remains important. Thus we have the title of the album, which translates something like "Broad band pamphlet," which also refers to the past and future of Gil's music.
The album was recorded with the basis of Gil's current touring band. Musical friend and band member for ages Arthur Maia (bass) has his usual solid grip on the instrumental accompaniment. His experience and mastership on the bass have been important in Gilberto Gil's music for a few decennia already.  Also establishing a standard for quality is drummer Alex Fonseca.  Sergio Chiavazzoli and Gilberto's son Bem Gil are the featured guitarists, Cláudio Andrade is on keyboards and Gustavo de Dalva is the percussionist. Most of the music on the cd is new. One of the exceptions is the classic samba "Formosa," by Baden Powell and Vinícius de Moraes. Another one, also a samba, is "Amor de Carnaval," which Gil wrote in 1962. And there's a new version of "Samba de LA," first recorded by Gilberto Gil on his international debut album Nightingale in 1978. Among the new compositions, Gilberto Gil wrote a beautiful ballad "A Faca e o Queijo" for his wife Flora after she complained that it was long ago since he wrote a song for her ("Você reclama que eu não lhe faço uma canção" is the song's opening line).  Another woman who deserved a song is Dona Canô (the mother of Caetano Veloso and Maria Bethânia), who recently turned 100 years old. Gilberto Gil also dedicates it to two other Brazilian centenarians, architect Oscar Niemeyer and the extravagant comedienne Dercy Gonçalves.  The composition is touched by the African influences in the music of Bahia, like afoxé. Another link with Africa is the strange "La Renaissance Africaine," originally written (but not used) for the Festival of Black Arts that will take place in Africa next year (2009). The song expresses the hopefully upcoming rebirth of the continent after its sad and difficult past. The song has a few lines in French, one of the languages spoken in some parts of Africa.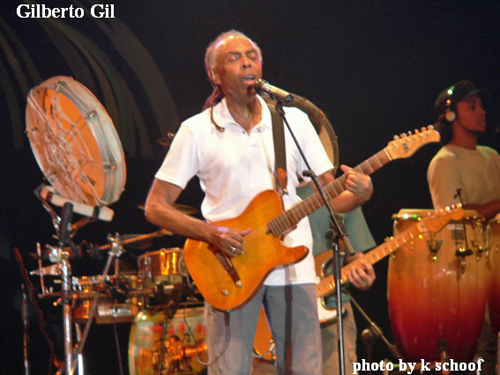 There's a wonderful bossa "Outros Viram," on which Gil accompanies his voice on the acoustic guitar. As a contrast "Máquina de Ritmo" (Rhythm Box) plays with electronics in its accompaniment. It's done in a most amusing way, starting as an acoustic samba and evolving with a pleasant domination of electronic percussion in its rhythm and a distorted vocal "solo." A step further goes the somewhat pompous "O Oco do Mundo." A few steps back in history are the forró "Não Grude Não" and the opening xote "Despedida de Solteira," which both musically refer to the northeast of Brazil and Gil's adoration for forró legend Luiz Gonzaga. This variety in music keeps the album interesting from beginning till end.
Gilberto Gil stays on top of progress and uses the new virtual and electronic possibilities with style and humor. Banda Larga Cordel can only leave us with a feeling of happiness that the musician Gilbert Gil is back on his post and doesn't disappoint with his first studio album in 11 years.
ALBUM INFORMATION
Gilberto Gil
Banda Larga Cordel 
Warner Music 2564695033 (2008)
Time: 67'15"
Tracks:
All tracks by Gilberto Gil, except where noted.
Despedida de Solteira
Os Pais (Gilberto Gil – Jorge Mautner)
Não Grude Não
Formosa (Baden Powell – Vinícius de Moraes)
Samba de Los Angeles
La Renaissance Africaine
Olho Mágico
Não Tenho Medo da Morte
Amor de Carnaval
Gueixa no Tatame
A Faca e o Queijo
Outros Viram (Gilberto Gil – Jorge Mautner)
Canô
Máquina de Ritmo
Banda Larga Cordel
O Oco Do Mundo