A Significant Release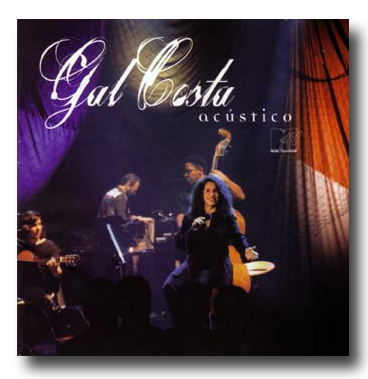 Being one of the most significant voices in the Tropicália movement, Gal Costa celebrated her 30th anniversary with Acústico MTV, a live recording done in July 1997 as part of the MTV Brazil acoustic concert series.
Tropicália revolutionized Brazilian music. Rebelling against fixed norms, the movement mixed elements of rock and roll with typically Brazilian musical styles. At the forefront of this movement, the names of Caetano Veloso, Gilberto Gil and Gal Costa are always mentioned. Gal, in particular, was instrumental in maintaining the idealism of Tropicália alive when Caetano Veloso was exiled in London. She literally became the voice of the movement by singing Caetano's songs while he was away. One such song can be found in this release: "London, London," where Caetano Veloso laments living in that strange land where he knows no one. Days and seasons pass by, and all he does is wander "round and round … nowhere to go."
Acústico MTV spans Gal Costa's career very thoroughly. What is very different here is the presentation of the material. Backed up by a lush orchestra (the Petrobrás Pró Música Orchestra), some of Gal's old hits have a beautiful new sound. Even some of her early songs, such as "Baby" and "Não Identificado," are more subdued. As a whole, the CD does show a more mature and secure performer. As added bonuses, Gal invites a few guests to sing with her. Having introduced Luiz Melodia to Brazil, Gal brings him back in "Pérola Negra," one great moment in the CD. Continuing the list of guests, Gal then introduces a new name in 1997: Zeca Baleiro. Their duet in "A Flor da Pele" is hauntingly beautiful and the most beautiful track in Acústico MTV. Targeting the younger MTV crowd, two names from Brazilian rock lend their voices in two additional duets. First, Herbert Vianna joins Gal in his own "Lanterna dos Afogados." Then, Frejat joins the diva in Caetano Veloso and Mílton Nascimento's "Paula e Bebeto." Though a little awkwardly, the two pull off a good performance. A third of the CD contains compositions by Caetano Veloso, but Gal also included her other hits by Brazilian greats, such as Dorival Caymmi's "Só Louco," Roberto Carlos and Erasmo Carlos's "Sua Estupidez," Geraldo Pereira's "Falsa Baiana," Gilberto Gil's "Barato Total" and Ary Barroso's "Camisa Amarela" and the world-renowned "Aquarela do Brasil."
Acústico MTV is a significant release in Gal Costa's career. It should please both Gal's fans and people unfamiliar with her work. She is not breaking any new ground here, but Acústico MTV proves what solid career Gal Costa has maintained throughout these years. She confidently thinks of herself as one of the top two performers in Brazilian music nowadays (the other being, she says, the incomparable Maria Bethânia). If you listen to Acústico MTV, you will simply have to agree with her.
ALBUM INFORMATION
Gal Costa
Acústico MTV
BMG 7432151390-2 (1997)
Time: 64'54"
Tracks:
Baby (Caetano Veloso)
Coração Vagabundo (Caetano Veloso)
Não Identificado (Caetano Veloso)
London, London (Caetano Veloso)
Só Louco (Dorival Caymmi)
Barato Total (Gilberto Gil)
Lanterna dos Afogados (Herbert Vianna) – w/ Herbert Vianna
Teco-Teco (Pereira da Costa – Milton Villela)
Pérola Negra (Luiz Melodia)/Como 2 e 2 (Caetano Veloso) – w/ Luiz Melodia
Sua Estupidez (Roberto Carlos – Erasmo Carlos)
Falsa Baiana (Geraldo Pereira)
Camisa Amarela (Ary Barroso)
Vapor Barato (Waly – Macalé)/ A Flor da Pele (Zeca Baleiro) – w/ Zeca Baleiro
Você Não Entende Nada (Caetano Veloso)
Paula e Bebeto (Caetano Veloso – Milton Nascimento)
Aquarela do Brasil (Ary Barroso)
A modified version of this review first appeared in Luna Kafé, March 1998.