A Successful Road Ahead!
You have heard him with an orchestra (Alive, 2012), with a quintet (The Blue Rock Sessions, 2010), in various other formats (Connections, 2014, and Gabriel Santiago, 2008), and now we are finally presented with an intimate portrait of Gabriel Santiago in a splendid solo album, Momentum.
Born in Ilhéus, Bahia (1980) and raised in a musical family, Gabriel Santiago has been receiving accolades throughout his very young musical career. In 2010, he was the ASCAP Young Jazz Composer Award winner. That same year he also got the Eleanor A. Stribling Award for Excellence in Jazz Studies. Upon obtaining his doctorate degree in music composition at The University of Texas at Austin, his dissertation was awarded the 2013 Outstanding Dissertation Award. JazzTimes magazine was more than just impressed with Gabriel's participation and solos throughout The University of Texas at Austin UT Jazz Orchestra's In the Thick of It. That album featured "two [Gabriel Santiago] stunners," as written by Ken Franckling in JazzTimes 2012 review of the 6th Annual College and University Band CD Roundup. He further elaborated that Gabriel's compositions are "beautifully nuanced yet grand sweep to them, and it quickly becomes clear that the composer is a young master at both acoustic and electric guitar." That mastery level is evident in every recording you hear Gabriel playing. He has opened to artists including Pat Metheny and Robert Glasper and frequently tours Brazil and the USA with his quintet.
Fate would have it that even though while Gabriel was in the process of obtaining his PhD and only two blocks away from my office, it took André Mehmari's visit to Austin in 2010 to get me introduced to Gabriel Santiago and discover his music. Now, after graduation and spending some time in Brazil, Gabriel returned to Austin. I was eager to attend the pre-release concert of his latest album in May 2016, especially after seeing several of the videos he posted in his YouTube channel. After that concert we decided to meet another day and sit down for a long lunch to talk about his musical career and the ideas behind Momentum.
Produced by Thiago Rabello, Momentum brings Gabriel Santiago on a remarkable solo effort filled with unforgettable guitar work. He performs some of Brazil's most beloved classics on three different types of guitars: 8-string classical, baritone classical and 12-string acoustic guitars. During the CD pre-release concert, he brought his guitars and spent a couple of hours on a Sunday evening showcasing the album repertoire.
Momentum was recorded in a couple of straight sessions over two days. The repertoire order in the album and concert was precisely the same as during the recording of the album. You hear a musician from beginning to end displaying his musical concept just as he had conceived it. The first thing you will notice upon listening to Momentum is that there is a fresh repertoire seldom heard on guitar. I am referring to the rich presence of Brazilian northeastern music. The album opens with Caymmi's anthem "Saudade da Bahia." The gentle performance echoes saudade in every chord. Gabriel draws you closer to his world. Still with a focus in Bahia, we hear Dori Caymmi and Jorge Amado's "Alegre Menina," a theme that was written for the soap opera Gabriela, based on Jorge Amado's book. That track is followed by Luiz Gonzaga and Humberto Teixeira's "Que Nem Jiló." Particularly, that selection showed a musician who dares to explore and innovate in areas not often heard by more established artists. Certainly Luiz Gonzaga most likely never dreamed of hearing "Que Nem Jiló" on guitar (it is often played on accordion). Later on in the album, Gabriel returns to the universe of Brazilian northeastern music with a rocking arrangement of "É d'Oxum." During the live concert, one could feel the strong energy he generated with that rendition. We were all on the edge of our seats. The studio recording here repeats that feeling note for note. In one word: amazing!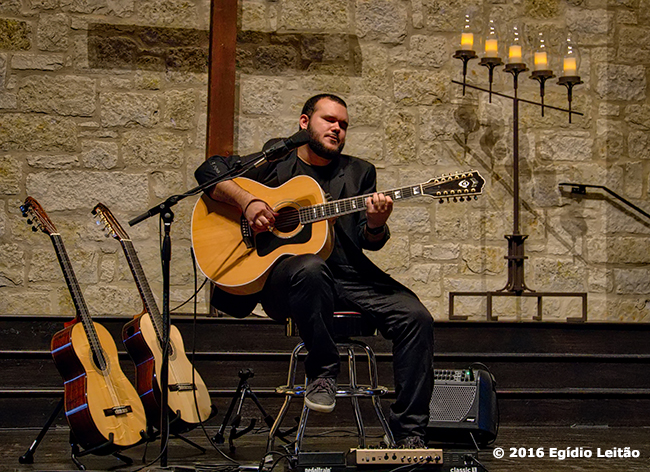 Besides the classic "Saudade da Bahia," Gabriel also travels through other gems of the Brazilian songbook. From the Bossa Nova era, we hear vibrant arrangements he created for "Influência do Jazz" and "Deixa" along touching moments in "Modinha." In a similar vein, "Setembro" sweeps you off your feet and carries you away with a haunting vocalese. Two other memorable moments in the album are "Palhaço" (Gismonti's composition is priceless in this arrangement) and "O Mundo É um Moinho + Adiós Nonino," where Gabriel brings together Cartola and Astor Piazzolla. When we talked about that number, Gabriel explained that it was inevitable to add a touch of Piazzolla to Cartola's classic. He is absolutely correct. The two songs are a perfect match in this arrangement and flow seamlessly with a touch of a master. The closing number, "Wave," wraps up this creative repertoire with one final touch of artistry in Gabriel's hands.
As I mentioned previously, you can hear and see Gabriel Santiago performing all these tracks in his YouTube Channel. It is your chance to live the excitement in this remarkable solo album, Momentum. Here's an artist on a successful road. You can also hear and learn more about his other albums and projects, as well as upcoming performances, by visiting Gabriel Santiago's web site.
ALBUM INFORMATION
Gabriel Santiago
Momentum
Independent (2016)
Time: 39'04"
Tracks:
Saudade da Bahia (Dorival Caymmi)
Alegre Menina (Dori Caymmi – Jorge Amado)
Que Nem Jiló (Luiz Gonzaga – Humberto Teixeira)
Setembro (Ivan Lins – Gilson Peranzzetta)
Modinha (Tom Jobim – Vinícius de Moraes)
O Mundo É um Moinho (Cartola) / Adiós Nonino (Astor Piazzolla)
Palhaço (Egberto Gismonti)
É d'Oxum (Gerônimo – Vevé Calazans)
Influência do Jazz (Carlos Lyra)
Deixa (Baden Powell — Vinícius de Moraes)
Wave (Tom Jobim)