Showing Her Face
Sooner or later every musician seems to present himself or herself on a live recorded DVD/CD. Usually those discs are entertaining alternatives to enjoy these musicians' music. But sometimes they're more than that and then they form an interesting addition to the discography. Fernanda Porto is an artist who already proved to be very interesting and on her first live DVD/CD she confirms that reputation. By the majority of her audience, the singer, multi-instrumentalist and composer from São Paulo, is famous for her drum 'n' bass dance hits. With this live recording Fernanda took the opportunity to show her diverse musical approaches to them. For that she decided not to focus on the earlier recorded material from her first two cds. Although the cd opens with "Baque Virado" from her debut album, most of the songs we hear are previously unrecorded by Fernanda. And the songs that are familiar (on the cd version only two songs from each of the two studio albums) are given a completely new arrangement (mostly by Fernanda).
To make the concert (São Paulo; April 12, 2006) sound perfect, Fernanda didn't look at the number of musicians. The basic band consists of guitarist Dino Barioni, keyboardist Christianne Neves, bassist David Rangel, drummer Giba Favery and percussionists Beto Angerosa and Márcio Forte. Beside them an army of some 20 musicians show up on various songs. Some tracks feature the participation of a horn section, a string quartet, backing vocals and a group of percussionists. Among the cd's best moments is the catchy "Simples," on which trombonist Bocato steels the show with a funky solo, supported by a lazy rhythm guitar. "Saudades do Que Não Tive" is a beautiful ballad on which a nice deep sound of the fretless bass from David Rangel is the main force. A jazzy horn arrangement does wonderful things with "Sampa." The song also features good work of guitarist Dino Barioni. "Sentimental" is a nice ballad, accompanied only by piano.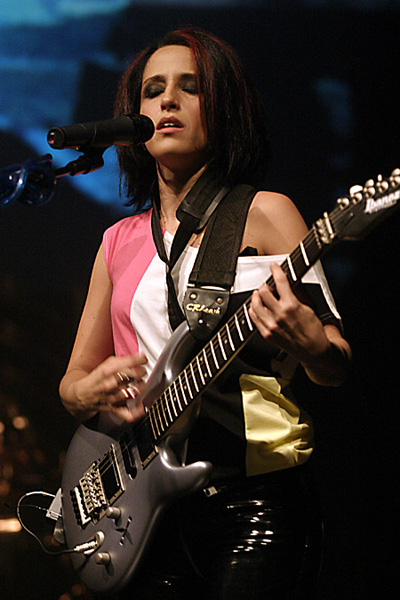 Of course there are also some extra special guests. Edgard Scandurra, a regular guest on many occasions, does his thing on "Pensamento 4." His recognizable style fits perfectly in this rock orientated composition. Another special guest is Daniela Mercury. Unfortunately she sounds somewhat forced as if the song (Caetano Veloso's "Tudo de Bom") makes her voice feel uncomfortable. She sings it with a far too theatric vibrato. The drum 'n' bass version of Gilberto Gil's "Corações a Mil" sounds like fun, driven by the know-how of the enthusiast DJ Zé Pedro. The characteristic monotonous rhythm thankfully benefits from good work by the percussionists. Buyers of Fernanda's last cd "Giramundo" will be curious about the presence of the saxophonist Fernanda Porto. However, they will be disappointed. Fernanda decided to focus on her vocal qualities and there's not much more than a short and empty repetitive theme on the alto sax in "Samba a Dois." The song features nice changes of sentiment; from a nasty guitar solo to salsa inspired piano play.
Fernanda Porto shows again that she's an artist to pay special attention to. She has remarkable originality and doesn't seem to compromise to do what is expected; she goes her own way. With her musical talent she proves to be right at the end.
ALBUM INFORMATION
Fernanda Porto
Ao Vivo 
EMI 361828 2 (2006)
Time: 58'09"
Tracks:
Baque Virado (Alba Carvalho – Fernanda Porto)
Eu Já Te Conhecia (Fernanda Porto) (only on DVD)
Simples (Vitor Bellis – Fernanda Porto)
Só Tinha de Ser Com Você (Tom Jobim – Aloysio de Oliveira) (only on DVD)
Côco sem Água (Fernanda Porto – Vitor Bellis)
1999 (Fernanda Porto) (only on DVD)
Você e Eu (Bozzo Barretti – Fábio Caetano – Marcelo Barbosa – Nil Bernardes)
Samba a Dois (Marcelo Camelo)
Saudade do Que Não Tive (Vitor Bellis – Fernanda Porto)
Pensamento 4 (Fernanda Porto – Arnaldo Antunes)
Sampa (Caetano Veloso)
Sentimental (Rodrigo Amarante)
Seu Nome na Areia (Fernanda Porto – Christianne Neves)
Desde Que o Samba É Samba (Caetano Veloso)
Tudo de Bom (Lina de Albuquerque e Fernanda Porto) (only on DVD)
Corações a Mil (Gilberto Gil)
Sambassim (Fernanda Porto – Alba Carvalho)
Roda Viva (Chico Buarque)
Giramundo (Lina de Albuquerque – Fernanda Porto) (only on DVD)