Seeing and Experiencing the Magic!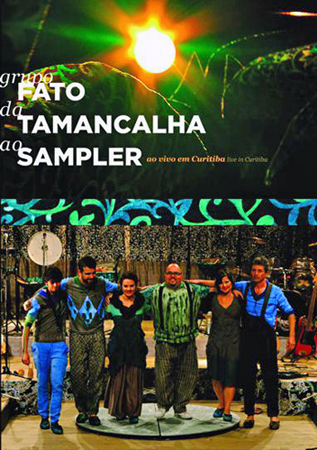 In existence since 1994, the group Fato has called Curitiba, the capital city of the southern state of Paraná in Brazil, its home. With five CDs released and nine live shows to date, the group has now granted us outside of Brazil with the exciting visual side of their lively music. The DVD Da Tamancalha ao Sampler fills the void and desire I had to see this innovative group in a live performance. Brace yourselves to see and experience now what you could only previously hear.
Released in 2012, with production by Ulisses Galetto, Grace Torres and Zé Loureiro Neto, Da Tamancalha ao Sampler features new music from Curitiban songwriters, classic Fato hits as well as other songwriters from the rest of Brazil. The title of the show, CD and DVD of course marks the connection of the traditional Fandango dance (a mixture itself of Spanish and Brazilian native Carijós music) with samplers. It is the folkloric and rustic sounds mixed with technology and modern influences.
For the uninitiated in Fato's world, this is not music to be taken lightly. You need to immerse yourself in the rich sounds and visual appeal that Fato presents. The typical Fato show is a meticulous and elaborate production with extreme care paid to a solid stage presence. This show and stage production were directed by Jacqueline Daher with costumes by Heroína – Alexandre Linhares, lighting by Nadja Naira, make-up by Thifany F., corporal expression by Eliane Campelli, vocal preparation by Ana Cascardo, and visuals by Zeh Henrique Rodrigues. Fato, of course, does all arrangements and is comprised of Grace Torres (voice, keyboards, samplers), Priscila Graciano (percussion, drums, voice, keyboards, acoustic guitar), Daniel Fagundes (voice, acoustic guitar, percussion), Sergio Monteiro Freire (keyboards, guitar, sax, voice), Ulisses Galetto (bass, voice, acoustic guitar, samplers) and Zé Loureiro Neto (drums, percussion, voice). All of these artists come together for one unforgettable release in Da Tamancalha ao Sampler.
Although all Fato members take turns singing throughout the DVD, Daniel Fagundes clearly dominates the vocals in most of the tracks with his soft and smooth performances. It is noticeable in every track how precise Fato moves on stage and performs each track. It is a well choreographed show without any distractions and with the focus on the music. One excellent feature on the DVD is that you can opt to display the song lyrics in Portuguese, Spanish, French and English. I strongly recommend you have the lyrics on in the language of your preference.
To understand the magic of Fato, I call your attention to "Vagabundo II" and "Caricas III," for example. You can see the group wearing their wooden clogs ("tamancos") providing a dazzling sonic and visual addition to the music. I was also very impressed with the high energy samba "Kismet." Grace and Priscila steal the show with their rap break and cuíca playing (they come back with more cuíca in "Beira do Samba"). Out of this world! Daniel is also mesmerizing in his performance of "Circo de Bairro." This tango-flavored song features Sergio's sax solo while Daniel appears to be in a stupor of madness or drunkenness around the stage. Great visuals here. The show closes with the group's hit "Valadares," with more fandango and wooden clog percussion. Needless to say the audience asks for more and is given two encores (included in the DVD extras).
The DVD comes with a bonus CD and extras with historic facts about the group and the making of the DVD. It is formatted for all regions in widescreen (16:9) and Dolby digital sound. You can also visit Fato's website for more information.
Feast your eyes and ears with a playlist sample of this show, including the following tracks: "Na Linha do Tempo," "Circo de Bairro" and  "Vagabundo II."
DVD INFORMATION
Fato
Da Tamancalha ao Sampler
Independent OQ-2012
Time: 124″
Tracks:
Epílogo (Ulisses Galetto)
Lado 2 (Grace Torres – Ulisses Galetto – Ricardo Carvalho)
A Casa do Ar (Daniel Fagundes – Amarildo Anzolin)
Eles (Ulisses Galetto)
Vagabundo II (Ulisses Galetto)
Na Linha do Tempo (Grace Torres – Ulisses Galetto – Marcelo Sandmann)
Sertão (Grace Torres – Alexandre Nero – Ulisses Galetto)
Kismet (Ulisses Galetto)
Roquenrol (Ulisses Galetto – Manoel Carlos Karam)
Balangandans (Mauricio Pereira)
Circo de Bairro (Arthur de Faria – Marcelo Sandmann)
Maracatriz (Neuza Pinheiro – Augusto de Campos)
Tempestade (Sérgio Monteiro Freire)
Choro de Molly Bloom (Luiz Antonio Fidalgo)
Rito (Ulisses Galetto – Marcelo Sandmann)
Beira do Samba (Rodrigo Campello – Anotnio Saraiva)
Caricas III (Antonio Saraiva – Sérgio Natureza)
Valadares (Ulisses Galetto)
Cinco Sentidos (Ulisses Galetto – Luiz Antonio Fidalgo)
Baía-Rio (Antonio Saraiva – Pedro Ribeiro)