A Guest in His Own Country
When Brazilian soccer players enjoy a career-boost outside their home country, both press and public follow their moves step by step. Things always have been quite different for musicians. Once they've left Brazil, people tend to forget all about them. Airto Moreira, Flora Purim, Paulinho da Costa, Eumir Deodato and more recently Cibelle, their names ring a Brazilian bell, but that's about it. Eumir Deodato experienced that strange phenomenon during his family visits. No concert invitations to perform in Brazil, not even as a guest musician. That's hard to understand, considering the importance of this amazingly successful pianist, composer, producer and arranger.
Eumir Deodato de Almeida (Rio de Janeiro, 1943) has been possessed by music ever since he heard a girl play on a beautiful white accordion, as he recalls it. Convincing as kids can be, Eumir got his own accordion and when he was only twelve years old he was already able to play the instrument more than well. As a true autodidact he gathered his knowledge out of dozens of theory books and by frequenting concerts, focusing on how different arrangements were performed by small combos and big orchestras. When he had reached the age of 16, Deodato started to appear in bossa nova concerts, along with guitarists Roberto Menescal and Durval Ferreira.His first solo album was released in 1964, Inútil Paisagem, and featured compositions by Antônio Carlos Jobim, who he worked with on various projects during a 15-year period. It was another bossa nova icon, Luiz Bonfá, who persuaded him to come over to New York (1967). Deodato's work soon attracted the attention of the legendary producer Creed Taylor, who hired his skills as pianist/arranger for his illustrious record label CTI. His first CTI release, Prelude in 1973, was nothing less than a huge best seller at that time, with figures exceeding 5 million copies. The album featured Deodato's most remarkable piece of music: his arrangement of "Also Sprach Zarathustra." German composer Richard Strauss (1864-1949) wrote this composition, based on a philosophical romance by Nietzsche, in 1896.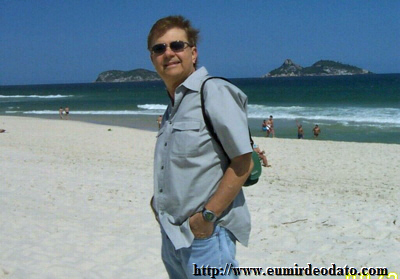 During the 1970s the composition was very popular as theme of the film 2001, A Space Odyssey (1968, Stanley Kubrich). Deodato's funky arrangement is a good example of the man's importance in contemporary music. His interpretation earned him a Grammy Award for Best Pop Instrumental Performance in 1973. He was also the driving force behind the success in Kool and the Gang's albums in the early 1980s, highlighted by their world hit "Celebration." Numerous film scores lined up Deodato's road of success (Ghostbusters II, The Onion Field, The Reporter and many others). By now Eumir Deodato has been involved with some 500 albums, among which 16 ones earned platinum; with a total US selling figure above 25 million… So to come back where we started: it's a small miracle that his success was overlooked in homeland Brazil!
On Live in Rio Deodato gives his Brazil a short overview of his accomplishments, with a special feature for his beloved bossa nova, along with some of his successes as a fusion musician. The pianist is accompanied by two outstanding instrumentalists, who took the challenge with him to perform the often orchestral arrangements in stripped off versions: bassist Marcelo Mariano and on drums we hear Renato "Massa" Calmon. Deodato dedicated the concert to the 80th birthday of Antônio Carlos "Tom" Jobim. The set list features four of the master's compositions. Another Brazilian standard on the repertoire is "Berimbau" by Baden Powell and Vinícius de Moraes. Of course Deodato's earlier mentioned biggest hit "Also Sprach Zarathustra" is performed, as well as other classics in his oeuvre, "Rhapsody in Blue," "Skyscrapers" and "Super Strut." There's a lovely rendition of "Carly & Carole," the tribute to singers Carly Simon and Carole King.
It sums up an impressive piece of Deodato's repertoire that should make it possible for anyone to catch up a little bit on the work of one of the most successful, outstanding and diverse musicians Brazil ever knew, or never knew…
To learn more about the artist and his music, please visit Eumir Deodato.
ALBUM INFORMATION
Eumir Deodato Trio
Live in Rio
Biscoito Fino BF 697 (2007) &
DRG Records DRG Brazil DRG-CD-3162 (2009)
Time: 66'31"
Tracks:
Whistle Bump (Eumir Deodato)
Rhapsody in Blue (George Gershwin)
Berimbau (Baden Powell/Vinícius de Moraes)
Sabiá (Chico Buarque/Tom Jobim)
Whirlwinds (Eumir Deodato/John Tropea)
Samba de uma Nota Só (Tom Jobim/Newton Mendonça)
Dindi (Tom Jobim/Aloysio de Oliveira)
Skyscrapers (Eumir Deodato)
Wave (Tom Jobim)
Super Strut (Eumir Deodato)
Carly & Carole (Eumir Deodato)
Also Sprach Zarathustra (Richard Strauss)
San Juan Sunset (Eumir Deodato)