A Desert Island Album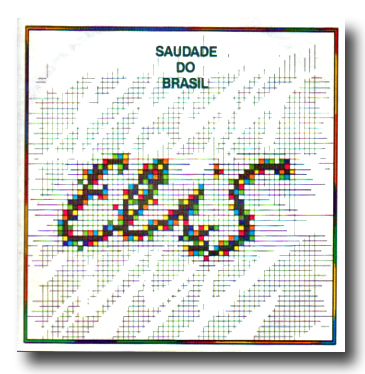 The year 2012 marked the 30th anniversary of Elis Regina's death. One of the world's most remarkable voices (see NPR's 50 Great Voices), Elis died too young — barely 37 years of age (Rio Grande do Sul, 3/17/1945 – São Paulo, 1/19/1982). The mark she left in the Brazilian musical panorama is vast and irreplaceable. Not a year has gone by in Brazil that on January 19 the country remembers Elis.
Saudade do Brasil was a live show Elis Regina presented at the Canecão, Rio de Janeiro's famous venue. Directed by Admar Guerra, the show was conceptualized by Elis Regina and then husband Cesar Camargo Mariano. Cesar, of course, was behind musical direction, arrangements and all keyboards. The other musicians featured in the show and album were Sergio Henriques (keyboards), Nonó Camargo and Cláudio Faria (trumpets), Octavio Bangla (tenor sax and clarinet), Lino Simão (tenor sax), Paulo Garfunkel (flutes, clarinet and alto sax), Chiquinho Brandão (flutes), Chacal (percussion), Natan Marques (guitars), Kzam (bass and acoustic guitar), Bocato (trombone) and Sagica (drums). A dozen other participants were part of the chorus and dancers.
The album is not a live recording, and for that I'm very thankful. Recorded in April 1980, the album (it could have easily been released as a single CD) has remained a favorite of mine since I first bought the double LP in 1980. The record label, for whatever reason, cannot make up its mind about the album title. The cover clearly shows the singular title, Saudade do Brasil. However, the CD spine and CDs themselves all show Saudades do Brasil in plural form. It does not really matter, I know. Not only are the recording, arrangements and performances of unquestionable high caliber, here we have a glimpse of a superstar on top of her career. The innovator and discoverer of new names — Elis is credited for having launched the national careers of names such as Milton Nascimento, João Bosco and Belchior, among others — Elis does not shy away from daring with her music. That is why in Saudade do Brasil you can hear songs by Milton Nascimento, Gonzaguinha, Fátima Guedes, Sueli Costa, Baden Powell, Ivan Lins, Tom Jobim, Ary Barroso and unlikely names such as Rita Lee and Juca Chaves. Lively numbers — "Terra de Ninguém," "Maria, Maria," "Agora Tá!" — share stage with profoundly intimate renditions — "Conversando no Bar," "Onze Fitas," "Aos Nossos Filhos."
One amazing feature of this album is in the repertoire selection. Now 32 years after its release, the music still speaks volumes of social issues in our present lives. Economic crisis, war, city violence, the environment and hope for a brighter future are all present in the lyrics Elis so passionately performed in Saudade do Brasil. This is an example of what a great singer Elis Regina is. She lives on!
A couple of years ago I reviewed a DVD here on the site, Elis Regina Carvalho Costa. That DVD is a good companion for this double CD set, especially if you want to see what the show was like, at least partially. It contains eight tracks from the original show.
ALBUM INFORMATION
Elis Regina
Saudade do Brasil
WEA 229250678-2 (1980)
Time: 34'16" (Disc 1) & 33'38" (Disc 2)
Tracks:
Disc 1
Abertura (César Camargo Mariano) / Arrastão (Edu Lobo – Vinicius de Moraes) / Lapinha (Baden Powell-Paulo César Pinheiro)
Terra de Ninguém (Paulo Sergio Valle – Marcos Valle)
Maria, Maria (Milton Nascimento – Fernando Brant)
Agora Tá (Sergio Natureza – Tunai)
Alô, Alô Marciano (Roberto de Carvalho – Rita Lee)
Canção da América (Milton Nascimento – Fernando Brant)
As Aparências Enganam (Sergio Natureza – Tunai)
O Primeiro Jornal (Abel Silva – Sueli Costa)
Moda de Sangue (Jerônimo Jardim – Ivaldo Roque)
Marambaia (Rubens Campos – Henricão)
Disc 2
Presidente Bossa Nova (Juca Chaves)
Conversando no Bar (Milton Nascimento – Fernando Brant)
Onze Fitas (Fátima Guedes)
Menino (Milton Nascimento – Ronaldo Bastos)
Aos Nossos Filhos (Vitor Martins – Ivan Lins)
Sabiá (Chico Buarque – Tom Jobim)
Mundo Novo, Vida Nova (Gonzaguinha)
Aquarela do Brasil (Ary Barroso)
O Que Foi Feito Deverá (Milton Nascimento – Fernando Brant)
Redescobrir (Gonzaguinha)