With a Little Help from His Friends…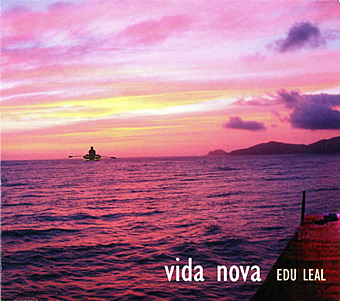 São Paulo native acoustic guitarist, composer and arranger Edu Leal released his first solo album in 2011. Vida Nova bridged Edu Leal's instrumental music experience with new songs. Writing, arranging and producing all 13 songs in the album with a few lyricists proved no small feat for this talented composer. Supporting this challenging endeavor, Arismar do Espírito Santo took over the musical direction.
Vida Nova is the result of 12 years of composing with elements as varied as Brazilian popular music, jazz and classical music. Add to that Edu Leal's own experience in progressive rock bands and jazz groups and you have an album reaching to "contribute one additional brick to less rigid boundaries between the instrumental and vocal universes," says Edu.
For someone as new as Edu Leal, it says a lot that he is backed up by names including Arismar do Espírito Santo (besides the musical direction, he also appears in percussion and guitar), Thiago do Espírito Santo (bass), Vinícius Dorin (sax and flutes), Alex Buck and Cuca Teixeira (drums) and the vocal participations of Zé Renato, Leila Pinheiro, Adriana Godoy, Bia Góes, Filó Machado, Édria Barbieri and Roger Troyjo.
Vida Nova is a musical journey pushing the boundaries of the contemporary Brazilian popular music. The music is complex as in "Ar," erudite as in "Vou Ver-te" or "Seu Ozzy," wistful as in "Esperando," and even a slow samba-flavored in "Revoada dos Astros." Through it all, Edu's acoustic guitar in every track sets the tone for these instrumental pieces with lyrics that heighten the musical experience.
You can hear the entire album in Edu Leal's MySpace page. To give you a sample of Edu's music, please watch him performing the closing number in Vida Nova, "Seu Ozzy."
[youtube http://www.youtube.com/watch?v=91FDqwq0wtg]
ALBUM INFORMATION
Edu Leal
Vida Nova
Independent 2011
Time: 69'16"
Tracks:
All music by Edu Leal, with lyricists where noted.
Ar (Vilmar Rossi Filho) – w/ Zé Renato
Vou Ver-te (Sônia Leal) – w/ Leila Pinheiro
Não Dá Pé (Carlos Rennó) – w/ Adriana Godoy
Crepúsculo – w/ Bia Góes
Violas, Violões (Valdir Lira) – w/ Filó Machado
Esperando
Vida Nova – w/ Filó Machado
Espiral (Valdir Lira) – w/ Adriana Godoy
Ações – w/ Bia Góes
Revoada dos Astros (Frederico Neves) – w/ Filó Machado
Mistérios – w/ Édria Barbieri
Lógica Absurda da Tristeza (Rubens Góes) – w/ Roger Troyjo
Seu Ozzy