Music and Substance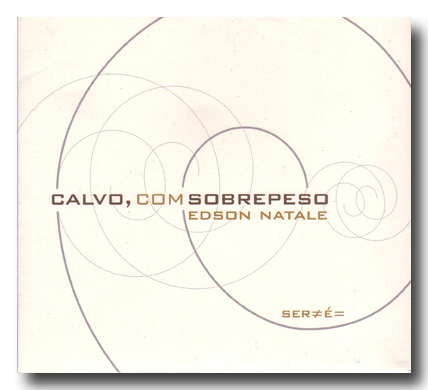 Some albums are made to be heard, and that way they are pleasing in so many ways: the music, the arrangements, the musicians. Other albums are meant to challenge your hearing pleasure by going beyond the music you hear. Calvo, Com Sobrepeso falls in the latter category. Edson Natale's fifth solo album grabs you with its sonority and profound lyrics.
Edson defines himself as a musician "from the time of the LPs." Yes, he began recording in the 1980's with a couple of albums he released with the group Dharana. When set out to record solo, he worked with Toninho Horta, André Gereissati, Edson Cordeiro, Suba, João Parahyba, Alex Braga, Ulisses Rocha and so many others. As a producer, he also worked with Renato Braz, Quinteto Violado, Dori Caymmi, Jards Macalé, Mônica Salmaso, Paulinho Nogueira and others. It is obvious he is a musician of musicians. In this release, over half of the songs you hear are Edson's original compositions. He is joined in these exquisite arrangements by Renato Braz (voice), Toninho Ferragutti (accordion) Paulo Brandão (bass), Jards Macalé (voice) and so many other talented performers.
What makes Calvo, Com Sobrepeso different from other albums is its unusual repertoire (music and lyrics) and arrangements. I say unusual because the focus of these songs lies on their contents, especially where lyrics are concerned. For example, in "Oito de Março," the lyrics are read in a very distinct way. In some sections of the poem, Edson deliberately delays the stress of a word in a given line or breaks the word apart as if it were two words. These sudden and voluntary "hiccups" are unique. In the instrumental opener, "Velhas Almas," the haunting violin solo by Alex Braga and Toninho Ferragutti's accordion solo in "Amor Porteño" are two other examples of how an arrangement and particular instrumentation can be used effectively to convey real images. Ferragutti's solo gives you a flavor of a Uruguayan milonga or Argentinean tango. A pastoral setting is created with Alex's violin in "Juvenar." How fitting that is with the lyrics the song brings about fields, trucks, rain and milking cows. Suddenly, in another track, Swami Junior's acoustic guitar introduction in "Poema da Rosa" takes you to old Brazil of serestas. Jards Macalé's vocals are superb in this song. Another great example of "Brazilianity" is found in the toada "Não Me Incommodity." A vocal trio (Edson, Luis Nassif and Renato Braz) , Paulo Freire's viola and Paulo Brandão's bass are simple and precisely the way that toadas should be. Another strong lyric is found in "Agora e na Hora de Nossa Morte." With the title borrowed from the Hail Mary prayer, Edson sings a melancholy duet with Elizah Rodrigues simply accompanied by Daniel Szafran's piano.
Just as in Marcelo Sandmann and Benito Rodrigues' Cantos da Palavra, song after song, Edson Natale involves you in his creations. Calvo, Com Sobrepeso is poetry and music, time and space, lost and found. It is an album to be enjoyed, and most of all, an album to be explored beyond its music.
To learn more about the artist, please visit Edson Natale.
ALBUM INFORMATION
Edson Natale
Calvo, Com Sobrepeso
LMCD 0377 (2007)
Total time: 54'02"
Tracks:
Velhas Almas (Edson Natale – Toninho Mattos)
Oito de Março (Arthur de Faria)
Juvenar (André Abujamra – Carneiro Sândalo)
Amor Porteño (Alfredo Victor – Alex Braga – Edson Natale)
Poema da Rosa (Jards Macalé)
A Telha (Edson Natale)
Não Me Incommodity (Edson Natale – Maurício Pereira)
Dona Felicidade (Edson Natale)
Agora e na Hora de Nossa Morte (Edson Natale)
Toque de Fada (Edson Natale – Toninho Mattos)
Cheiro de Suco (Edson Natale)
Cais do Corpo (Roberto Freire – Paulo Freire)
Pequena Ciranda para uma Mulher Nua (Edson Natale)
Jeito de Loren (Edson Natale)