Echoes from a Gismonti Era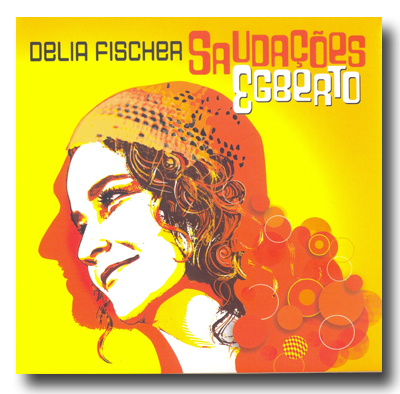 The music of Egberto Gismonti (Carmo, Rio de Janeiro, 1947) has been an intriguing art form for a few generations already. His compositions, arrangements and instrumental craftsmanship (piano and 10-string acoustic guitar) have stimulated many musicians to go deeper into their studies. Pianist, composer, arranger and singer Delia Fischer is one of those artists. She has been a fan of Egberto Gismonti since childhood, fanatically absorbing the music from all his albums. In 1999 Delia got a chance to work with the master when he was the producer of her debut album "Antônio" on the Europe based Carmo/ECM label. Egberto was charmed by the talent of the pianist and happily participated on Delia's second beautiful album Presente, released in 2010. Fortunately, this time we didn't have to wait very long for the follow-up CD, Saudações Egberto. When Delia earned a suitable amount of money by winning the Prêmio SESC Rio de Fomento à Cultura (prize for promotion of culture) in 2010, she decided to make a dream come true. She dedicated a whole album to the music of Egberto Gismonti. It's an album full of nice surprises. Delia Fischer understands the music of Egberto Gismonti very well. Well enough to give the recognizable Gismonti-style her own touch, without doing injustice to the original ideas. Delia chose from Egberto's repertoire between 1970 and 1990.
The album opens with "O Sonho," the song made popular by Elis Regina in 1969 and (outside Brazil) as "Moon Dreams" by the voice of Flora Purim (on her album Butterfly Dreams and on Airto's album Seeds on the Ground). This well known song gives the album a familiar clue and certainly invites to listen to the rest. Delia invited keyboard wizard Sacha Amback on this tune to fill in some extra accents. Another guest is Paulinho Moska, who joins in with Delia's vocals on "Um Outro Olhar." Third guest on the album is Egberto Gismonti himself. He plays his 10-string guitar on a striking rendition of "Saudações." Egberto goes to the bottom, a great way to show his sympathy for Delia's work.
When I had the chance to talk to Egberto about this album, I got a big spontaneous smile and the confirmation of his appreciation for the talent of Delia. The thirteen songs on the album show how carefully Delia Fischer picked them out. She does beautiful things with the often complicated compositions, choosing the right instruments for her clever arrangements (listen to the amazing rendition, also vocal-wise, of "Cor de Sol"). The jazzy "Palhaço" is treated with a special violin/flugelhorn arrangement, recalling the soprano sax of Jan Garbarek on the original rendition on Egberto's trio-album Mágico (with Charlie Haden, completing the trio).
The band that accompanies the pianist/singer consists of versatile musicians who also share Delia's good taste. Pedro Mibielli is on the violin, mandolin, rabeca (fiddle), lap steel guitar and cello; Pedro Guedes is on bass and electric and acoustic guitars; and Naife Simões is on percussion, drums and flugelhorn. Delia changes the sentiment quite a few times throughout the album. Each song deserves to be talked about. Each track has its own feature. The solo performances of the beautiful "Auto Retrato" (vocals and piano) and "Passarinho," on which Delia accompanies herself by playing all instruments in an almost minimalistic way (piano, accordion and flute), the amazing combination of the fender Rhodes piano and the mandolin of the samba "Pr'um Samba" (to name just a few more highlights).
Saudações Egberto is a fantastic album. It shows once again that Delia Fischer certainly earns a place among Brazil's great performers. Strongly recommended!
You can find Delia along with some of her music on MySpace.
ALBUM INFORMATION
Delia Fischer
Saudações Egberto
Prêmio SESC-Rio de Fomento à Cultura (2011)
Total Time: 46'37"
Tracks:
All compositions by Egberto Gismonti, except where noted.
O Sonho
Cor de Sol (Lôro) (Egberto Gismonti – Eugenio Dale)
Palhaço (Egberto Gismonti – Geraldo Carneiro)
Auto Retrato (Egberto Gismonti – Geraldo Carneiro)
Pr'um Samba
Baião Malandro
Saudações (Egberto Gismonti – Paulo César Pinheiro)
Frevo
Água e Vinho (Egberto Gismonti – Geraldo Carneiro)
Passarinho (Egberto Gismonti – Marilda Pedroso)
Dança das Cabeças
Um Outro Olhar (Pêndulo) (Egberto Gismonti – Ronaldo Bastos)
Maracatu